A Wedding with Rustic Charm
Engel and Sheryl came all the way from Sacramento, California and chose the beautiful Hightower Falls that combines nature and rustic charm for their wedding venue. It has an 80 foot, spring fed, cascading located approximately one hour west of Atlanta in the foot hills of the Appalachian Mountains between Rockmart and Cedartown, GA. It was a beautiful Sunday afternoon as Sheryl was escorted down the aisle by her mother and father to join Engel in front of friends and family. Engel and Sheryl also took time to express their gratitude to their parents for all the love, guidance, and support they had given them as they presented their mothers with roses during the ceremony. Then the couple shared their custom designed ceremony and vows, exchanged rings and topped it off with the unity glass ceremony. This combined glass will be taken by an artist and blown into a beautiful vase, never to be separated again, just as their marriage will be. They were pronounced husband and wife by Rev. Rodney Hunt of Sensational Ceremonies.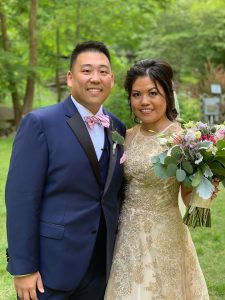 Congratulations to Engel and Sheryl!