OUR WEDDING OFFICIANTS MAKE THE DIFFERENCE
Our wedding officiants will work with you to create a unique ceremony that you and your guests will talk about for years to come. Discover the vows, love, and wedding locations happening from Texas to Tennessee and Florida to Ohio.
Sara and Jarett's plans to elope to Savannah, GA were interrupted by the Covid 19 Crisis … so they decided to elope in their home state of Florida in early Spring. In less than a week they obtained their FL Marriage License and chose their ceremony selections. They also picked out a small public park in Pinellas County for their ceremony that was still open during the Safer at Home Guidelines. Sara looked beautiful

Jennifer and Joseph's wedding plans this Spring were interrupted by the Covid 19 Crisis … so before Florida Travel Restrictions and Local State Stay at Home / Safer at Home Guidelines were firmly in place, they decided to drive from South Carolina for an intimate ceremony in Jennifer's parents' backyard. Jennifer looked beautiful as she was escorted by her father to join Joseph at the head of their makeshift aisle in their parent's backyard.  The

It's often been said that "love endures all things"….and that "love never fails"--and "love conquers all"---During this year of cancelled and postponed wedding plans, Steve and Alisa chose to find a way where there seemed to be no way---when their resort venue cancelled their long awaited wedding, they chose a quarantine wedding.   They are living proof that although plans can change, love can grow stronger in and through it all.   Their wedding date was
SENSATIONAL VOWS START HERE
I give myself to you in marriage. I promise to love, encourage and inspire you …
RESERVE YOUR DATE
WEDDING CEREMONY LOCATIONS
Ceremonies on the beach, or cozy at a mountain resort, or an intimate ceremony in your own backyard, choose your destination:

"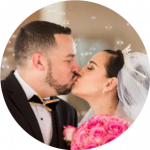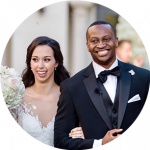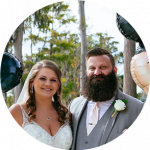 We cannot express our gratitude to Rev. Jeff Thompson for making our wedding day absolutely perfect.
FIVE STARS!! One of the BEST decisions we made for our Wedding Day was hiring Lon Tosi.
Glynn Ferguson did a phenomenal job. There was not a dry eye in attendance. We are beyond thankful for his services.
SEE MORE TESTIMONIALS