OUR WEDDING OFFICIANTS MAKE THE DIFFERENCE
Our wedding officiants will work with you to create a unique ceremony that you and your guests will talk about for years to come. Discover the vows, love, and wedding locations happening from Texas to Tennessee and Florida to Ohio.
Danielle and Chad wanted to have their intimate wedding ceremony on Indian Rocks Beach in late May and the contacted A True Love Affair Intimate Florida Weddings to help with their planning. The plan was to have their ceremony on the beach, but rainy weather forced them to move their ceremony inside their rental unit. Danielle looked amazing as she was escorted down the aisle by her son, to join Chad in front of their wedding arch. The

The Venue: Jenna and Christian brought their small group of family and friends from the United Kingdom to celebrate their coming together as husband and wife. Paradise Cove located just outside Orlando Florida is truly a lush tropical paradise. With its palm trees, multiple types of ferns, flowers, and cypress trees all surrounding a white sand beach along the calm shores of Lake Bryan, it is just the perfect wedding destination.  The raised alter with its

Jadyn and David's Wedding at Paradise Cove The wedding of Jadyn and David was an incredible day full of love and laughter. The ceremony was held at Paradise Cove, a beautiful waterfront venue on Lake Bryan in Orlando, Florida. The weather was perfect, and the setting was stunning. Jadyn and David's wedding was a beautiful and memorable event. It was a day that they will cherish forever. The Ceremony The ceremony was held on the platform in front of the
SENSATIONAL VOWS START HERE
I give myself to you in marriage. I promise to love, encourage and inspire you …
RESERVE YOUR DATE
WEDDING CEREMONY LOCATIONS
Ceremonies on the beach, or cozy at a mountain resort, or an intimate ceremony in your own backyard, choose your destination:

"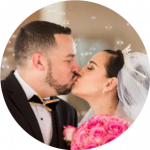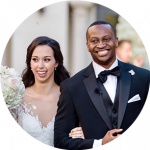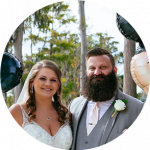 We cannot express our gratitude to Rev. Jeff Thompson for making our wedding day absolutely perfect.
FIVE STARS!! One of the BEST decisions we made for our Wedding Day was hiring Lon Tosi.
Glynn Ferguson did a phenomenal job. There was not a dry eye in attendance. We are beyond thankful for his services.
SEE MORE TESTIMONIALS