OUR WEDDING OFFICIANTS MAKE THE DIFFERENCE
Our wedding officiants will work with you to create a unique ceremony that you and your guests will talk about for years to come. Discover the vows, love, and wedding locations happening from Texas to Tennessee and Florida to Ohio.
The Venue Paddlefish is a fine dining restaurant built in the form of a majestic paddleboat. It is nestled in the heart of Walt Disney World Resort Orlando at the exciting Disney Springs. This wonderful venue features a 3rd story desk that overlooks Disney Springs and provides a most unique spot for a Riverboat wedding ceremony. From that deck, couples have a view of the lake around Disney Springs as well as the shops

Lindsey and Kyle chose Stonebridge Weddings and Events as the venue for their wedding ceremony.  Stonebridge, at The Lange Farm, is nestled in just over 80 acres of picturesque Florida acreage near Dade City and offers a blend of old Florida elegance and southern romance.  Under towering live oak trees and Spanish moss there really is a southern feel to this place. Lindsey's entrance was straight out of a Fairy Tale as she arrived to the wedding site in a

Their Venue A Garden Villa wedding is always a good idea.  Jill and Riley though it was the perfect idea for their wedding.  With beautiful tropical foliage, a beautiful white arch, and classic brick patio, this location is just beautiful.  Located in the garden district of Winter Park, the Garden Villa is the location for dozens of beautiful weddings each year.  Their Team Jill and Riley looked hard for the perfect team of vendors for their Garden Villa
SENSATIONAL VOWS START HERE
I give myself to you in marriage. I promise to love, encourage and inspire you …
RESERVE YOUR DATE
WEDDING CEREMONY LOCATIONS
Ceremonies on the beach, or cozy at a mountain resort, or an intimate ceremony in your own backyard, choose your destination:

"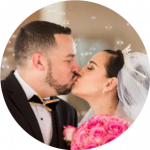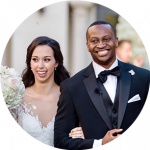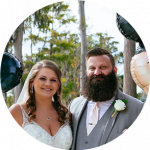 We cannot express our gratitude to Rev. Jeff Thompson for making our wedding day absolutely perfect.
FIVE STARS!! One of the BEST decisions we made for our Wedding Day was hiring Lon Tosi.
Glynn Ferguson did a phenomenal job. There was not a dry eye in attendance. We are beyond thankful for his services.
SEE MORE TESTIMONIALS