OUR WEDDING OFFICIANTS MAKE THE DIFFERENCE
Our wedding officiants will work with you to create a unique ceremony that you and your guests will talk about for years to come. Discover the vows, love, and wedding locations happening from Texas to Tennessee and Florida to Ohio.
Theresa and Nathan came from Maryland and chose the beautiful Isla Del Sol Yacht and Country Club as the venue for their wedding ceremony on a beautiful evening in late February. Isla Del Sol Yacht and Country Club is nestled between the southern tip of St. Petersburg and just north of Tierra Verde. Also, just minutes away from St. Pete Beach, Isla hosts spectacular views of Boca Ciega Bay, and Brides and Grooms can host an outdoor ceremony utilizing the private

Their Story Jackie and Ross had a beautiful and fun wedding at the gorgeous Mission Inn Resort andSpa. This fun loving laid back couple were committed to not having a lot of stress on their wedding day. They wanted to be present in the moment and enjoy every minute with their family and friends. Their Team Traveling from South Florida for their wedding in Central Florida posed a few challenges, but the couple chose an amazing team of vendors

Courtney and AJ were married at the warm and inviting Paddlefish at Disney Springs. Paddlefish is a fine dining restaurant built in the form of a majestic paddleboat and is nestled in the heart Walt Disney World Resort Orlando at the exciting Disney Springs. This wonderful venue features a 3rd story deck that overlooks Disney Springs and provides a unique spot for a wedding ceremony. From that deck, couples have a view of the lake around Disney
SENSATIONAL VOWS START HERE
I give myself to you in marriage. I promise to love, encourage and inspire you …
RESERVE YOUR DATE
WEDDING CEREMONY LOCATIONS
Ceremonies on the beach, or cozy at a mountain resort, or an intimate ceremony in your own backyard, choose your destination:

"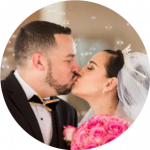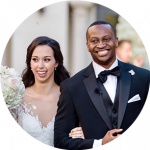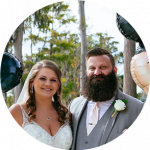 We cannot express our gratitude to Rev. Jeff Thompson for making our wedding day absolutely perfect.
FIVE STARS!! One of the BEST decisions we made for our Wedding Day was hiring Lon Tosi.
Glynn Ferguson did a phenomenal job. There was not a dry eye in attendance. We are beyond thankful for his services.
SEE MORE TESTIMONIALS