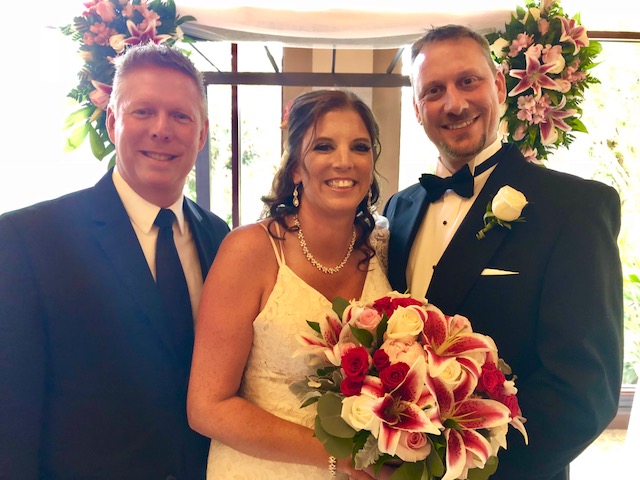 Dustin and Melissa
Summer can be brutal in Central Florida, so when it came to planning their wedding Dustin and Melissa decided to enjoy the tropical Florida views from the inside ballroom at the beautiful Mystic Dunes Resort. Their guests traveled from near and far to watch the couple exchange vows in a custom ceremony created by Rev.Glynn Ferguson of Sensational Ceremonies. The couple chose a Christian ceremony with their own personalized vows and gave roses to their parents to symbolize the deep love they have for them. When asked why the love each other Melissa wrote "
I have always known that I wanted to get married and have a family. Before I met Dustin, I didn't have the best luck in the love department. I have never been married or engaged before and I am 37 years old. From the first moment I met Dustin I felt a strong connection. He was easy to talk to, charming, and wanted the same things as me.
I love Dustin with all my heart and when I think about it I get sad that I didn't meet him sooner. He is such a great man and treats me with such respect and love. We have so much fun together and he keeps me laughing. He is so thoughtful, generous, and patient. I always wanted a partner that I felt completely comfortable around and could have fun no matter what we are doing and that is how it is with Dustin.
I love that Dustin is extremely romantic and treats me like a princess. He is always doing thoughtful things for me such as bringing me flowers, or getting me wine I love, or a getting me a special sweet treat. I love that he enjoys cooking and that we cook together. He is patient and a great teacher in the kitchen and has lots of great recipes.
I find Dustin extremely handsome and catch myself staring at him sometimes. I still pinch myself and can't believe that I get to marry him. He is everything I ever dreamed of finding in a partner and can't wait to start our life together as a married couple. I know Dustin will make an amazing father and look forward having a family with him. I also love the way he fits in with my family so well. Everyone in my family loves him and that was important to me. Also, I love his family and enjoy the memories we have made so far!
Dustin is such a hard worker, takes such good care of me, and is a complete gentleman. All of these are qualities I love about him. He is strong and manly but also is very sentimental and sweet. We have strong chemistry. I feel very special and loved in our relationship and I just hope he feels the same. I love doing special things for Dustin, taking care of him when he is sick, listening to his work stories. I just feel that we are perfect for each other and balance each other well.
I love Dustin soooo much and can not wait to be his wife. He is the love of my life for so many reasons. He is kind, loving, hardworking, funny, charming, handsome, thoughtful, fun, and extremely intelligent. I know we are going to have an amazing life together and I am ready to be married."
Kissimmee Florist
took care of all the touches. From the florals on the wedding arch to the bride's bouquet, everything was just the way they wanted it.
Rick Martin, from Mystic Dunes, acted as day of coordinator.
Greg Dillon Photograpy
did an amazing job photographing the ceremony and on into the night.
Congratulation again to Dustin and Melissa!!!