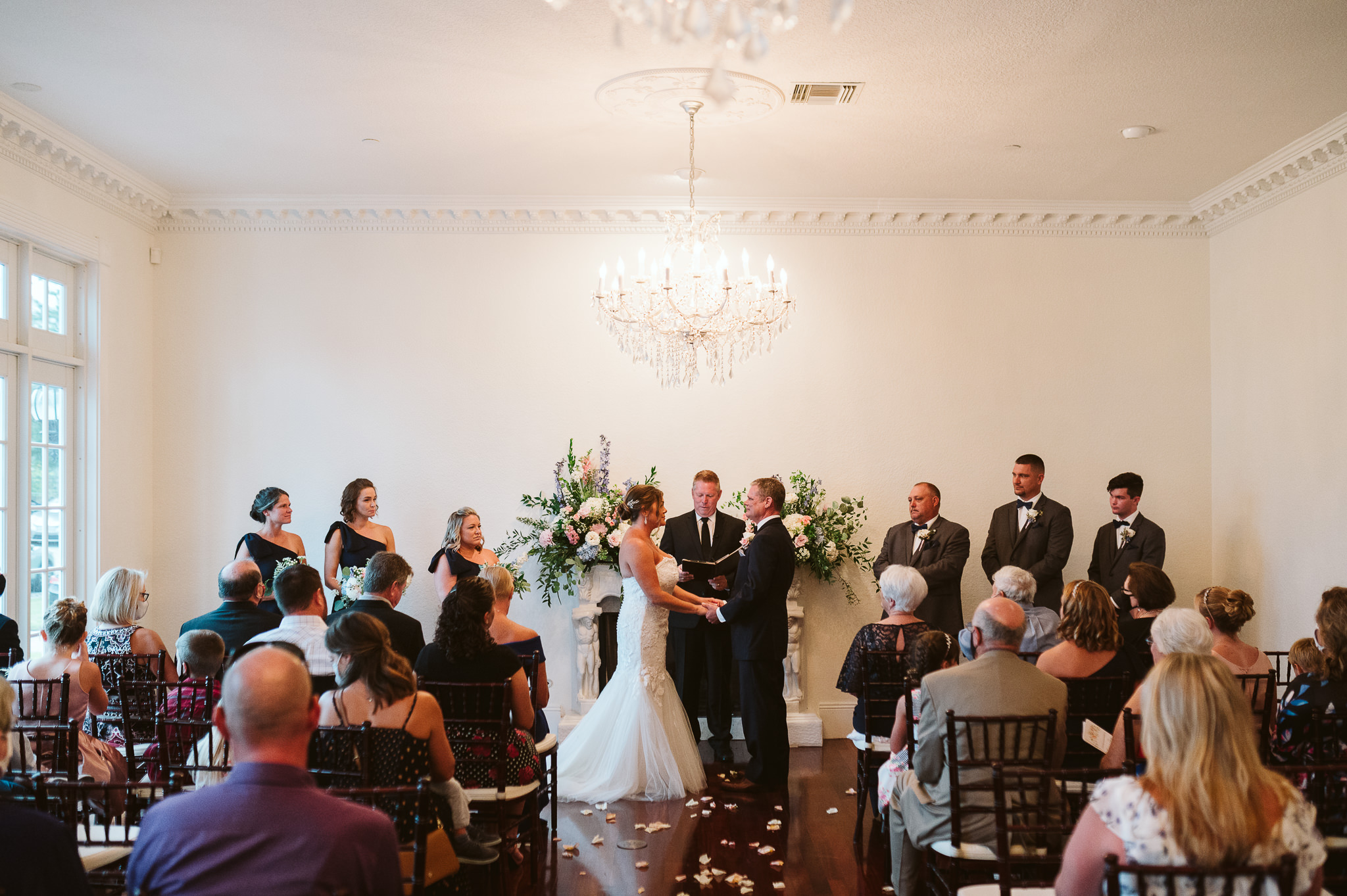 Elegant and Fun
Keri and Chris had been together for a long time, so when they finally decided to get married they wanted something elegant and fun.  The couple looked at several venues around Orlando and finally found Luxmore Grande Estate in Winter Springs.  Caitlyn with Plan It Events was the perfect fit to take the lead and help Keri with the planning of their wedding.  The elegant and fun ideas seemed to flow through her as she helped them navigate picking out vendors, decorations, and coordinating all the little details that go into a wedding.
Rudy and Marta Photography was one of the first vendors the couple chose for their elegant and fun wedding.  They weren't too worried by posed pictures, but wanted Rudy and Marta to capture the wedding "in the moment."  
Andie with The Flower Studio also wanted to capture the beauty of this elegant and fun wedding with the floral touches that would accent the event and not over power the event. 
 Big City Catering knocked it out of the ballpark with this elegant and fun wedding  The food choices the couple made really drove home their theme and their love for good food. 
 Rev. Glynn Ferguson, an Orlando wedding officiant and owner of Sensational Ceremonies worked with the couple to create a ceremony that would not only fit the two of them, but make this elegant and fun wedding come to life.  The custom ceremony was filled with both joyous tears and laughter that would make your stomach hurt.  Rev. Glynn asked the Keri and Chris to each write him and tell him why they love each other.
  Keri wrote:  I am not sure exactly where and when my love for you began. We have known each other for over 30 years and I have always valued our friendship and fun Memes made. I watched you grow up and then turn into a hard-working man, business owner, an amazing father. You have always treated me great and Included me as though I was one of your guys. I love you because you're all you've always been there and I know I can always talk to you. You are the most generous, calm, and devoted loyal man!
You are a man of many rolls, my rock, and my lover. I'll never forget when I saw you grilling cheese sandwiches on a skillet without panicking. I know you were the real deal I'm excited for our future together and working as a team for life. I will quarantine with you, run through airports, and get lost together on travel adventures. I will be here to support and care for you forever. My mom always said " good things are worth waiting for. "I don't think she meant this long, but it's true. Chris  floats my boat and I love you!
Chris wrote:  love the way she laughs, I love the way she smiles. I love her adventurous spirit and love of travel. I love how she's scared of the open water and has to hold my hand so hard you would think something will be eating her at any moment.
I love her silly ways even if they do drive me crazy sometimes. Her indecisiveness and being cheap come to mind. The way she can't stop talking about a Dillards deal. She will say "Well it's 40% off plus an additional 20. I'm gonna kill it! I'm paying way under retail, just the way I roll" . Classic Keri. Who even shops at Dillards any more anyways.
I can't go to Publix without being harassed about the BOGO's. "Chris you gotta get the BOGO's, You gotta check the BOGO's.
She really is totally insane but I love her just the way she is.
What an elegant and fun wedding! We wish them many more years of fun, love, and laughter together.