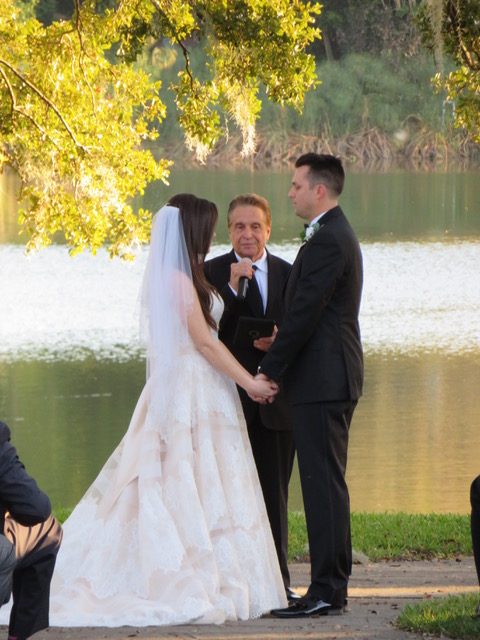 Elegant Setting
The Mennello Museum of American Art Orlando, features to its side a lush green lawn wonderful sculptures and large Oak trees against a gorgeous lake backdrop. That setting is just perfect for both large and intimate wedding ceremonies. The museum is adjacent to the Orlando Science Center which presents an equally elegant setting for both cocktail receptions and celebratory dinners. In all, the joint venues offer a perfect opportunity to host wedding celebrations.
Elizabeth and David chose to hold their amazing wedding in this location. In preparation for the ceremony, they met with Lon Tosi from the Orlando team of Sensational Ceremonies. In over an 2-hour session they laughed and truly had fun planning for their special words. The couple left their consultation with Lon full of ideas and concepts. Over the next few weeks, they complied ideas using a wonderful planning kit that Lon had provided to them. Lon made suggestions and what emerged was an amazing custom wedding ceremony that "told their story". The words were so beautiful! "My dearest friend, if you don't mind, I'd like to join you by your side, Where we could gaze into the stars, And sit together, now and forever, for it is plain as anyone could see, We're simply meant to be" or, "When we love, we see things other people do not see. We see beneath the surface, to the qualities that make our beloved special and unique". So beautiful!
David and Elizabeth also wrote special words to one another. They were little love notes and fit so well into the stream of the ceremony. Those special words, brought everyone to tears. The day was sunny and warm. Light was streaming through the trees. Love was in the air!" Their ending statement just before the pronouncement was perfect!" It was love that brought you together to unite your destinies. Always remember just how important you loving relationship is. Cherish your love forever!"
DJ Corndog played wonderful music for the ceremony and reception. He was joined my Justin from Soundwave Entertainment. What a combination! Ashley Jane Photography was on site to capture the most important moments. Sugar Divas did the cake which was amazing! Of course, the Mennello Museum and Orlando Science Center provided outstanding venues for all. It was just a perfect day for a perfect couple!
Elizabeth and David, we wish you much love, happiness and joy with your lives. You are a great couple and you certainly are off to a great start!