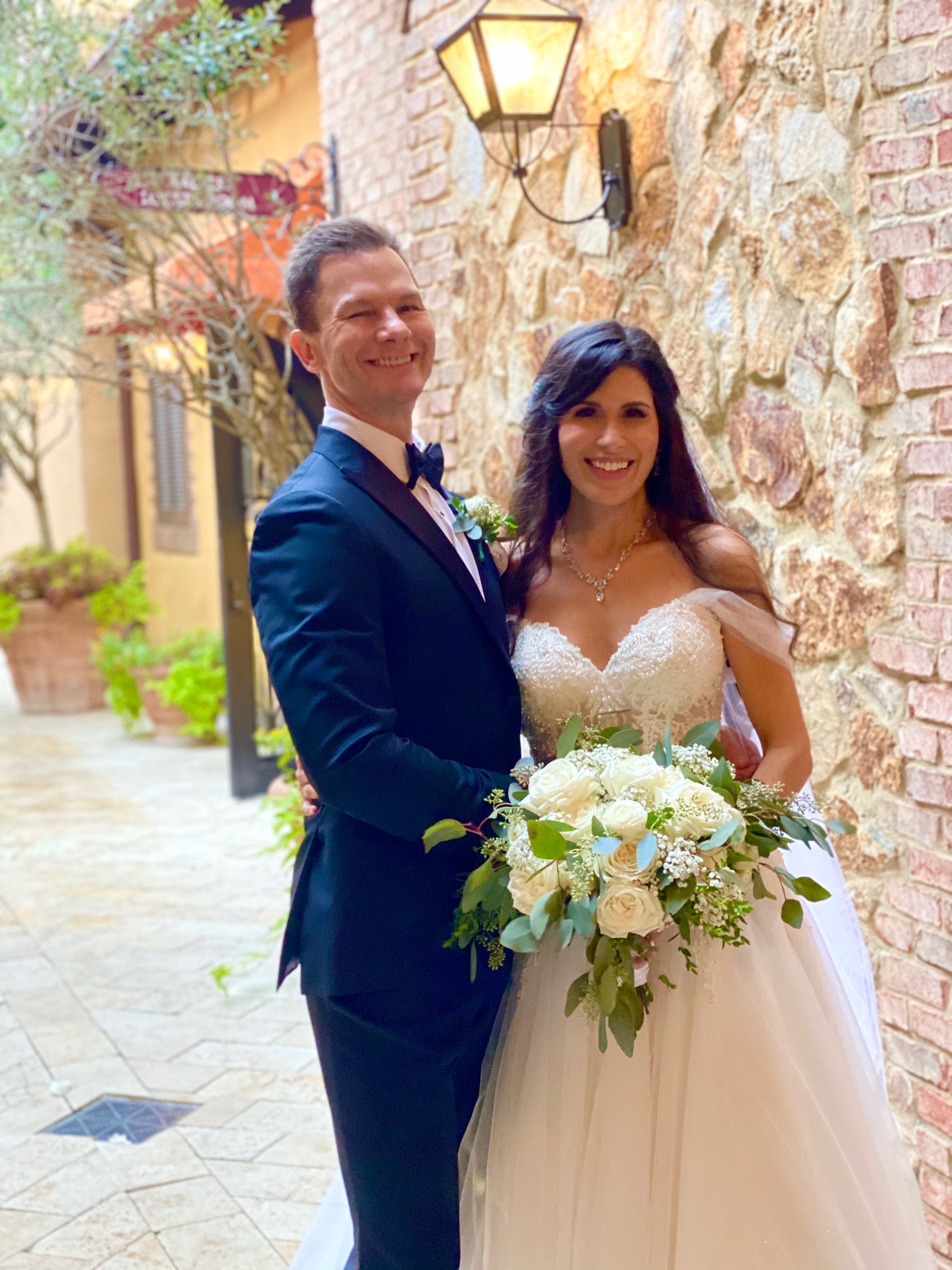 Lavish Intimate Wedding
Graig and Natalie met while working in the hospital and quickly fell in love.  Graig, an emergency room physician and Natlie a nurse found common ground as they took care of patients and quickly realized that their connection was more than a friendship. The couple chose the amazing Bella Collina in Monteverde, Florida as the wedding venue for their lavish intimate wedding.  The couple and their guests were surrounded by the opulence of this beautiful Tuscan inspired venue.  With stone and brick arches, beautiful fountains, and a reflecting pool that overlooks the Central Florida landscape, this venue is really something to behold.  
Serena with Blush by Brandee Gaar was the coordinator this beautiful affair.  Serena made sure all the vendors were kept apprised of any changes, made sure everyone was on time, and she put the perfect touches on their lovely reception dinner space.
Rev. Glynn Ferguson, an Orlando wedding officiant, minister, and owner of Sensational Ceremonies worked with the couple to make sure that their lavish intimate wedding ceremony was perfectly "them."  With a custom ceremony and homework assignment to write and tell him why they love each other, the ceremony was practically perfect.
  Natalie wrote:  From the first moment we locked eyes with each other we had that lightening strike, love at first sight moment. When I got to know him better, I have seen him prioritize his family and those he loves above all else. Since I have known him I've seen unmatched patience, hard work, resilience, adaptation, and persistence in all aspects of his life, but especially with our relationship. I love him not only because he makes me happier than I have ever been in my life, but because he makes me proud, and these qualities constantly inspire me to be a better person for him and for us. From seeing him interact with Deanna, his family, to the patients that we work with, he consistently treats everyone with kindness and respect and I experience those lightening strike moments of falling in love over again almost every day. Finally, I love that he is such a wonderful father to Deanna and loves her more than anything .

Graig wrote:  The story behind why I love Natalie. The day I first saw you , I was obsessively in love – end of story. Let me explain, during that first encounter, I immediately shook inside knowing that we both had that feeling. Just as our time together has been unpredictable , dramatic and exciting with feelings of unimaginable highs and occasional lows, this was how I felt the first moment our eyes locked. Natalie, you have given me a new strength that was never in me before and you have always lifted me up, either by grace or force, to be a better person, and I am forever grateful. And coupled with your caring for Deanna and your unwavering loyalty to me, there is no other option but to love you. I will always love you Natalie

LeJeune Artistry worked their magic for the wedding party.  Natalie looked absolutely flawless for her lavish intimate wedding.  Kim with The Big Day Photography did an outstanding job of capturing every moment of the couples day for their lavish intimate wedding.  While Seltzer Films made sure that every moment was seized on video for the couple and their families to relive over and over again.   What was all the more amazing was the fact that they were able to craft a beautiful highlights video in less than a day so the couple could see some of those details before they left on their honeymoon.
Talk about a lavish intimate wedding.  Orlando Flower Market really did a beautiful job on all the florals for the wedding and reception.  Even with a breezy storm rolling in the flowers and greenery stood out and looked amazing all night long.  We wish Natalie and Graig happiness for a lifetime.