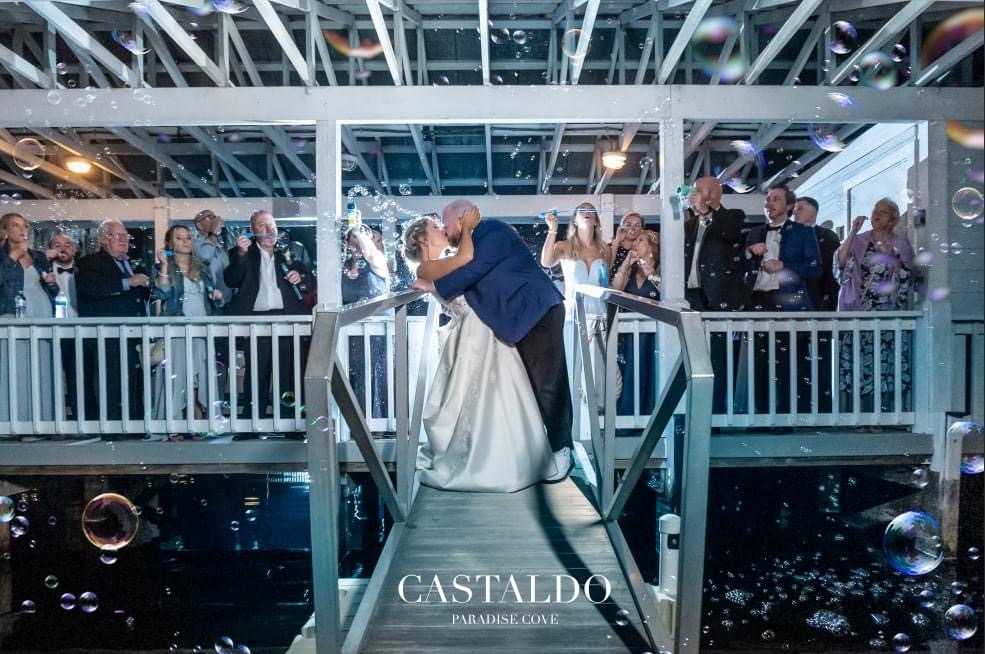 Lake Bryan
After meeting at Big Thunder Railroad in Walt Disney World, Pete knew Courtney was the one.  The couple dated long distance for a while, but when he proposed they both knew they wanted to be married in Orlando and Paradise Cove was the perfect fit.  Right across the highway from Walt Disney World, Paradise Cove is a hidden gem.  With towering Cypress trees, Spanish Moss, and located on beautiful Lake Bryan, it has it all.

The couple loved the idea of a wedding on the water and they also loved the creative talents of their photographer, Dominico Castaldo with Castaldo Studios.  He and his team captured every moment with their wedding photography and videography on Lake Bryan.  

Les with Soundwave Entertainment did an outstanding job of helping the couple pick beautiful and touching music for their ceremony on the shore of Lake Bryan.  A good DJ can really enhance your wedding ceremony and breathe life into even the mundane.  

Atmospheres Floral and Decor really did a fantastic job of creating the most beautiful floral arrangements for the wedding arch as well as Courtney's bouquet and Pete's boutonniere.  All the floral decor really added the extra punch to this incredible wedding on Lake Bryan.

Four River Smoke House had the crowd waiting for their delicious BBQ long before the ceremony on the shore of Lake Bryan ever started.  Everyone was waiting (and drooling) in anticipation of the great food that awaited them.  

Courtney and Pete chose Rev. Glynn Ferguson, an Orlando wedding officiant and owner of Sensational Ceremonies to work with them to create the perfect custom ceremony for their wedding on Lake Bryan.  Rev. Glynn gave them a homework assignment to write and tell him why they love each other.  
Courtney wrote of Pete:  It is a very difficult thing to write down in words why you love someone. I have been thinking about this for a while now and when I was driving to work today, I was listening to my all time favorite Dave Matthews Band song, Crush. There is a line in that song that has always resonated with me and it really hit me that it was a perfect way to start my explanation of why I love Pete so much. "So much you have given, love, that I would give you back again and again."
Pete has truly taught me the meaning of being selfless which is not a quality that I felt I possessed before he was in my life. Now, every decision I make, I am thinking in terms of "we" and not in terms of "me." Everything Pete does, he does with us and our future in mind. Pete is truly my life partner. I could not get through the day to day without his support. Every time I think of us beginning this next chapter in life together, I start to get teary because I know how incredibly lucky I am to be spending my life with this man.
When we were out for our Valentine's date this past weekend, we were talking about how crazy it is that we met when I was just 20 years old and Pete has been with me for almost a quarter of my life. We have done so much growing up together and I really feel like that has molded our relationship. Pete and I constantly say we could not live without each other and it sounds hyperbolic, but I truly believe that statement. He is an absolute light in my life that keeps me going every day.
I wake up every morning to a kiss from Pete on his way out the door and him telling me how much he loves me. No matter what is happening in our lives, we always start our day the same way, by sharing our love with each other and I just feel so blessed to be with a man who loves me like that.
Pete is passionate, he is intelligent, he is so affectionate, and he has the kindest heart. He always keeps me laughing. Everything that comes out of Pete's mouth is spoken with a level of sincerity that just warms my heart. The sound of his laugh is the purest and most welcomed sound that has ever graced my ears. Pete is constantly putting others before himself. He is a true example of someone who is just as beautiful on the outside as they are on the inside, a beautiful man with a beautiful soul. He is the kind of man I always dreamed I would end up and here I am, marrying the actual man of my dreams.
Pete wrote of Courtney: From the moment I met Courtney by Big Thunder Mountain Railroad at Walt Disney World, I knew there was something different about her. I am a pretty reserved individual and usually keep my distance emotionally. With Courtney, there was no emotional walls built up, everything we talked about was raw, passionate and very real. Whether she was telling me useless facts about Disney rides or explaining how upset she was that her grandfather would never be able to meet me (he passed away from Alzheimer's a little less than a year before I met her). There was no vanity, no preconceived notions about how a relationship should work. We were 100% together from day one, looking out for each other more than ourselves.
I knew within a few weeks I wanted to be with Courtney forever and ask her to be my wife. After nearly six years of tribulations like long distance (she lived in Massachusetts for a year during our relationship), living together with family, losing loved ones and postponing a wedding due to a global pandemic, we are finally able to make this a reality. Courtney and I have dealt with a lot, and we've become a stronger unit because of it. Courtney deserves the wedding of her dreams, the wedding she fantasized about as a child because I have never met a more wholesome, caring, kindhearted individual in my life. If you were to ask any of her friends, family, peers and colleagues, they would concede the same. She means everything to me and to so many people, and I take pleasure in the fact that I will be able to refer to Courtney as my wife, forever.
Congratulations to the two of you!