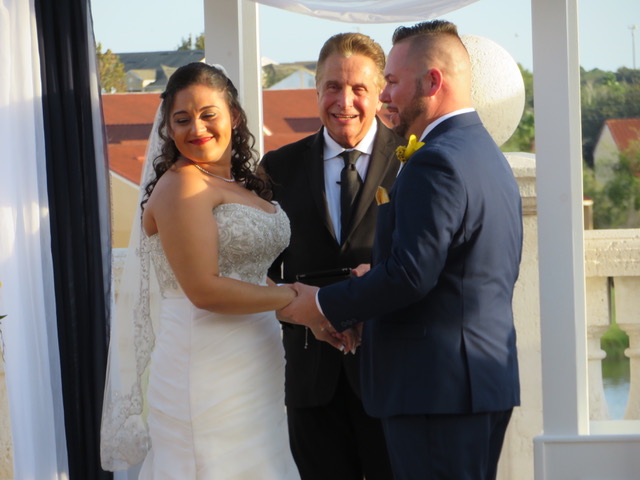 Laughter and joy
Custom wedding ceremonies always provide ample opportunities for extemporaneous moments of laughter and joy. There can be the constant giggling from a bride who is nervous, or the tears of a groom when he is normally the stoic one. Then there are the wonderful moments, that cannot be anticipated. Moments like the one one in the attached photo. Lon Tosi, of Celebration, Florida and from the Orlando team of officiants of Sensational Ceremonies was conducting the wedding ceremony for Shane and Jessica when this moment occurred. It is so wonderful that it was captured in a photo! The ceremony included something called the Warming of the Rings. Members of the immediate family hold the rings and silently "warm them" with their best wishes for the bride and groom. Jessica, in this photo is looking at her mom and dad as they held the rings. So much love! But, even more impactful is the look on Shane's face as he looks at Jessica! Throughout the ceremony his gaze was constant. It showed love and caring and happiness. Yes he cried, but always, his gaze returned. And so, their custom wedding ceremony provided unique and stupendous moments of beauty and grace, and love.
The Background
Westgate Vacation Villas provides for a tantalizing ceremony space. On that gorgeous third-floor balcony, one can see forever into the lush surrounding grounds. There is a lake in the background, and plenty of floral to view. It was truly a spectacular vista for the eyes to behold. It is into this setting that the bride and groom brought their wonderful group of friends and family members to cerebrate their special day. Shane and Jessica at the time of their wedding celebration had know one another for 7-years. They have a gorgeous blond blue-eyed daughter who was just old enough to be their flower girl. She actually stole the show with her coy walk down the aisle. Moms and Dads from both sides were with them to celebrate, as well as some grandparents. The sun was shining bright as it mostly does in Central Florida in October of any year.
The Ceremony
It was a custom wedding ceremony. Plain and simple, but very complex at the same time. There were the usual ingredients like vows of intent and marriage vows, but of course the entire ceremony reflected their specific story. Things like the Warming of the Rings mentioned above, or the wine box ceremony, which is becoming a big favorite with brides and grooms everywhere. The reason is simple, they write love letters to one another and then they place those letters into the box along with a fine bottle of wine – to be opened on their first-anniversary. What a great idea! They plan to add additional letters to the box over the years, thus adding depth and history to their story! The couple wrote love notes to one another for Lon to read in the ceremony. He wrote in part: "I knew the first moment that I saw you, that our journey was going to lead here, to this moment". She wrote in part: The support that you give me is unimaginable. You inspire and motivate me to be the best mother that I can be". So beautiful and so important. Lon will send them the finalize script for their ceremony that will include those words so that they can have them forever with those memories of a happy day!
The Vendors
Of course, there was the venue itself Westgate Villas. They provided the food and cake along with their glamorous surroundings and beautiful views. Lon Tosi from Sensational Ceremonies provided the custom wedding ceremony along with his expertise in conducting their ever-so-important ceremony rehearsal. Joe Marolis the owner of Elegant Entertainment provided the ceremony/reception music and entertainment. He did an amazing job as usual. Samantha Rivera Photography was the photographer for this event, and we can't wait to see those amazing photos!
And it all happened on a sunny evening in October, in Central Florida