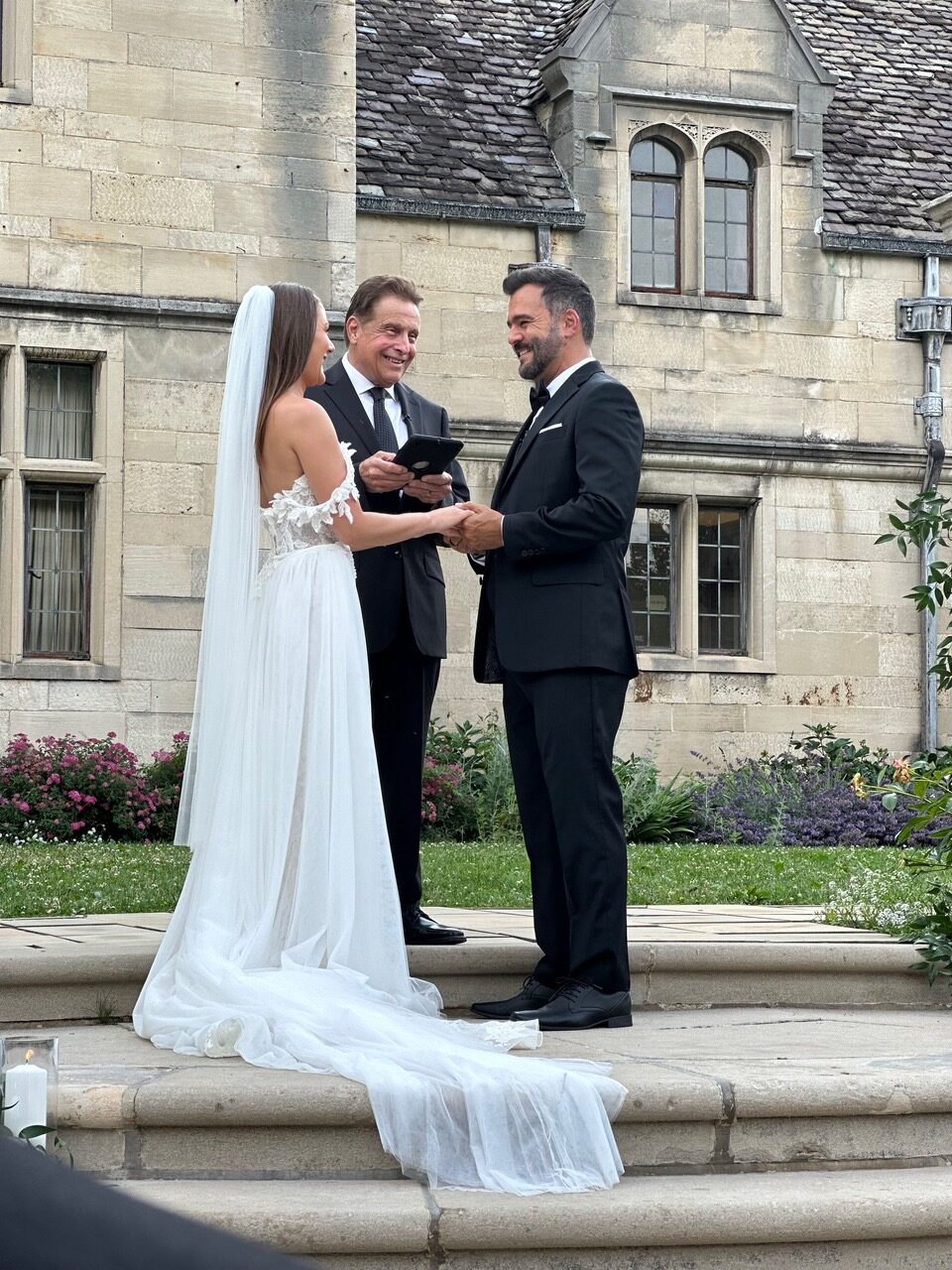 Mansion Magic
The Venue
Leanna and Kim traveled to the rolling hills of Western Pennsylvania to celebrate their future in marriage. Hartwood Mansion is located just outside Pittsburgh, and is situated on 629 acres of gorgeous greenery. The mansion features a large terrace that presents a perfect location to hold wedding ceremonies. The backdrop is the majestic mansion itself, and the site is exposed to fields of green and tall ancient trees. The mansion is nearly 100 years old. It is into this idyllic setting that Kim and Leanna brough a small group of their family, and friends to witness their coming together as husband and wife. And they were not disappointed.
The Ceremony
Kim and Leanna, invited Lon Tosi from Sensational Ceremonies to officiate their wedding ceremony. Lon and Leanna have known one another for many years. Leanna has a background as a wedding planner in Orlando, Florida where Lon works as a professional wedding officiant. They worked together over many weddings. Throughout that time, they developed a close working relationship. The couple selected a custom wedding ceremony that included their coming together as a family with Kim's two adult children from a previous marriage. During the ceremony, Leanna presented each with a gift. They were then introduced as a family to the assembled group with a resounding round of applause.
Family is very important to Kim and Leanna. Lon requested that the parents rise, and thanked them for the love and guidance that they have provided. There were many tears during that point in the ceremony. Additionally, the couple had their hands blessed to give them the strength to support their marriage throughout the years. The couple has a strong religious- belief. Accordingly, there were many prayers and blessings throughout the ceremony.
The Vendors
Many fantastic wedding professionals added a high level of sophistication and glamour to the event. Kim and Leanna were so blessed to have them in attendance. Windswept Events Rentals, Kimberley Ashlee Catering, Glam to Go, Diana Gramlich Photography, ValCinema Film, Field & Hand Floral Design, Joel Lindsey Entertainment, Solutions Bridal Designer House – Orlando, and Regency Global Transportation all added much elegance to the event.
And of course, Lon Tosi of Sensational Ceremonies traveled to Western Pennsylvania to conduct this beautiful custom wedding ceremony.
And it all happened on a sunny day, in the rolling hills of Western Pennsylvania, in the shadow of Pittsburgh.
Sensational Ceremonies
Average rating:
0 reviews