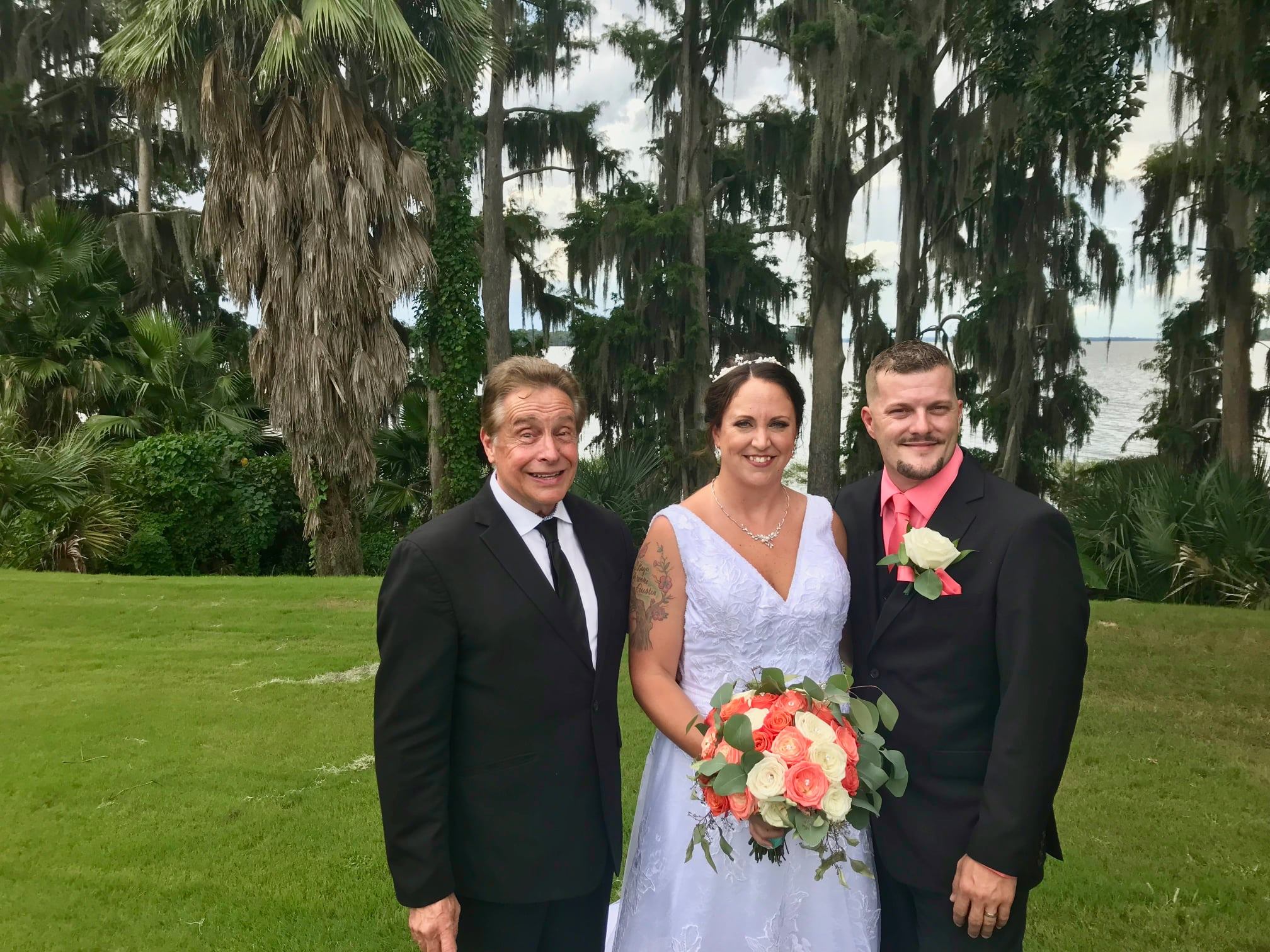 Mission Inn Marina del Rey Wedding
On the Water Beauty
Suzzan and Robert chose Mission Inn Resort & Club in Howey-in-the-Hills Florida for their special day!  They are local to the area, and so recognized the amazing beauty that the resort presents. Specifically, they chose the Mission Inn Marina del Rey for their wedding ceremony. Marina del Rey is the nautical center for the Mission Inn on beautiful Lake Harris, the largest in an eight-lake chain. It provides resort guests fishing licenses, pontoon boat rentals, a nature trail to observe Florida flora and fauna and 6 element professional team building courses. Its air-conditioned lakeside pavilion is popular for group rental and lakeside wedding reception and ceremonies. Most importantly, it has amazing views of Lake Harris that provides outstanding views as a ceremony backdrop!
The day of the wedding featured threatening skies, so the ceremony site was set inside the spacious pavilion. Their 45-member audience of family and honored guests were treated to an amazing custom wedding ceremony that they designed with the assistance of Lon Tosi of Sensational Ceremonies. The couple used a wonderful planning kit supplied to them by Sensational Ceremonies to select items that they wanted to have in their custom ceremony. They chose a simple and sweet style that fit their personalities perfectly. However, they wrote write their own vows. That gave them the avenue to create their own presentation style. Their vows were done on transparent plastic sheets in a handwritten script. They read their vows directly from those sheets, and what could only be described as pure elegance.
Robert and Suzzan had a wedding that focused on family. Their beautiful children were in the wedding party serving as a flower girl and ring bearer. The bride's sister served as her maid of honor and the best man was Roberts' brother. The vendors that the couple recruited were simply amazing. Of course, Sensational Ceremonies with Lon Tosi is an award winning group. Elegant Entertainment DJ & Video Services provided the sound support for both the ceremony and the reception. Rose Robinson of Events After Six served as the event coordinator, and she and her assistant did an amazing job. Everything went off right on schedule with no hiccups. 
We wish you much luck with your marriage Robert and Suzzan!