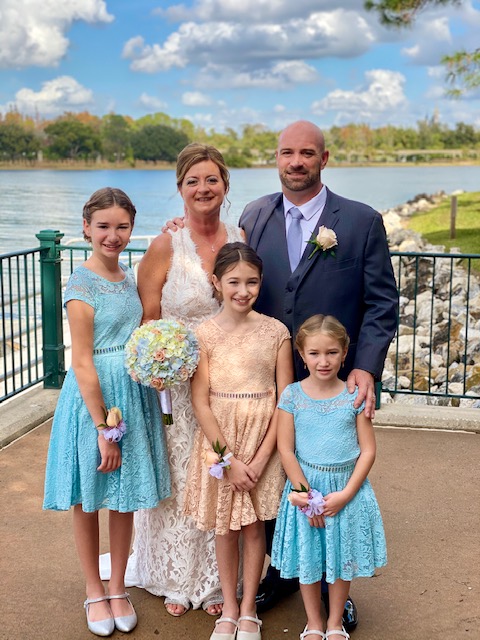 Overlooking the Magic Kingdom
Garrett and Melissa traveled from Massachusetts where they fell in love, to get married at Walt Disney World.  Behind Disney's Grand Floridian Resort at Conch Key Marina the couple walked their aisle to a location that overlooks the Magic Kingdom. Stephanie with Disney Fairytale Weddings worked with the couple to create a beautiful intimate wedding ceremony that overlooked the Magic Kingdom.  With only the couple's three daughters as guests, this was truly a family affair.   Stephanie made sure all their requests we met perfectly.  From transportation to flowers, and even connecting them with their photographer Stephanie did a great job! Ty Boyce with Disney Fine Art Photography did a fantastic job of capturing every moment of this intimate ceremony.  From photos in the lobby of the Grand Floridian through the ceremony and onto family portraits in the marina  that overlooked the Magic Kingdom, Ty captured it all. The Walt Disney World Florist really created the wow factor for Garrett and Meslissa's wedding.  Melissa's bouquet was filled with pink and white roses, and surrounded by blue and white hydrangeas Jennie Rudberg with the Disney Entertainment Group played the violin for the couple's ceremony.  Their mixture of Disney themed music, along with classical favorites was the perfect fit for the couple and their daughters.Melissa and Garrett wanted a ceremony that was intimate and very personal  They asked Rev. Glynn Ferguson, the owner of Sensational Ceremonies and an Official Walt Disney World Officiant to help them create a custom ceremony that fit the two of them.  Rev. Ferguson asked them to each write and tell him why they love each other.Melissa wrote:  I love Garrett because he is kind.  He has the biggest heart of anyone I have ever met.  Ask anyone that knows me well and they will tell you that I am not a hugger but I always want to be wrapped in Garrett's arms.  He told me once that hugs are the world's way of showing us that we aren't alone, and it is definitely true.
I love Garrett because he listens to me. He really listens which is rare. He remembers all of the silly stories I tell him about my friends and the people I work with which shows me that he really cares about what is important to me.
I love Garrett because he makes me laugh. I love that we have only been together for three years but have so many inside jokes and sayings that are funny to just us.
I love Garrett because he is such a good father which tells me about who he is as a man. There is no doubt in Vivian, Amelie or Avery's minds that they have the best father in the world.
I love Garrett because he makes things happen. He and I make plans for our future and they actually come true.
I love Garrett because he is my person, the one I waited 39 years to find. It was worth the wait.Garrett wrote: I love her beautiful eyes and smile.
I Love her loyalty; she is the mama bear I always wanted for my family
I Love her energy and her dedication; Always keeping us focused on the next right thing
She is the most intelligent woman I have ever known
She won me over with her cooking and especially her baking Congratulations on your Happily Ever After!