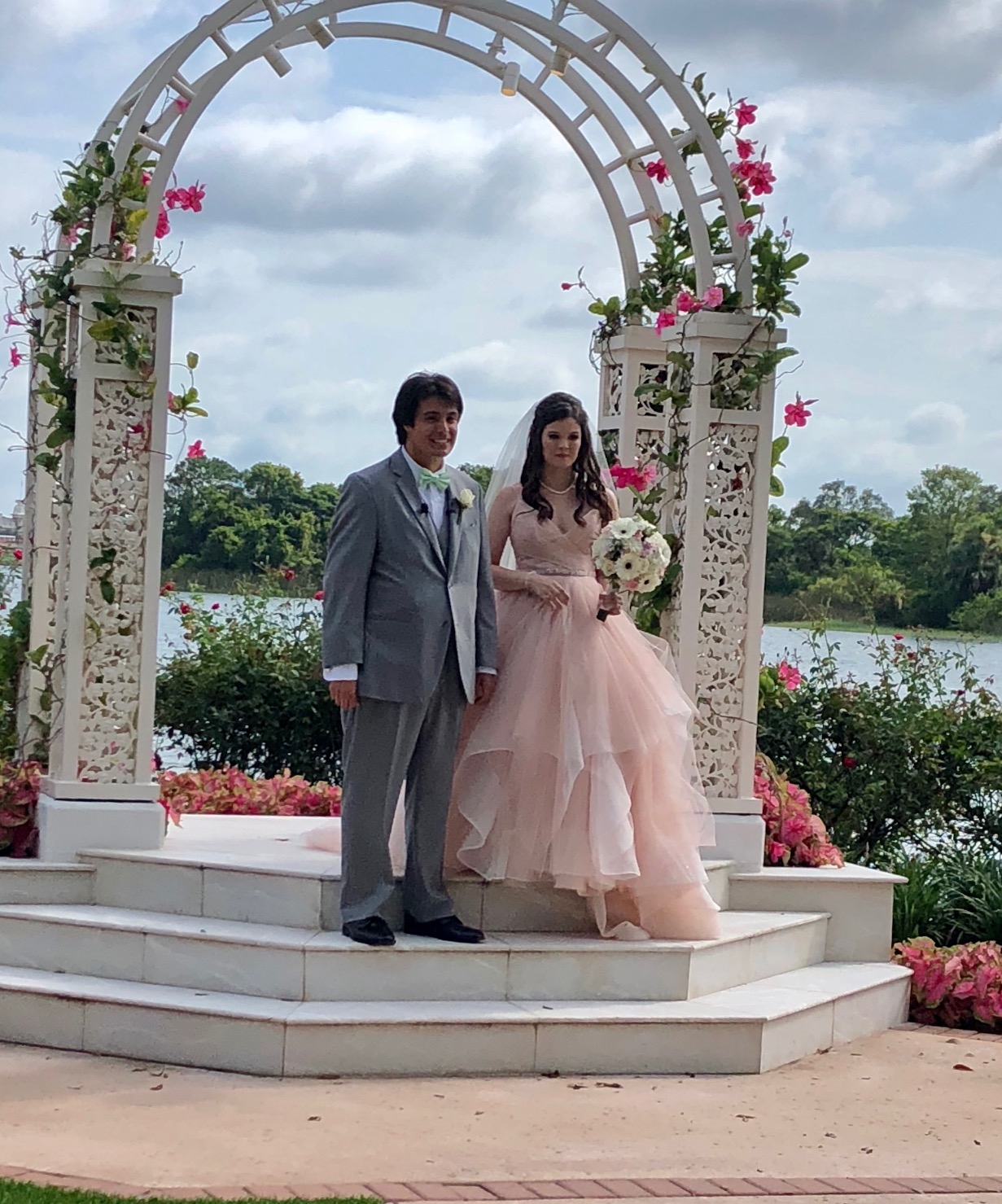 Patrick and Stephanie
Stephanie and Patrick met after her parents first met him at a traffic light one day. On their second date he even had to just start her car. From that point on he was by her side. This beautiful destination wedding was held at the Wedding Pavilion at Walt Disney World Resort in Orlando, Florida. Stephanie and Patrick's team of vendors was out of this world. All their planning was done by Eilse with Disney Fairytale Weddings, the blush, cream, and mint green floral arrangements were designed specifically for the couple by the Walt Disney World Floral Department. The beautiful morning wedding was capture by Disney Fine Art Photography and the expert videography of Trinity Wedding Cinema captured it all.
Rev.Glynn Ferguson with Sensational Ceremonies worked with Stephanie and Patrick to create a custom ceremony that really touched on their love for one anther. Stephanie wrote of Partick "
My parents met Patrick for the first time at a stop-light (true story!) and were instantly charmed by his easy smile. Patrick is confident in himself and doesn't let himself get wrapped up in anxiety. He has a strong Christian faith and it shows in everything that he does. Patrick's philosophy is "it never hurts to help" – even if that help results in a dead car battery and a very memorable second date. He will go out of his way for anyone who is fortunate enough to cross his path. Patrick's capacity for forgiveness seems boundless. No matter what is going on in his life, he always works to see all sides of an issue. He is quick to find validity in another person's side of the story. When someone offers him an apology, he accepts it without hesitation. Instead of dwelling on past wrongs, he moves forward. Patrick can be shy around new people, but once you get to know him you quickly discover that he has a stellar sense of humor. I often tell him that he is goofy and I mean it in all of the best ways. He is quick to tell a joke, offer up a funny impression, or do anything else that might bring a laugh or smile. You'll often hear his friends say "That sounds like Patrick" because he is just such a unique individual. He brings such joy to those around him – just ask our niece Brooklyn about his juggling!
My life was been enriched in every possible way since Patrick entered it. I truly cannot imagine going through life without him. He is my best friend, my Pokémon go partner, and reading buddy. He believes in me when I'm not able to believe in myself. He inspires me to be less selfish, less anxious, and more well-read (one of these days I'm going to be able to beat him at jeopardy). I am immeasurably blessed to be able to marry him and I know that my love for him will only grow as we go grow old together."
The couple chose fun music from the Muppets and the Avengers to walk down the aisle.