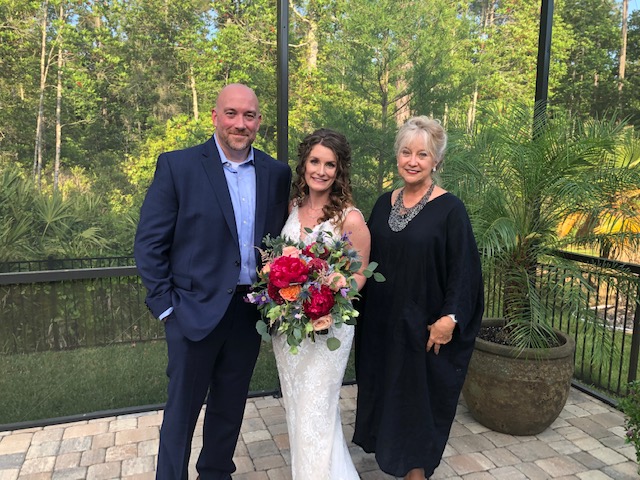 Quarantine wedding
It's often been said that "love endures all things"….and that "love never fails"–and "love conquers all"—During this year of cancelled and postponed wedding plans, Steve and Alisa chose to find a way where there seemed to be no way—when their resort venue cancelled their long awaited wedding, they chose a quarantine wedding.   They are living proof that although plans can change, love can grow stronger in and through it all.  
Their wedding date was the five year anniversary of the day they met…and one year anniversary of the day they were engaged…therefore, even though a "quarantine" meant that they could not marry where they had planned…nothing would keep them from getting married on the date which meant so much to them, so they had a quarantine wedding.
So.. on a beautiful evening…at their home—with just two photographers and Officiant Rev Joy Blessing of Sensational Ceremonies, Steve and Alisa shared a wonderful beginning for their more than wonderful marriage. 
Steve vowed to be "honest and faithful" to his bride…to "stand by her on sunny and dark days"…to never stop dating her, providing for her, supporting her..and vowed to his bride to "never stop loving you as long as we live"
Alisa promised Steve "to be joy in your heart and food for your soul" Alisa also promised to be Steve's biggest and supporter through all life adventures, to share in his dreams -and support him as he works to make them happen…to laugh with him in good times and struggle alongside him in bad times.
In preparing for their quarantine wedding, Rev Joy Blessing asked them what they loved most about each other- and included their words in the ceremony. Some of that which Steve loves most about his Bride was that she makes him laugh with her amazing sense of humor……that she has a smile that spreads happiness…and loves exploring new places with her…and how she knows when he needs a listener or advice..or a friend when he's struggling…and loves how she so kind and generous.
Alisa loves how Steve inspires her to be a better person, how he is so wise..and his sense of humor matches hers perfectly….she loves how he is adventurous, athletic and committed to being healthy….and the only person she knows who goes out of his way to make things easier for others. She loves how he supports her wholeheartedly….and is honest and trustworthy…and his discipline and motivation to get things done and solve problems. She loves how when plans change…he figures out how to make things come together even better than the original plans. And…this was most evident on their "quarantined wedding celebration."
Rev Joy Blessing ended their ceremony with the words that "the best is yet to come!'….confident that Steve and Alisa will be forever together.