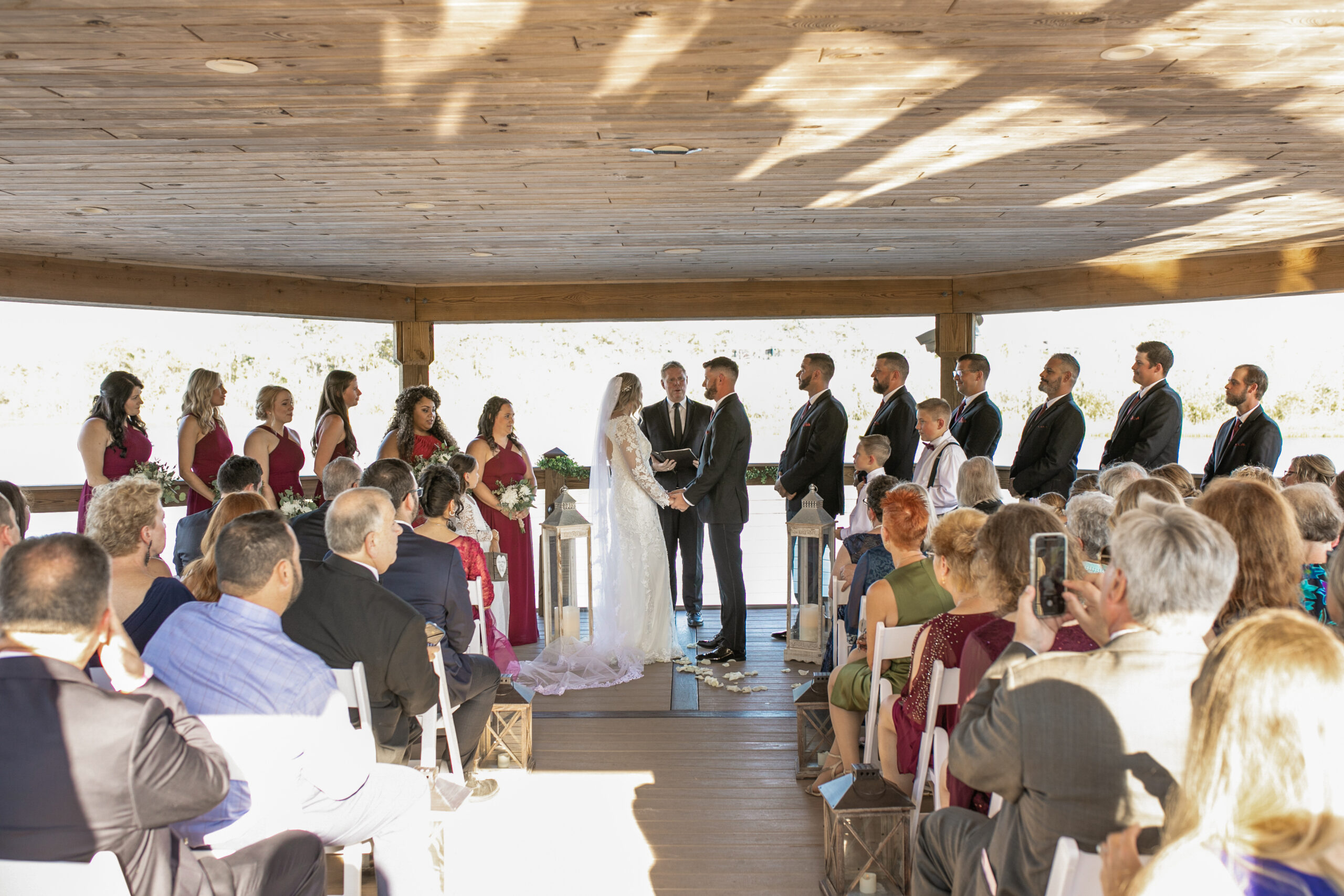 Secluded Resort
Michael and Elisa loved the idea of getting married in Orlando, Florida.  The couple chose the beautiful secluded resort The Grove for their ceremony location.  The Grove is tucked away close to Disney's Animal Kingdom and feels like it is a world away from the busyness of Central Florida.  
With beautiful accommodations for the wedding party and their guests, this secluded resort has a wonderful ceremony location on the end of a dock on their private lake. Elisa and Michael put together an award winning team of vendors to make sure their wedding at the secluded resort was absolutely beautiful.  

DJ Live Productions made sure to bring the party to this secluded resort.  Austin with DJ Live worked his DJ magic to make sure everything from the ceremony through the reception was a perfect fit for the couple and their guests.  

White roses and seeded eucalyptus adorned the bouquets and boutonnieres for the wedding party and the secluded resort ceremony location.  Flower Power worked their floral magic to make sure everything looked beautiful for the couple.  

To capture this amazing wedding at the secluded resort Elisa and Mike chose George Street Photo.  George Street Photo worked with the couple and their wedding party to make sure they captured every moment of their wedding day.  From pictures of the couple getting ready, the ceremony, cocktail hour, and then on into the night George Street Photo captured their memories for a lifetime.

Mike and Elisa asked Rev. Glynn Ferguson, the owner of Sensational Ceremonies and a Walt Disney World Wedding Officiant, to work with them to create a custom ceremony for their ceremony at their secluded resort. With personalized vows, readings, and a custom ceremony that fit the two of them, everything was perfect.

Rev. Ferguson also gave them two of them a homework assignment for their secluded resort wedding.  He asked them to write and tell him why they love each other.
Elisa wrote:  Mike is the best part of my day,  every day. He is kind, caring, and has a way of making everyone feel comfortable. He fits in, in all different social situations, and is the kindest person to his family, friends, and our two fur babies.   Even though we have been around each other every single day for years, when we are a part we miss each other instantly, and can spend hours talking and venting about daily frustrations. Mike is the best friend I can never get tired of. I'm so excited to be his wife. I love Mike, just not as much as I love Daisy and King.

Mike wrote:  Elisa is the love of my life and my best friend. She's beautiful, smart, supportive, pushy…in a good way, and makes me want to be better every day.  I wouldn't have taken the risk of stepping out of my comfort zone if it wasn't for her. She has the biggest heart out of anyone I know, and I couldn't have found someone better to be my wife.

Congratulations on your secluded resort wedding.  We loved being a part of your special day!