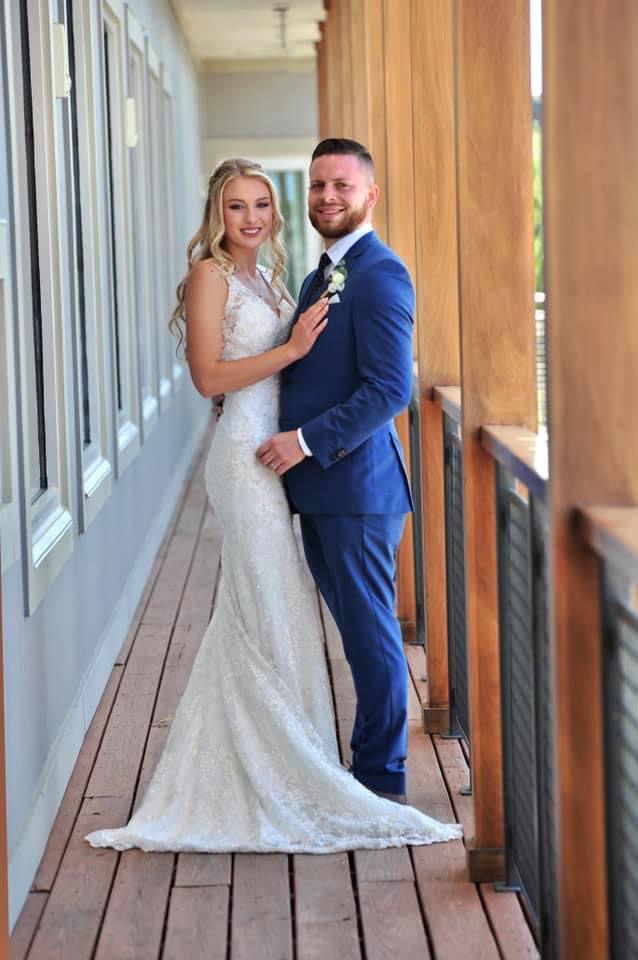 Simple Destination
With the reopening of much of the United States Karlie and Andrew wanted to get away and have a simple destination wedding.  The couple chose the beautiful Paddlefish restaurant at Disney Springs in Orlando, Florida.  With it's sleek lines and modern vibe it seemed to fit the couple perfectly. Andrew, a chef with the Four Seasons Resort Miami loved the idea of being on Disney property, but with the price tag of something off property.  It didn't hurt that for this simple destination wedding, the couple could have food that met his culinary criteria.
 The couple reached out to Intimate Weddings of Orlando to help make their dream of a simple destination wedding come true and Victoria hit it out of the park with this event.  With their all inclusive package the couple could start with the basics and add anything they wanted to it.

Christopher Smith with Snap Fine Art worked his magic to capture every moment of the couple's simple destination wedding.  From the set up in the private dining room, getting ready shots, through the ceremony, and formal pictures around Disney Springs, Christopher got it all.  

Flowers by Lesley brought the blooms to this simple destination wedding.  With the bride's bouquet and the groom's matching boutonniere the couple looked stunning.  Then throw in mounds of flower petals for the aisle and you really have the magic.

Jennie Rudberg with Orlando Violin Music turned this simple destination wedding into something elegant and beautiful.  Every song was personally picked by the bride and groom to make their wedding day spectacular, and it was.

Rev. Glynn Ferguson, an Official Walt Disney World Wedding Officiant and owner of Sensational Ceremonies, worked hand in hand with Andrew and Karlie to create a beautiful custom ceremony, with personalized vows, and special touches throughout.  He also asked them to write and tell him why they love each other.

Karlie wrote:  Andrew is my best friend and i know he is meant to be my forever partner he know how to make me laugh and also pushes me to my fullest potential i have evolved so much growth as we have evolved together he has worked so hard i love that he is so passionate about his career as a chef and i know it can be very stressful and he still brings home that love and passion to his family and cooks an amazing meal ha ha. But I'm so proud of the person  he has become, setting himself up to be the best father and man. I love how he's selfless, supportive and very dependable to his kids and I. We can always count on him. He is our protector and our biggest support system as well as my biggest cuddle bear. I love him more than words can describe, he has made a huge sacrifice this year and being away for months after years of being inseparable was so hard and made me realize even more how much I wanted to spend my life with him by my side. He is the joy of my life from singing Disney songs to me at home to our magical adventures at Disney world. i can not wait to spend the rest of my life with him

Andrew wrote: I love Karlie for the way she loves my children like her own, how selfless she is in caring for me and them. I love her for the feelings I get when thinking about our life together and how she makes me the best version of myself, the best father I can be and man. She completes me in every way entirely in ways I thought I couldn't be completed and filled holes I thought were permanent. She gives me a new purpose and reason for life. No one has loved me the way Karlie loves me and for this I love her more than anything, she makes me feel loved and cared for, she is my safe haven. I can't wait for the rest of my life with her for the opportunities we create together. I will protect her and love her just as she will be giving the same in return. Her energy, her love, her beauty are the countless things I could write about the reasons to love her but for me it's the smallest things. I love her because we love the same things. She's my best friend, my partner for life. 

Congratulations on your simple destination wedding.  It was beautiful, just like you!