Tethered In Love
Brooke and BJ had been together through life's ups and downs, so when BJ proposed they knew they wanted something simple and fun. Why not get married in Orlando at Walt Disney World? Well, an official Disney wedding was way out of their budget.
Brooke contacted Intimate Weddings of Orlando to see what they could do to make their dreams come true. The couple chose a simple elopement package and since they were staying at a hotel on Disney property they could get married there. Victoria with Intimate Weddings of Orlando lined up the space, contacted the officiant, photographer, and ordered the flowers. How about that for simple and fun?
Edmund with Rhodes Studios met the groom in the lobby of the Hilton Lake Buena Vista. With Edmund's simple and fun demeanor he was a perfect fit for this couple and the playful style of photography had them laughing all throughout the ceremony and portraits afterward.
Flowers by Lesley crafted a beautiful bouquet for Brooke out of red and white roses. The simple and fun style was exactly what Brooke was looking for and it even contained a "hidden Mickey" in one of the blooms.
Even though rain threatened to dampen the couple's fun and simple wedding Rev. Glynn Ferguson, an official Walt Disney World wedding officiant and owner of Sensational Ceremonies, came ready to officiate these sweet nuptials with a custom ceremony in hand.
Rev. Glynn also gave the couple a simple and fun homework assignment that we just love. He asked them to write to him and tell him what it is they love about each other.
Brooke wrote about BJ: When I met BJ I was at a crossroads in my life and it would've been very easy for me to take the wrong road. He saved me and doesn't even realize it. He is the most selfless person I have ever met and anyone he knows could tell you that. He's taught me so much about love and patience in the past 3 years. (He stuck around even when I chased him all over town and didn't give him a choice other than to get to know me (LOL) Now he's not the romantic type to bring home flowers and special dates but his love and affection runs way deeper. It's running out before he leaves for work at 5 am to make sure I have my favorite coffee when I wake up, watching my favorite tv shows over and over with no complaints, and never complaining when I ask him to cook us dinner. He is my best friend and we make the best team. He's such a hard worker. He truly does give our relationship and kids his all plus more. I love the way he's the best father to our children. I had a daughter before we met and he's treated her like his own since he met her, we also have a son together. He's the glue that holds our household together and there's not a day that goes by that we have to question his love. He truly gives 100% into this family and it's his best trait. There's nothing that I love more than this life we've grown together. I truly believe he was placed in my life at the perfect time for all the right reasons.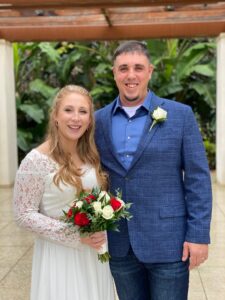 Bj just recently lost his dad (Nov.) and I would love to be able to mention him during the ceremony. His dad raised him and his sister as a hard working single dad and he looks up to that so much as how he wants to have our family and raise our kids.
BJ wrote about Brooke: There are so many reasons why I love Brooke. From the very first time I saw her I knew there was something different about her and after a few months of talking I knew she was the one I wanted to be with. Now three years later she's the one I get to spend forever with. I fall more in love with her as the days go by, the way she loves me and our children is incredible. She's caring, selfless, funny (not as funny as she thinks she is) but she's funny, she listens to what I have to say, she always has my back when I'm not sure what the right choice might be in any given situation and she makes me a better person, father and lover. This has been a very hard year for me and our family, I lost my dad and my mom was diagnosed with breast cancer less then a week before we lost him and Brooke has been the only thing that's kept my sanity. She never hesitates to call and check on my mom while I'm at work not because I ask her too but because she cares, she would stay up for all of the late night calls to the hospital for updates on my dad every night for a month not because I asked her too but because she's cares and wanted to be there for me when I got whatever news the hospital had for me that night and she has no idea how much that means to me. It's hard to put it in words why I love her but the love I have will never stop, she's my world, my best friend, my go to person, the mother to our two beautiful children and I hope I can be everything to her that she is to me!
Congratulations to this beautiful couple!