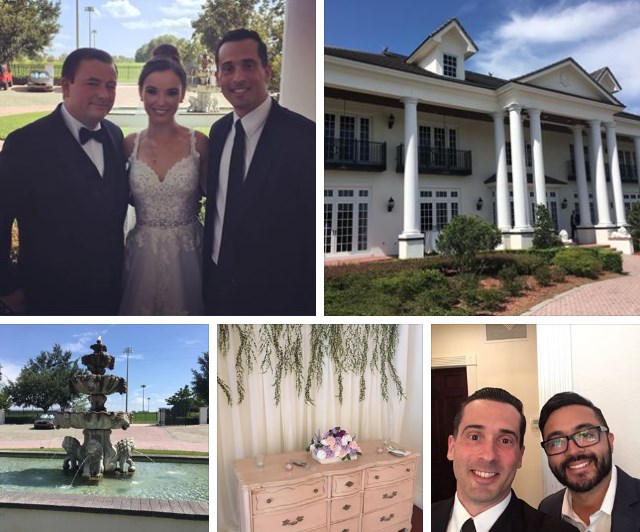 The Luxmore Grand Estate Wedding
Anthony and Allicia had a fairytale type wedding at the The Luxmore Grand Estate. This place is breathtaking as it provides an old colonial manor scene with views of Lake Jessup. The evening began in the ballroom where Harry Rubi from Sensational Ceremonies conducted a traditional ceremony. The couple exchanged personal vows and they said:

The man that I see in front of me is not what everyone else sees. I see not only a strong man, but I see my rock, my Better half, a great father and my best friend. When I look in his eyes I see my present, my future and all of the memories we have to make through the years to come. You always have my best interest at heart, you have helped me grow not only as a mother but to be your wife and I know that you will never lead me in the wrong direction. I see your Grandfather so much in you, especially in the way that you take care of our family and that's one of the things that made me fall in love with you from the beginning. I will cherish every minute, every memory and every tear from this moment on as not only your wife, but as your best friend and partner. I thank God for you and our children every day. I love you so much.
———
I love Alicia because…
I love coming home every day and having Alicia greet me. I love going to bed every night with Alicia. And waking up with Alicia in the morning. I love watching her teach and play with the children. I look forward to spending every day with her for the rest of our lives. I cannot wait to have move beautiful children with her, and for us to grow our family. I love the support she gives when I'm occupied with work. I love having a partner to lean on when I need assistance. I love the effort she puts in to making our house a home, and the pride she takes in being a mother. And even when the day is over, we're both exhausted, the chores are done, and the children are asleep; she's still smoking hot, and that's pretty nice too.
———

The guest where then ushered to the scenic patio area for cocktail hour. Caitlin from Plan It Events Design and her crew orchestrated the design and coordination to create a masterpiece wedding reception. Their team flipped the ceremony area into stunning reception within minutes. The guest where then escorted back into the ballroom to rock the night away by the gifted DJ from Fyerfly Productions. The detail of the evening was captured by Bumby from Bumby Photography. 
Congratulations to the happy couple!