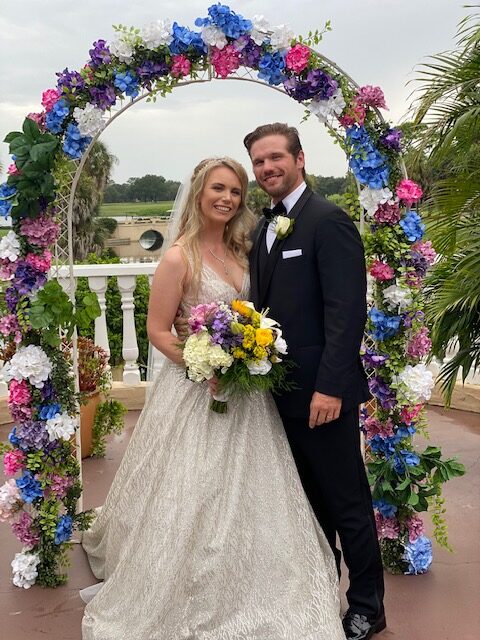 Threatened by Rain
Lindsay and Brandon had to postpone their wedding once and when threatened by rain to stop it again, they were not having it.  The couple chose the beautiful Mission Inn Resort in Lake County as the place that they would have their wedding day.  The resort also has numerous indoor spaces for events that need to be moved inside.
As clouds gathered over the ceremony site and the ceremony was threatened by rain, their wedding coordinator with Runway Events talked with the couple and they decided to move it inside.  The ladies with Runway Events were quick to action as they carried a floral arch and decor into a ballroom and coordinated the other vendors to move in as well.
Claudia's Pearl Florist quickly sprung into action when threatened by rain and made sure all of the floral decorations took the move inside well.
When threatened by rain, Live Happy Studios realized the opportunity for them to get some amazing pictures.  Whether rain is falling around the couple under an umbrella or the weather clears and they have beautiful skies, they were ready for it all. 
 Soundwave Entertainment really stepped up to the plate when rain threatened to pour down on the wedding ceremony.  DJ Ray and his team moved all the audio equipment from the Plaza to an interior ballroom and then used up lighting to make the room look amazing. 
 Brandon and Lindsay were looking for an Orlando officiant and met Rev. Glynn Ferguson, the owner or Sensational Ceremonies at a bridal show earlier in the year.  With their mutual love for Disney and the option to really personalize their custom ceremony, the couple felt at ease with him.  He even told them that if the ceremony was threatened by rain, that he would stand there with them to finish the ceremony- no matter what!  Rev. Glynn even gave the couple a homework assignment to write and tell him why they love each other.
Lindsay wrote:  I love the man that Branden is, even when nobody is looking. I love him for accepting me and supporting me through each season of life. He is my rock and my refuge, the future father of our children and my soulmate, hand picked by God himself. With every accomplishment, every obstacle, every milestone and adventure, there he is right beside me. He is the man l prayed for my entire life, and I can't wait to share the rest of it with him.
Brandon wrote:  I love Lindsay because when my life started to feel like limbo she came into it and made me feel alive again. Her smile and laughter will makes my soul feel warm and my mind calm. Other than my parents I've never felt love like I feel from her. She cares for me like it's her mission in life. For what it seems like the first time in my life I'm thinking of my future, and that would not have been possible if it wasn't for her beautiful presence. She makes me excited to be a husband and someday a father, raising our kids in a home we own and growing old together.
 We wish them clear skies and many many years of happiness together!