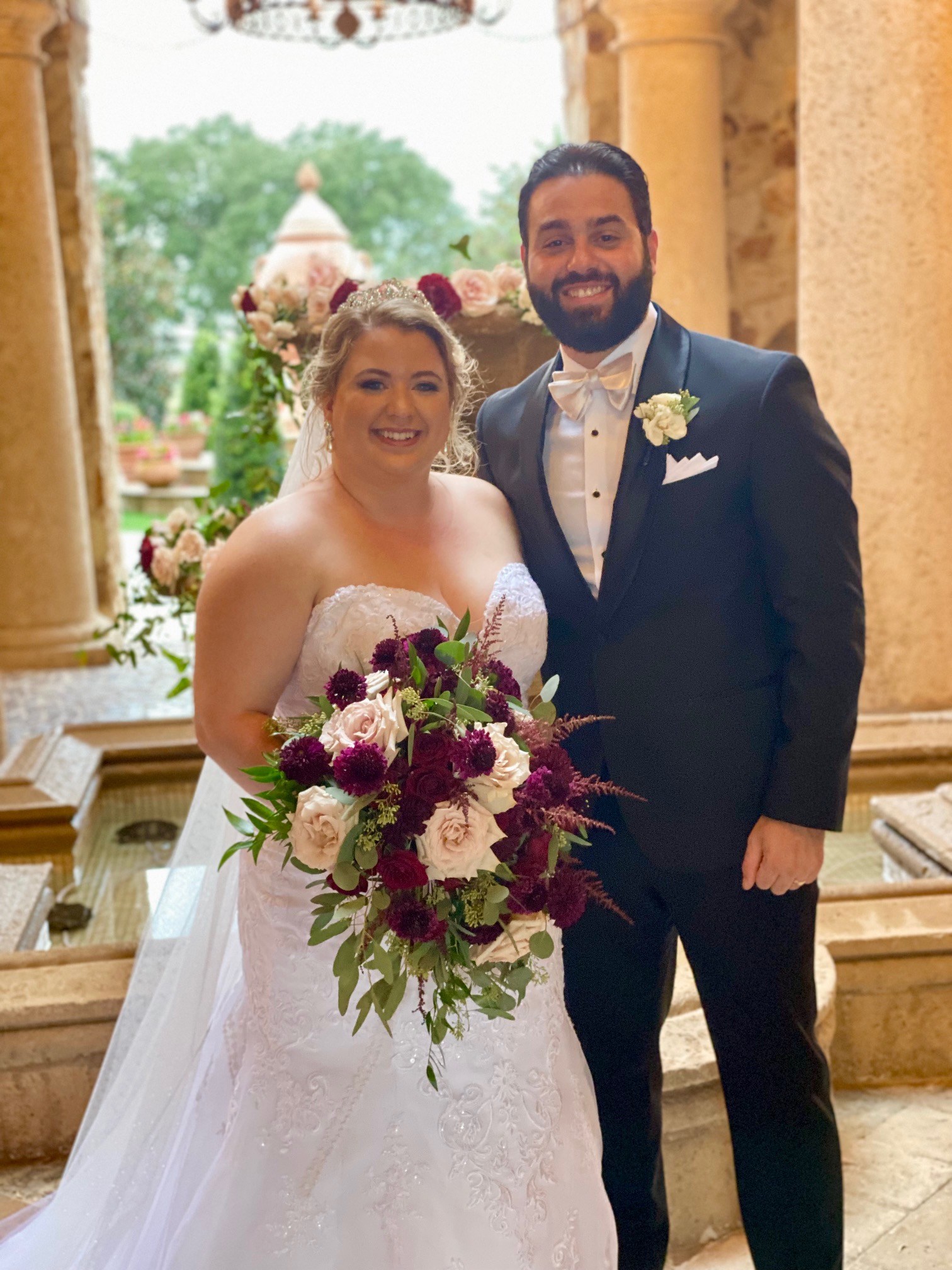 Unforgettable
Some weddings are unforgettable and Katie and Joey's wedding would absolutely be in that category.  The couple chose the gorgeous Bella Collina Resort as the location for their beautiful wedding.  Built on the top of a hill, with winding roads of cobblestone and buildings that look like they were plucked from the hill country of Italy, this place is absolutely amazing. 

Andrea with Couture Couture Events worked with the couple to make sure their  wedding vision came to life and was absolutely unforgettable.  From making sure every detail was accounted for to helping the couple pick an incredible team of vendors, Andrea was spot on. 
 Edmund, and his team from Rhodes Studios Photography and Video made sure to capture every moment of this unforgettable wedding.  From getting ready pictures, through the ceremony, and late into the evening Rhodes Studios captured it all.  When rain came like a curtain across the lawn the photography and videography team moved quickly to move their equipment  to their atrium so they could capture the remainder of this unforgettable wedding ceremony.

Raining Roses really did make this wedding one that is unforgettable.Deep rich hues of dark red, burgundy, and creamy white gave everything an opulent feel.  From candles down the aisle and a beautiful circular infinity arch, the team at Raining Roses really made it all come to life.

DJ Rey was really on his A Game for this wedding.  The beautiful music for the ceremony was only the beginning.  This evening Rey kept the music going late into the night and the dance floor was never empty.

Katie and Joey asked Rev. Glynn Ferguson to help them create their unforgettable wedding ceremony.  With a deeply religious ceremony, the Irish Wedding Blessing, and even thanking their parents for all their support, the ceremony was a custom ceremony with traditional tones. Rev. Ferguson, is the owner of Sensational Ceremonies and an Orlando wedding officiant. He gave them a homework assignment to make their beautiful ceremony absolutely unforgettable.  He asked them to write and tell him why they love each other.

Katie wrote:  Joey, it has been an honor to grow up with you all these years. To learn with you, to make mistakes, to make memories. I am so proud of the man you have grown to be. We have a wonderful friendship and relationship. We have gone through so much together and we have matured together only making my love for you stronger and deeper. You are my best friend, the yin to my yang, and my anchor when I can't seem to find my footing. You are the best cat daddy in the world and I can't wait to see you with our children. I know you'll be an amazing father. After all these years I'm so excited to finally call you my husband and see what else our life has in store for us.
Joey wrote:  Katherine, when we first met we were just kids. I don't exactly remember the first thing I said to you in musical theatre, besides the fact that it was a cheesy pickup line, but I knew I needed to say something to you or else I was going to regret it. I never knew that that day would change my life forever. I did not know what was going to come from our time together, but there is one thing I did know, and that what we have is love and with that it can take us anywhere. Through middle school, high school, college, work, Covid-19, to a mortgage, there is nobody in the world that I would rather have by my side getting me through it, because you know I cannot do things on my own. To grow up with you and share my hopes and dreams, my passions, and my challenges with you has been the honor and privilege of my life.
I vow to always be devoted to us, and to be the man that you deserve. I also vow to you to always be the cheesy kid with the pickup lines to you even when we are old in rocking chairs making fun of our kids doing the same thing to others.
I vow to listen to you, even if there is a marathon of the Godfather playing in the background and you know I haven't watched it in like forever.
I vow to always protect my little wizard hobbit from the shire, and hope that this hobbit doesn't take the one true ring I bestow to it and throw it into the fire, but to cherish it, as much as I cherish you.
I vow to love you, to always love you, and that is a pinky promise.
Congratulations to the two of you. I promise your wedding was unforgettable!