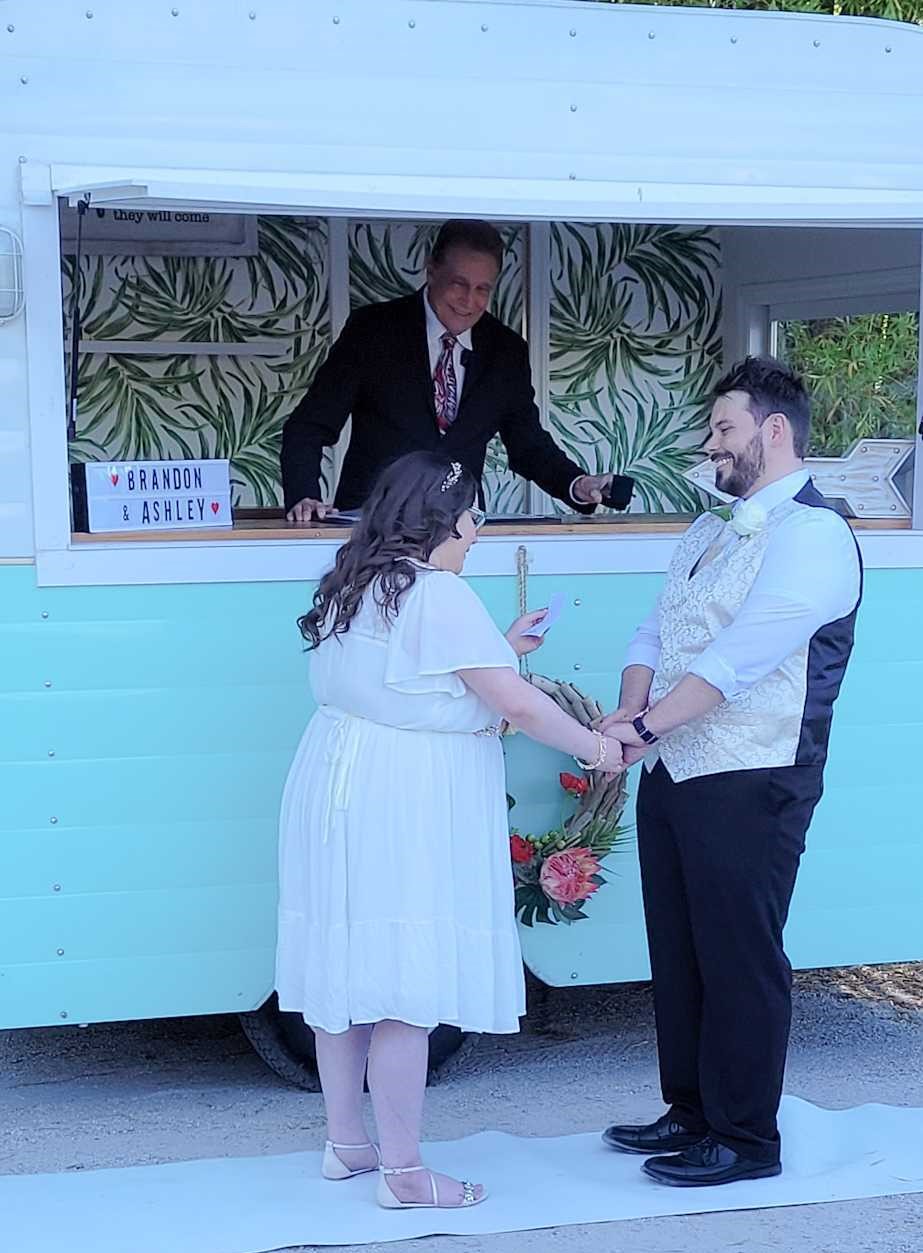 Vegas Comes to Orlando Drive-Thru Wedding
The Venue
Picture a vintage Boho Trailer parked in a paradise-like setting. A luxury classic Cadillac pulls up to it, and a happy couple, dressed to impress, emerge to stand by it. This was their day. They were here to be married. There was no audience present. Their families were live-streamed via a link to their joint families, as well as the world. This is the setting that emerged recently in Orlando Florida. The entire event was a brainchild of Bonnie and Bryan of P.S. I love You Productions. It literally reminds one of the type of wedding ceremony that is so typical of Vegas drive-thru weddings – with a twist. That is because some of the most talented wedding vendors in the country were on hand for this special wedding celebration. The entire event was absolutely spectacular.
The Ceremony
Lon Tosi of the team of Orlando, Florida officiants from Sensational Ceremonies was selected to be the officiant for this unique event. He created a wonderful ceremony that focused on the aspect of love in a relationship. It spoke of their friendship and trust as well. It was a fun atmosphere with Lon in the trailer looking down at the happy couple. Unique and memorable are the words that describe this event. Of course, there were vows and rings were exchanged and there were many kisses. "Happiness on a Vegas Comes to Orlando scale". It was a perfect drive-thru wedding!
The Vendors
This Vegas Comes to Orlando style wedding was planned and delivered by P.S. I Love You Productions. It was masterfully orchestrated. Lon Tosi of Sensational Ceremonies was the Officiant. The Flower Studio provided the arrangements. Paradise Cove has their amazing Boho trailer on hand for all sorts of events, and the wedding was held on their venue property. Castaldo studio:: Photo + Cinema provided the Live Stream. Anna So Photography captured it all for the couple. And, Cole's Classic Cars delivered them in style with their magnificent vintage Cadillac. Last but not least, it could all not have happened without a valid Florida Marriage License. That special document was provided by none other than Married By Mail the premium licensing service in Florida!
The happy couple was planning a week of fun at Disney World Resort. That is one feature that Vegas just can't compete with!
And it all happened on a sunny warm evening in Orlando, Florida. Congratulations on your marriage Brandon and Ashley! Your adventure has just begun!