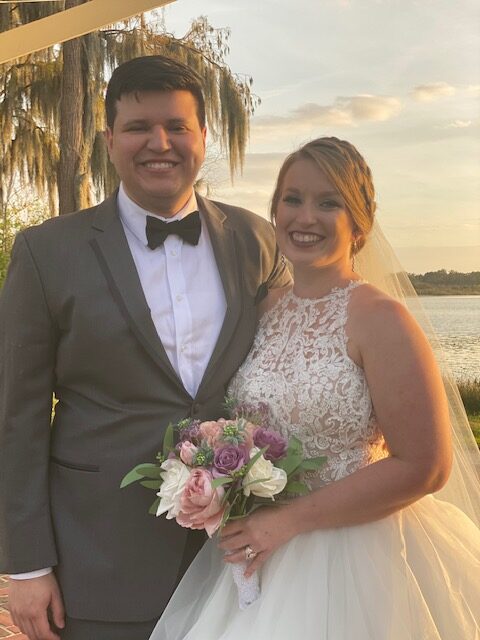 Wedding at Sunset
Kayleigh and Jario loved the idea of a lakeside wedding at sunset, so when they found the Estate House at Cypress Grove, they knew they had found the perfect location for the two of them.  Located on the shore of Lake Jassamine in Orlando, the Estate House at Cypress Grove is a beautiful southern estate built in 1929 and surrounded by 80 acres of lush live oak trees and bald cypress.  It is a site to many weddings, receptions, and corporate events throughout the year.
Pear White Events took the reigns for the coordination on the day of the wedding.  With timelines set, and everything organized they really did make the day go smoothly and allowed Jario and Kayleigh to be a little more stress free.  The timing had to be perfect because the couple wanted their wedding at sunset.
Big City Catering was the perfect choice for Jario and Kayleigh's wedding at sunset.  They handled everything from the bar service under the trellis, the butler passed hor devours, to the incredible plated meal under the stars.Christopher Ramos Photography did a superb job on capturing event angle of their wedding at sunset.  From the getting ready photos of the ladies in their hotel, to the gentlemen slipping on their jackets, then the ceremony, cocktail hour, and reception at Cypress Grove.  They really crafted a story through their photographs.  Patricia with LeJeune Artistry did the hair and makeup for Kayleigh and her bridesmaids.  They looked absolutely beautiful for the wedding at sunset.  Jario and Kayleigh asked Rev. Glynn Ferguson, an Orlando Wedding Officiant and owner of Sensational Ceremonies, to work with them on creating a beautiful ceremony for their wedding at sunset.  Rev. Ferguson gave them a homework assignment, to write and tell  him why they love each other.
  Kayleigh wrote:  There is so much I love about Jairo, but one of the things I love the most is how Jairo can make me feel safe, while also pushing me out of my comfort zone. In our 8 years together so far we have done so much, including picking up and moving to another state together, without a plan for where we would live or how we would pay our bills. Throughout every big step, Jairo has been a constant, right by my side. He has always encouraged me to take chances and try new things, no matter how scared I get.
Jario wrote: I love Kayleigh because a day laying around in bed watching our favorite shows is just as exciting as any night going out. I love Kayleigh because it's been almost 9 years and we've never gotten tired of being weird with each other. There's nobody in the world I'd rather do basically nothing with. Every day is a new experience together and nothing excites me more than thought of spending the rest of my life with her.Congratulations to the two of you!  We wish you a lifetime of love and happiness.