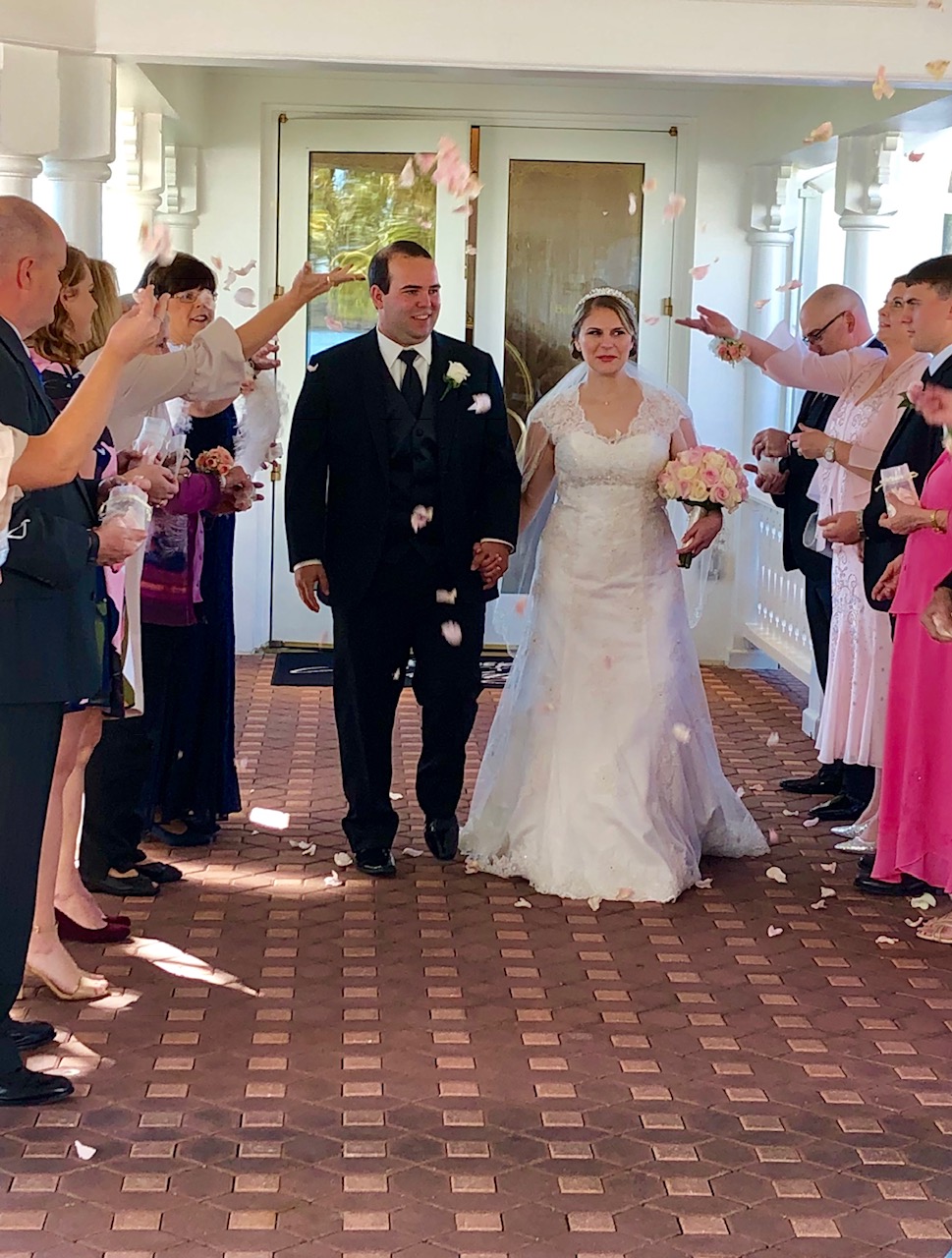 Fairytale Beginning
Their coordinator with Disney Fairytale Weddings made sure every detail was accounted for on their wedding day. From the delivery of their pink and white florals from the Walt Disney World Florist to the transportation of their guest it all ran smoothly.
Rev. Glynn Ferguson
with
Sensational Ceremonies
worked with the couple to create a custom ceremony, just the way they wanted it. Rev. Glynn gave Christopher and Ashten a homework assignment, to write and tell him why the love each other.
Christopher wrote: "I love Ashten more than I can put into words. Her drive and determination is a thing to admire. She is the hardest working person that I know, and she pushes me to great lengths. Ashten is also one of the most caring people on the planet. She is always looking to help people or go out of her way for someone. I couldn't think of a better place to have this wedding other then Disney because she just glows when she is there. She would live here if she could. That's why when I finally proposed to her I knew that I had to do it at Disney and overcome my discomfort for large crowds. I'd do anything to make her happy and support her all that I can. She is the first thing that I think of when I wake up and the last on my mind when I go to sleep. She has pushed me to become a better person and also to better myself with my career. Without her I wouldn't be the person that I am today. It is never a dull moment with her she always has something planned for us, usually somehow involving Disney. When I see her I can't help but smile no matter what is going on at the time. She would drop anything for me if I needed her too and is a special feeling to see someone care for me that much. I know at times I can drive her up the wall, but she never holds it against me for too long. She breaks me out of my comfort zone and brings me places I never thought I would go. I cannot wait to see what the future brings for us and I am extremely proud of her and all her accomplishments."
Ashten wrote: " Why do I love him?
There are so many reasons that I could write an entire paper detailing the reasons that I love Chris. I pondered this assignment for a long while and decided that most importantly were the reasons that I fell in love with him. I am not sure what all is supposed to be included so I'll start with a little history.
Here's a little background:
Chris and I met several years before we ever dated. We worked together in college and I considered us decent coworkers/friends, but then we went on about our lives and lost touch. We reconnected during, what I would consider, one of the worst and most challenging times in my life. This was a time that I was absolutely not looking for a relationship. I considered myself broken. When he, out of the blue, texted me "Happy Birthday" I was at work (I am a nurse and was working a memorably tough shift in the Emergency Department). I remember thinking "Wow, it sure has been a long time since I have heard from him!". I never imagined that we would start with the "Hey, how have you been. I notice that you're single now?" (LOL) sort of small talk and up where we are today. After that ER shift, I left on a 7-day cruise and really did not think that he would stay in contact, but the day I got back he asked me to go to dinner.
Chris came into my life at what I initially thought was the worst possible timing. Reflecting back, I now realize he came in at the perfect time. He helped me to see that I had value. He saw past my imperfections and loved me as if I were perfect. He protected me, helped me to heal and showed me that I was not only worthy of love but what it felt like to be loved.
Prior to our reconnection, I had begun the application process to start a rigorous 3-year long graduate program. My dream has always been to be a nurse practitioner. I was so sure, in the beginning, that Chris would not stick by my side through these busy years but he did. I remember having a conversation with him before the start of my program in which I austerely told him that he could walk away or decide to be with me for the long haul because I was not going to have time to deal with uncertain relationships (I was so guarded). He has been one of my biggest supporters and my best friend. He is patient. My gosh, I look back and realize that there were so many times that I could not have blamed him for saying "she is just too much to deal with". He respects my autonomy and embraces my strong personality. He has taken the brunt of all of my frustrations, melt downs and days where I felt that I truly had nothing more to give. I truly cannot express how selfless he has been. Without fail, he has continuously picked me up, brushed me off and pushed me forward. He kept my dreams alive and has had faith when I did not. I love that he supports me and pushes me to achieve my dreams. I look forward to our life together and will strive to be his biggest support while we pursue our dreams and goals together.
During my 3-year graduate school he also put himself through a second degree. He worked a full-time job and went to school at night. I have watched him excel at everything he has poured himself into. I love his integrity, tenacity and desire to always better himself.
My sports, fishing, and duck-hunting loving man is one-of-a-kind. I love his devotion and passion. He is definitely my better-half. We balance each other. He has taught me that it is okay to have fun, that you can unwind (I tend to be pretty high-strung) and take time for yourself. He carefully thinks through choices and does not make hasty decisions. Because of this quality, I trust that he is certain about us."
We wish them happiness for a lifetime.