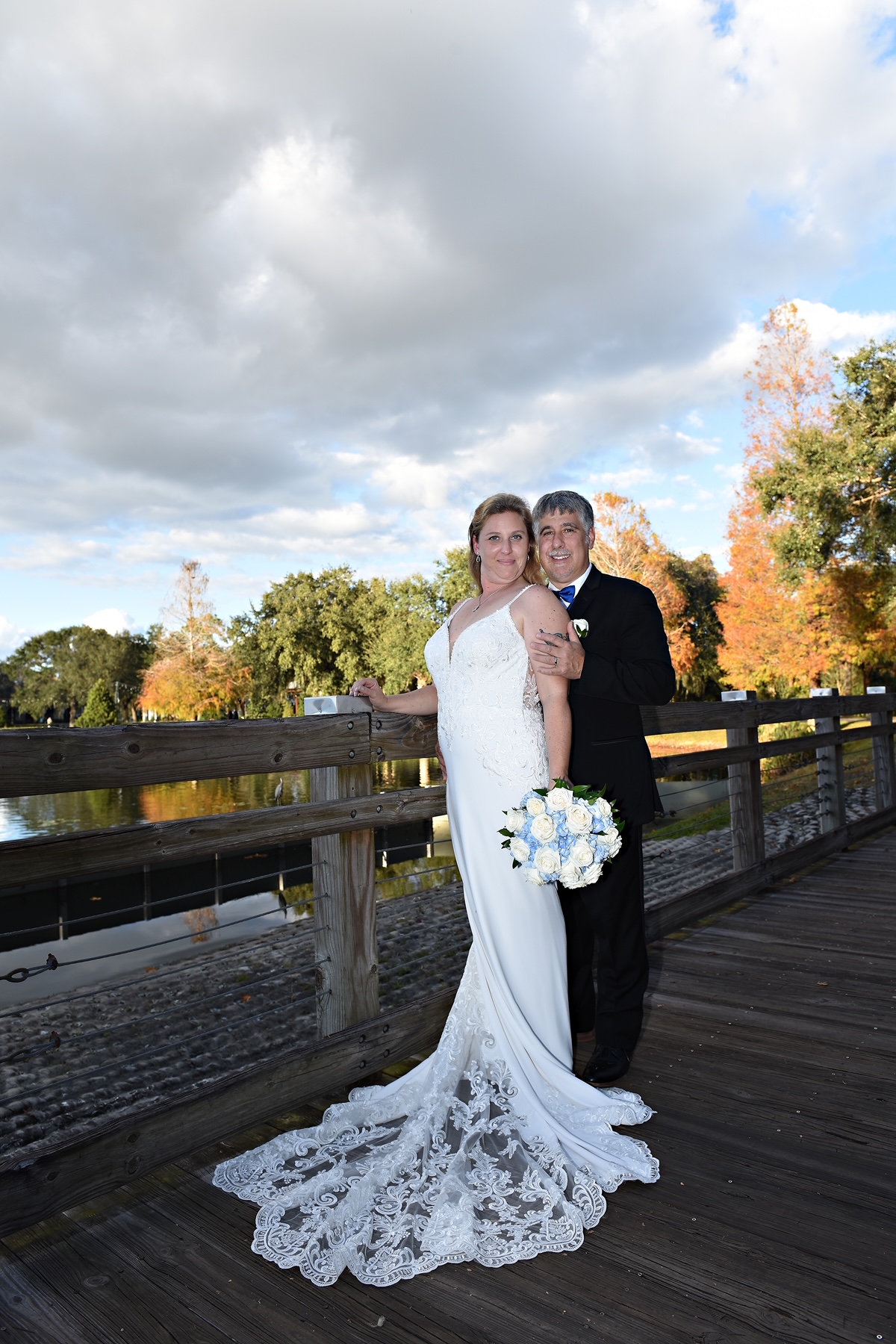 A Glorious Celebration
The Venue
Celebration Florida is a master planned community located in Central Florida. It was designed and developed by The Walt Disney Company. The Celebration Community was formed with the concept of building a better place and a better way to live. There's a reason Celebration is not a town, but a community in every positive sense of the word. It features 26-miles of walking trails, numerous recreation areas and gorgeous vistas of lakes and floral designs. It offers numerous beautiful sies for wedding ceremonies. It was perfect for Eric and Corey to hold a glorious celebration of their love. It is notable that Celebration is located in the shadow of Walt Disney World Resort and is just a few miles from other major attractions like SeaWorld Orlando, and Universal Studios Orlando.
It happens! Sometimes it just happens that the perfect couple finds the perfect spot to become husband and wife. Eric and Corey found that spot with the help of Lon Tosi of the Orlando officiant group of Sensational Ceremonies. Lon actually lives in Celebration, and offered up the options for the couple to select from. And, there were many to choose from for certain.
The Ceremony
Lon also worked with the couple to build a simple but beautiful custom ceremony that spoke directly to their love from one another. They come from different cultures and countries; he from the United States; she from Canada. They collaborated with Lon. They shared their thoughts and their feelings, and the result was something that fit just perfectly. Their ceremony spoke directly to their love, friendship, loyalty, fidelity and trust vows. They spoke special writings to one another that they carried to the ceremony. They cried and they laughed, and they became one near a lake, on a lawn, in Celebration Town Center. They had children with them from a previous marriage. They were so excited and so happy. It was indeed a glorious celebration!
The Vendors
Simply the best vendors made a glorious celebration work perfectly! That wonderful bouquet, and the groom's boutonniere were provided by Flowers By Lesley– Orlando. Rhodes Studios Photography and Video took the photos and has produced a great video of the event. Lon Tosi was the officiant, and Intimate Weddings of Orlando provided the overall package and administration. Lon is Vice President of Sensational Ceremonies and serves brides and grooms in the Orlando, Florida area.
And a glorious cerebration happened on a sunny day in beautiful downtown Celebration Florida!
For more information on Elopement Packages like this click here