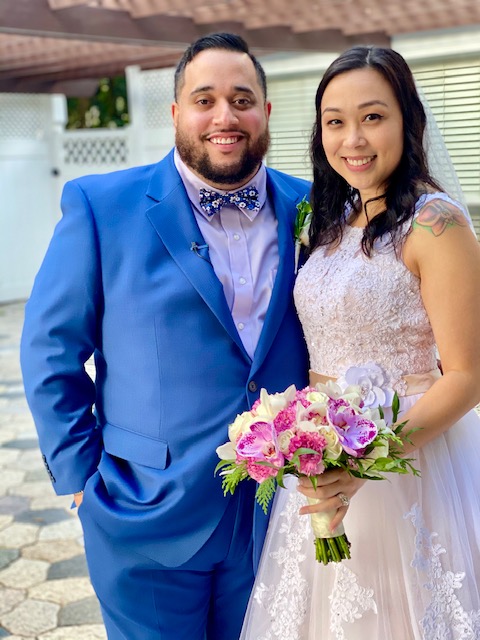 Unbreakable Bond
Orlando in the Winter is pretty amazing. No fear of snow threatening to freeze out your wedding or a hurricane to blow it away. Alexa and Jordan chose the beautiful and tropical Paradise Cove for their venue to celebrate their unbreakable bond through marriage. Paradise Cove is located just across the interstate from the Walt Disney World Resort and nestled on the shore of Lake Bryan.

Frosting on the Cake took care of making sure their celebration of their unbreakable bond would be remembered as something sweet, just like the cake.

Amy with Blossoms Orlando worked her magic to make sure the couple's florals for their wedding reflected their unbreakable bond and the beauty of the love they share. With orchids, roses, and juniper the bride's bouquet and groom's boutonniere were stunning.

Rev. Glynn Ferguson the owner of Sensational Ceremonies and an official Walt Disney World Wedding Officiant, worked his magic to make their custom ceremony really reflect the unbreakable bond that Jordan and Alexa have.  He gave them a homework assignment to write and tell him why they love each other;  to help make their ceremony uniquely personal and custom.

Alexa wrote:  We were best friends before we became partners we have developed an unbreakable bond. You  have the biggest and kindest heart, and I adore that you are a family man, even down to the fact that you are a HUGE mamas boy. I know that no matter what I can always count on you, and you will always have my back. You think anything is possible and will never let anything stand in your way. You push me to be a better person and you have given me the best gift anyone could ever ask for, our beautiful and loving daughter. I'm so excited to spend the rest of this beautiful life with you.

Jordan wrote:  Alexa is special. She is determined, funny, lovely and of course absolutely beautiful. Before our relationship begun we were best friends. But since day one I knew she would be the one I married. She was the best friend I never knew I needed. I can always count on her to put that smile on my face no matter how rough the day is going. She always pushes me to become the best I can be in every way possible. She is truly amazing. She is someone you can count on no matter what. It could be 3am and if you need her for something she would get up and help you out. She is a motivator for dreams and ideas I have no matter how far fetch they seem. But she would also humble me real quick if I needed it. She is an amazing mother to our beautiful 3 year old and great soon to be wife. I hope this gives you a little bit of info on how truly amazing she really is. She's everything to me and I'm so glad I'm finally marrying my best friend. Congratulations to the two of you. May your unbreakable bond last for a lifetime.