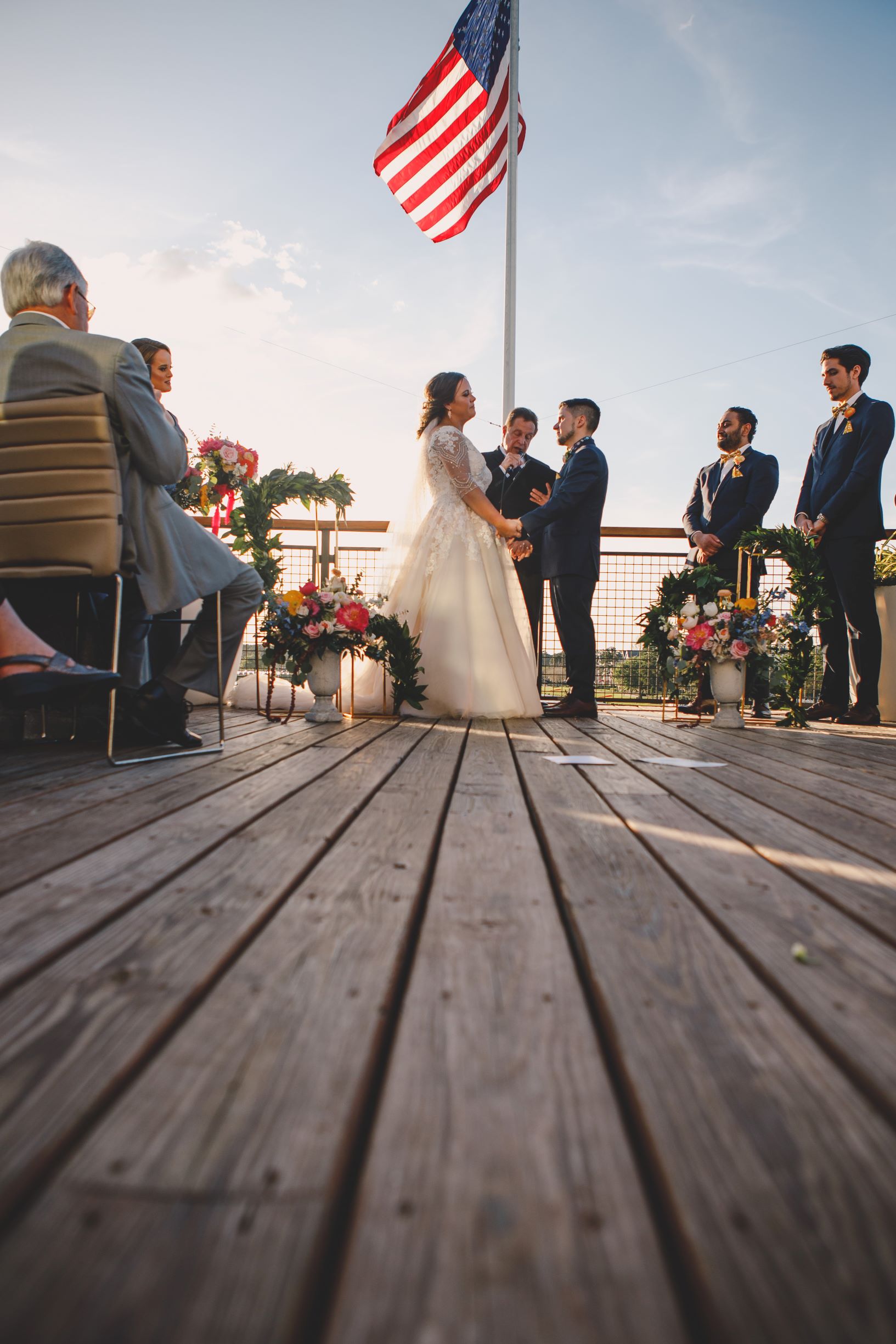 A Warm Paddlefish Wedding
Courtney and AJ were married at the warm and inviting Paddlefish at Disney Springs. Paddlefish is a fine dining restaurant built in the form of a majestic paddleboat and is nestled in the heart Walt Disney World Resort Orlando at the exciting Disney Springs. This wonderful venue features a 3rd story deck that overlooks Disney Springs and provides a unique spot for a wedding ceremony. From that deck, couples have a view of the lake around Disney Springs as well as the shops and of course the Aerophile Balloon.
From the moment that Lon Tosi had met the sweet couple, it was obvious to him that they had a special love. They were so full of joy and happiness. Their glances toward one other, holding hands and laughing, and not just normal laughing, but rather deep belly laughs that make them cry. Each of them has a great humor, and it comes through in the so many ways. And their ceremony reflected that warmth throughout. Lon, of Sensational Ceremonies, worked with them to create a truly custom ceremony.
There was a beautiful reading done by a young lady that was so very special to the bride. Emily did such a great job with that reading! The ceremony also contained special words that they wrote to one another. Courtney wrote "You are more than I ever thought I deserved and give me more that I knew I needed. Aside from your big beautiful brain, your kind spirit is something that I strive to emulate. You define unconditional love".  AJ wrote "I promise to always care for you when you are sick, and treat you like a princess when you are not. I promise you a lifetime of adventure and a future full of excitement, happiness and wonder." There was a Warming of the Rings that had the parents on each side hold and warm the rings warming them with their hopes and wishes for a wonderful and successful marriage. What a wonderful sentiment. 
The amazing wedding professionals present for this warm and wonderful Paddlefish Wedding brought their A-game. It was perfect! 
Venue & Catering: Paddlefish – Disney Springs
Planner: Francine Castro Photography
Officiant: Lon Tosi – Sensational Ceremonies
Planner: Amanda Ferreira-Borrero – For the Love of Events Florida
Floral: Gather and Grace Designs
HUMA: Kiss and Makeup Orlando
Musician: – Jeff Scott Guitarist
DJ: Complete Orlando
Bubble Show: Spheres Bubble Show
Marriage License: Married By Mail