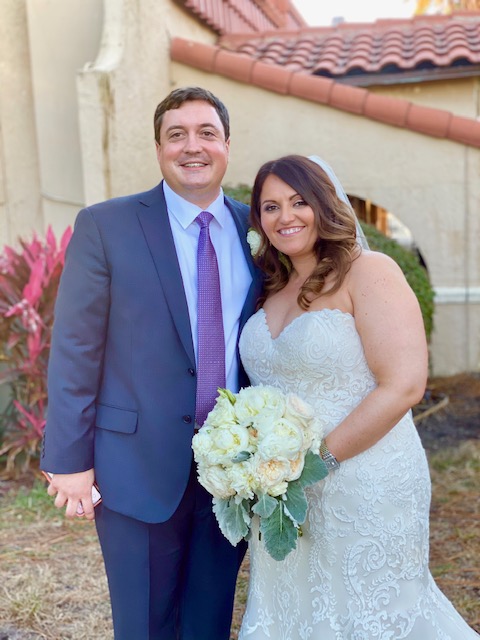 A Beautifully Vibrant Wedding
Their Story
Jackie and Ross had a beautiful and fun wedding at the gorgeous Mission Inn Resort andSpa. This fun loving laid back couple were committed to not having a lot of stress on their wedding day. They wanted to be present in the moment and enjoy every minute with their family and friends.
Their Team
Traveling from South Florida for their wedding in Central Florida posed a few challenges, but the couple chose an amazing team of vendors to help make it all come to life.
Helen with Mission Inn was quick to make sure all their needs from the Resort were satisfied and even worked with the couple to help make every part of the ceremony take place outside. From ceremony, to cocktail hour, and then even the reception in Plaza de Fontana everything was beautiful.
Harpist Christine MacPhail loved the energy of this beautiful and fun wedding.  The music selections for the ceremony and cocktail hour fit the couple perfectly.  With chosen songs from Disney and some modern classics, Christine made it all so melodious.
Kristin Weaver Photography captured every moment of the couple's big day.  From photos of the couple getting ready, family shots, ceremony and details shots, and on into the reception and grand exit, Kristin captured every moment of this beautiful and fun event.
Soundwave Entertainment went above and beyond with the music, microphones, and lighting for Ross and Jackie's wedding.  Even though the couple hired a harpist for the ceremony, they wanted to make sure their guests could hear the ceremony in an outdoor environment with typical Resort noise.  That was no problem for Les and Danny with Soundwave.  Even the market lighting over the reception location just added to the beautiful and fun wedding that we taking place.  It added a sense of elegance that would not have been there without it.
Danielle with Sugar Sugar Cake Boutique knockd the dessert out of the park. Instead of a large traditional cake Jackie and Ross chose an assortment of delicious cupcakes.
Rev. GlynnFerguson, an Orlando officiant and owner of Sensational Ceremonies, worked with the couple to create a custom ceremony tether fit the feel of their beautiful and fun wedding. With passages that spoke of love, loyalty, friendship, he added in a little humor and the reading "All I Want" to make it absolutely perfect. Rev.Glynn also asked the couple to write and tell him why they love each other.
Jackie wrote: Why I love Ross…he is the most caring and loving man I have ever met. He keeps me laughing and we are very in sync with one another. He loves fiercely and is a very passionate man. He loves his family and will fight to protect, always.
Ross wrote: I love Jackie for all the gifts she's given me, most especially how happy she makes me. Jackie is a patient, tender hearted, caring person who often puts others in front of herself. She's family oriented and values that above almost all else. She's thoughtful, paying close attention to people's birthdays and gifts. She's tenacious and fiercely loyal.
Such a beautiful and fun wedding for a couple who is just that!