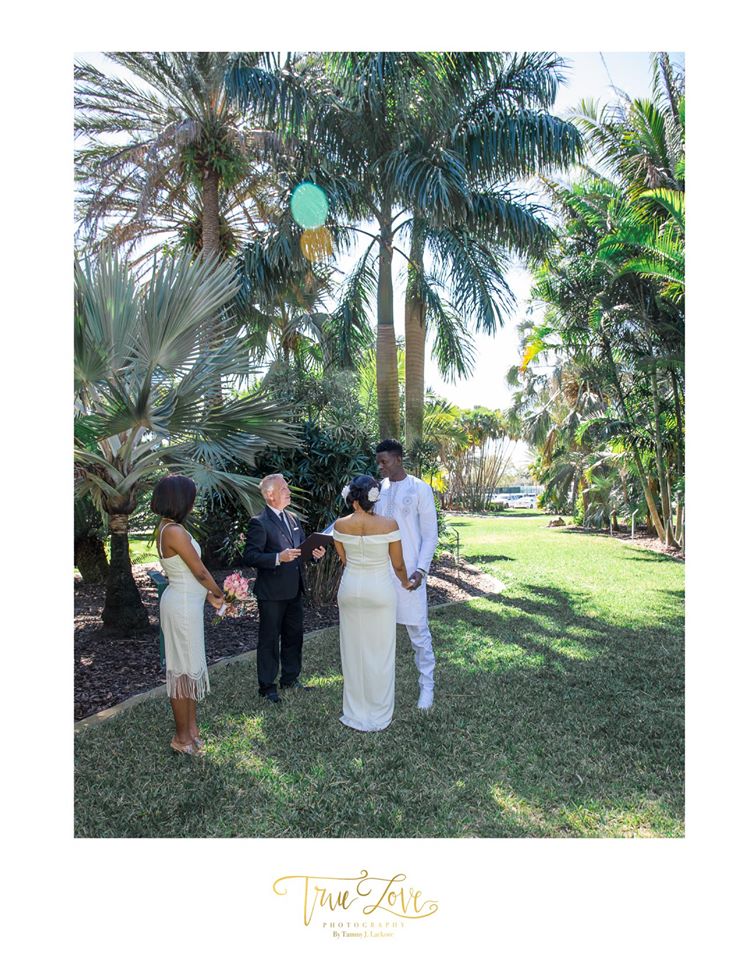 A World Away
Monica and Baboucar met on the internet from a world away and spent eight months emailing, calling and video chatting with each other.  They wanted to take the next step in their relationship, so Monica traveled to Baboucar's country late last year so they could meet in person.  On that trip, and after just two weeks together, Baboucar asked Monica to marry him.  Baboucar then made his first visit to the United States early in 2020.  Just before is trip to the US was going to end, the decided to get married in late February, and chose the Gizella Kopsick Arboretum as the location for their intimate ceremony. 
The Gizella Kopsick Arboretum is located in St. Petersburg's North Shore Park on the shore of Tampa Bay and feels a world away. Just minutes away from the downtown area.  Once a miniature golf course, the Arboretum now sits on two acres and houses a gazebo, conversation corners with wooden benches, and red brick paving winding gracefully through over 500 palms and cycads representing 150 species from around the world.
The couple's custom ceremony included the Blessing of the Hands and a scripture reading from the book of Ruth. Then, in front of Monica's two daughters, the couple shared their wedding vows, exchanged rings and were pronounced husband and wife by Rev Rick Lackore of Sensational Ceremonies.
Special thanks to Tammy, with True Love Photography, for providing this beautiful picture during their ceremony and A True Love Affair Intimate Florida Weddings for coordinating the details.
Congratulations to the new Mr. and Mrs. Baboucar Mbye!