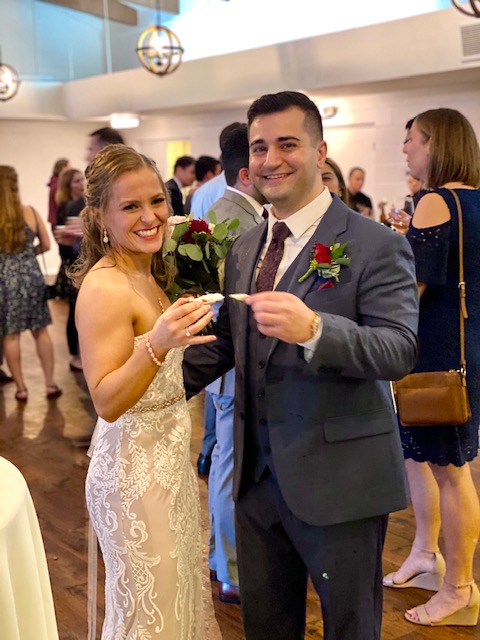 In the Garden
Rain could not stop the love of Katrina and Tom. The day started off cool and beautiful in the garden, just before the start of the ceremony though rain poured from the skies above, but didn't dampen the spirits of anyone. Tom and Kartina chose The Garden Villa in Winter Park as the perfect location for their wedding.
Planning for the best and the worst case scenarios the couple had hired iRent Everything to put up a tent in the garden, so just in case of rain, everyone would stay dry. And dry they were! It was under the beautiful white tent that the couple was able to walk down the aisle and have the ceremony they will remember for a lifetime.
Tylerlights did a great job of lighting the ceremony space in the garden and under the tent with just minutes to spare and really added some great touches inside The Garden Villa to give it that special ambiance the couple desired.
In the garden there are so many beautiful spots for photography. Mindful Media was wonderful to work with and made sure to capture all those images that Katrina and Tom wanted from their wedding day.
Puff 'n Stuff in Orlando was phenomenal to work with. Their attention to detail was superb and the food was absolutely delicious. Even with having to reset the tables under a tent at the last minute, the Puff 'n Stuff team really pulled out all the stops for this beautiful wedding in the garden.
Food was a big component in the couples vision for their wedding in the garden. From the delicious catered meals by Puff 'n Stuff to absolutely scrumptious homemade ice cream by Kelly's Homemade Ice cream. Even the appetizers were fun! How about hand shucked oysters from Oyster Bob's Nautical Nonsense
Tom and Katrina wanted something different for their wedding ceremony as well.  They certainly didn't want anything too traditional, but they really wanted a fun lite-hearted ceremony that was filled with their love story.  Rev. Glynn Ferguson, an Orlando officiant and owner of Sensational Ceremonies worked with the two of them to create something that really fit their personalities.  
Rev. Glynn gave them a homework assignment to write and tell him why they love each other and he would incorporate it into the ceremony. Home Run!
Katrina wrote: Tom and I have known each other for about 10 years and have been together for about 8 of them. We met while I was in PT school and he was in medical school at Thomas Jefferson in Philadephia. Actually neither one of us knows when our anniversary or even when/where our first date was hehe. That's part of why I love him and our relationship, it isn't about what gifts we buy each other or how long we have been together, but how we have learned to grow together and invest in ourselves. We have for sure have had many obstacles in our relationship, and neither one of is us perfect ( even though I would never admit that to him hehe) but with each obstacle it has made us stronger as individuals and as a couple.
When I think about our relationship, I think about how much time we spend being good to each other, that we have an understanding of what the other one needs and prioritizes their needs above our own. For example, Tom will order his favorite meal knowing I will most likely take most, if not all of his plate if I don't like mine. Also, when he proposed, he flew all my closest friends from all over the country because he knew how much it would mean to me. Even if I'm acting like " everything is a 10″ and I am in the worst mood ever, he will go out of his way to make me laugh. Overall, I know I am with someone who through good and bad, will be by my side and will always help me laugh and smile through our journey.
Tom wrote: I am definitely an introverted person, and don't often talk about feelings — it's rare that I even think about them. They are just reactive and inexplicably natural to me; I almost never search for a cause-effect relationship when it comes to feeling any particular way. If I feel good, then great; If I'm having a bad day, drink more coffee, drop a few F-bombs, and move on. I think that my background and particular track of education has molded y mind with some sort built-in blinders that are prejudiced against the unexplainable. So, I apologize if this paragraph about why I love this wonderful person falls short of what you're used to reading. She deserves much better prose than anything I could hope to offer, but I'll try.
Katrina is the most thoughtful and caring person I've ever met, contrasted starkly against also being the most stubborn and willful. She seems to always see this clear path forward through any situation in life, and she navigates it ever cheerfully and energetically, guided by a moral compass stuck on true north. She is impossible to set back, and uncompromising on the important decisions — while this can be exactly as frustrating it sounds at times, we never seem to have any regrets as a direct result. She genuinely puts others before herself, makes others feel welcome, and makes fast friends everywhere she goes. She has a hunger for new experience and life in general. Being with such a person has made me feel at home and at ease no matter where we are, it has brought many adventures and interesting conversations, and has inspired me to try to be as great as she is. I love her more than I love my own well being, the miracle of life on earth, and every adorable puppy picture that the internet will ever feed to mankind. I am so lucky to have her as my partner in life.
Congratulations to the newlyweds!