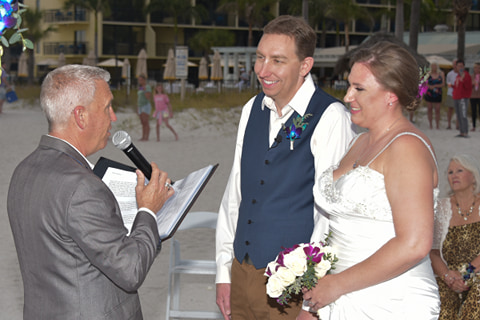 Beautiful Evening Ceremony
Tracy and Randy came from Arizona, and chose the Sirata Beach Resort  as the venue for their destination wedding ceremony on St. Pete Beach for a beautiful evening ceremony in early Spring.
The Sirata boasts that they have the newest rooms on St. Pete Beach, with the completion of a $15 Million Dollar Transformation.  Three beachfront Pools, two beachfront bars and three dining options are all a part of the 13-acre property situation on one of the top five beaches in the United States. It is the perfect sport for a beautiful evening ceremony.
Tracy looked amazing as she made her way across the sand to join Randy under their wedding arch for their beautiful evening ceremony.  The couples' custom designed ceremony included: A Special Remembrance for Tracy's father, words about Love, Friendship, Loyalty, Fidelity and Trust, and a Sand Ceremony that included Randy's two daughters.  Then, as their family and friends looked on, and with the sparking waters of the Gulf of Mexico as their backdrop, the couple shared their vows, exchanged rings and were pronounced husband and wife by Rev Rick Lackore of Sensational Ceremonies. 
Flawless venue and wedding coordination was provided by Jennifer and the rest of the staff at the Sirata. Special thanks to Michael with Viegas Photography, for providing this picture during their ceremony.
Congratulations to the new Mr. and Mrs. Randy Riley!