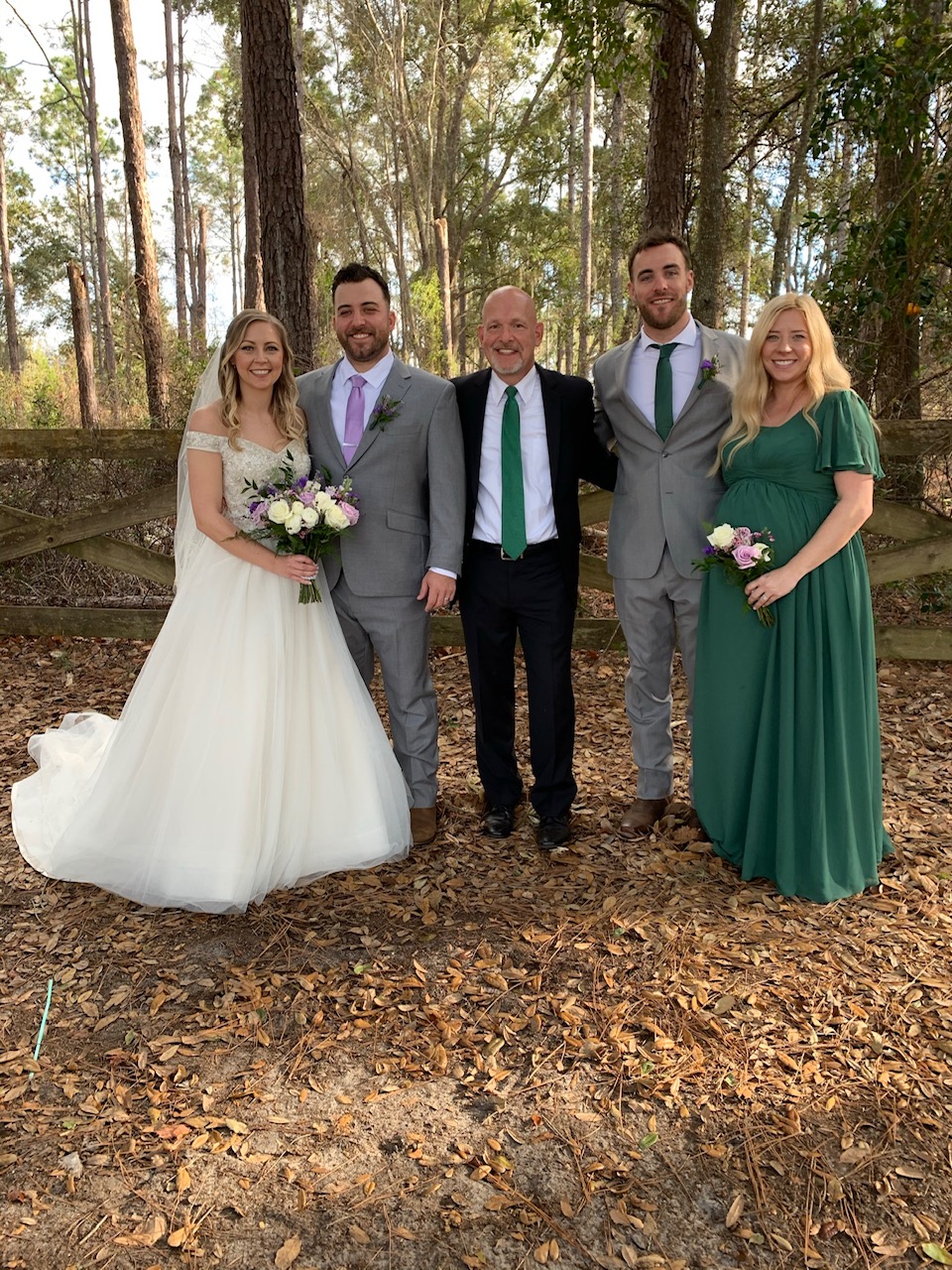 All in the Family
It is especially fun in the wedding industry when you get to revisit with families in which you have already performed a wedding. Jeff Thompson of Sensational Ceremonies had that opportunity this past week to revisit the Belinger family for a 2nd wedding in 2 years.
On February 23, 2019, Jeff had the chance to perform a beautiful ceremony for Tanner Strausbaugh and Jaime Belinger at Ever After Farms in Mims, Florida.
18 months later, the Belinger family reached out again looking for an officiant but this time it would be for their son, Taylor Belinger. Taylor and his bride-to-be, Erica Kevern, were scheduled for a January 30th wedding at Bridlewood Ranch in the Clermont, Florida area. Jeff worked with the couple to create a custom ceremony designed just for them.
In preparation for the big day, Jeff encouraged both Erica and Taylor to share with him some of the reasons they were both excited for their wedding day. Erica confided the following about Taylor: "I always knew I wanted to marry someone who felt like my best friend. Someone I could be 100% myself around. I found that in Taylor long before we started dating. He brings out the best in me and embraces all my little quirks. He makes me feel protected, and cherished. I can't picture my life without him (or Lincoln). I'm not just excited for today, but for the rest of our lives together because I know it's going to be filled with a lot of love and laughter and maybe if he's lucky, a boat. I feel so lucky to have fallen in love with my best friend."
When Taylor heard those special words, he was more than ready to recite his vows!
Then we had the opportunity to turn the tables on the couple. It was time to hear from Taylor on the reasons he'd fallen in love with Erica: "I cannot be more excited to make Erica my wife. She is strikingly beautiful, immensely selfless, and the most kindhearted person I have ever met. She makes me a better man every day, she accepts my flaws and mistakes, while helping me grow from them. She is my safe place, my confidant, and the girl I will never stop trying to impress.
Erica is the best partner I could ever ask for, she is my best friend, the best dog mom out there, and I cannot wait to see what the future holds as we continue to grow together. I'm excited to start a family together and watch her treat our future children with the same grace and selflessness that I have been lucky enough to receive. I am truly lucky to be marrying her, and I have an incredible sense of pride in becoming her husband. I cannot wait for her to take my last name, as we take on the world together.
Several great vendors helped to make the day a wonderful success. Taylor Paige Photography and Triple Threat Productions teamed up for great photography and video of the day. DNR Sound Solutions and David Gardner did a wonderful job of providing a super sound quality.
Jeff had an opportunity to get a photo with both of the couples following the ceremony. Within a week of the wedding, Jamie and Tanner gave birth to their first baby, a little boy named Bryce Allen. It's great getting the opportunity to see these weddings blossom beyond just the wedding day.