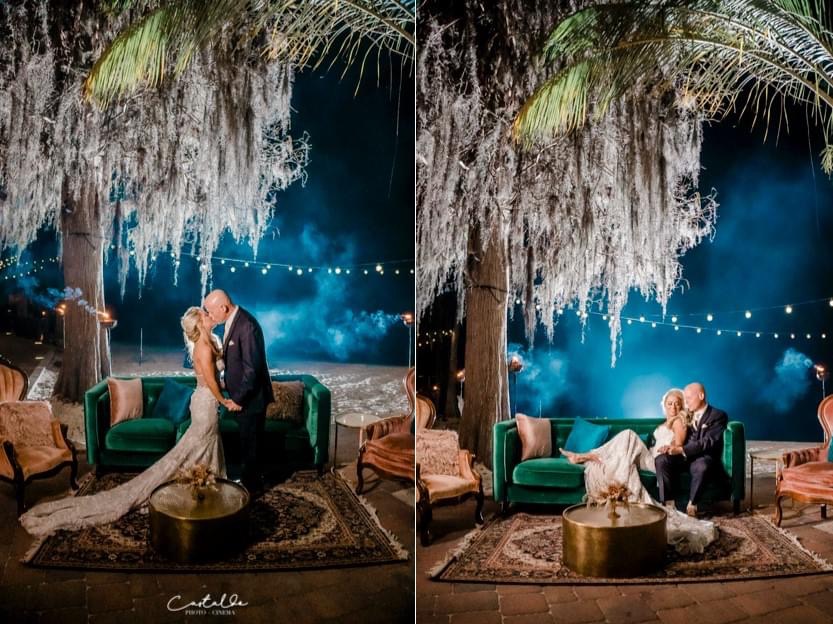 Boho Vibe
Greg and Lauren  were truly an amazing couple.  Their unique boho vibe made for an incredible wedding and everyone there was sure they were a part of something special. The boho vibe they wanted to weave throughout their wedding was perfectly fit for Paradise Cove in Orlando.  

The couple assembled a fantastic team of vendors who could work together seamlessly and make their vision for their wedding come to life.
Castaldo Studios Photo and Cinema were truly amazing.  The team at Castaldo Studios captured every moment of the couple's wedding day.  From getting ready pictures, family portraits, ceremony, reception, and on into the night they really captured the feel of this boho vibe.

The eclectic couple really loved music and working with Soundwave Entertainment made their ceremony and reception over the top.  The music that they selected really did complement the boho vibe they were looking for throughout the evening.

Talk about getting the theme 100% on spot.  Atmospheres Floral and Decor knocked it out of the ballpark.  With pampas grass tucked in arrangements and on the arch, that boho vibe was present all over the place.  

Cocktails Catering rounded off the list of fantastic vendors.  From their scrumptious food to the placement of the boho vibe decor, every thing was just perfect.
Being in the center of this boho vibe the couple chose Rev. Glynn Ferguson, a Walt Disney World Wedding Officiant and owner of Sensational Ceremonies, to work with them to create a custom ceremony that would fit into their boho vibe.  Rev. Glynn asked them to each write and tell him why they love each other.  

Lauren wrote:  'Home isn't always a place.' This phrase rings true when I think of Gregory. He has blessed me with a healthy, constant and unfaltering love. He accepts me, all of me, and helped restore a broken heart and past. He's carried me through tough times and continues to catch me when I fall. He continues to wipe away tears when I reflect back on the loss of my parents and comfort me on the hard days. Not only does this man pick me up when I am down, but he raises me up. He inspires me to be better; to do better.  With Jesus' mercy/grace and Gregory's support/encouragement, I am wholeheartedly happy and fulfilled with my life today. 
My favorite trait and characteristic of Greg is his love for others. He treats his brothers and sisters with kindness and is always willing to lend a hand. He treats people with respect, opens the door for strangers, participates in charity events and donates whenever he can. He wakes me up with a cup of coffee and takes our fur baby on his morning walk. He doesn't mind always doing the cooking (as I'm a horrible cook) and get into action for our family. He is my best friend, my confidant and knows how to put a smile on my face. He will have you cracking up in a matter of seconds and is so witty with his words and conversations. Greg is my soulmate; I loved him before I even met. I'm truly blessed and cannot wait to start the next chapter of our lives together. I knew he was the one, because I cannot wait to see him be a father to our children. After our first kiss, Greg said "Thank you for happening to me." And I can't wait to say that to him on our wedding day. In addition to I DO!!!! <3

Greg wrote:  When I think about all the reasons why I love Lauren I am overcome by joy and gratitude. I have never met anyone else like Lauren. I am beyond fortunate and blessed that she loves me as I love her, and I get to be her husband in this life. My heart swells with love… it is impossible for me to think of her as I write this and not smile and cry some happy tears.
Anyone who knows Lauren will tell you- she lights up the room when she walks in. She is beautiful on the outside and her smile can soften the harshest of times, situations, and personalities. But it is the light from inside that shines through, the light of the love of God through her that she gives so freely to others that is so endearing.
Lauren has a genuine unbridled enthusiasm for life and a strong, joyous spirit. Lauren has a gentle soul that's also fierce and brave. She truly has a heart for others and being of service to them. She enjoys giving of herself, her time, and her efforts to benefit of others; not simply because it is the right thing to do, but because she truly cares about others and wants to be a blessing to them. She is passionate about caring for those most in need and has a sincere passion to be God's hands and feet to the sick, lonely, and forgotten. In a world of busy people with hectic lives, Lauren takes the time to make people feel special, cared for, and significant. Lauren always has a kind and positive word and uplifting perspective to offer even in the most difficult of situations.
Lauren is my greatest cheerleader and confidant. Lauren sees the best in me, accepts me for exactly who I am, and is a natural born encourager. She drives me to be the best version of myself that I can be and to reach for my dreams.
Lauren is the quirkiest funniest person I have ever met in my life. She is unabashedly herself and a true original. She is a free and adventurous, endlessly optimistic person…. Others look for the silver lining in the cloud, Lauren is that silver lining when she shows up on that rainy day!
Funny, driven, smart, silly, tender, sincere, loving. Lauren has known great highs and lows in life- great accomplishments and joys and awful, gutting tragedies. She is not made proud from victories or hard and cold from loss. She has become even more kind, more giving, and more tender, more patient. She gives grace, comfort, and forgiveness freely when others would certainly struggle to do it. Again, not because it is simply the right thing to do but because she truly wants to be a blessing to others.
When I think of all the ways Lauren is a blessing to me, I struggle to explain them all. I only know how grateful I am to have her. I am overcome with thanks and praise God for placing her in my life and entrusting me with her care. I am truly fortunate to live this life alongside my best friend
Thank you for allowing us to be a part of your beautiful wedding!