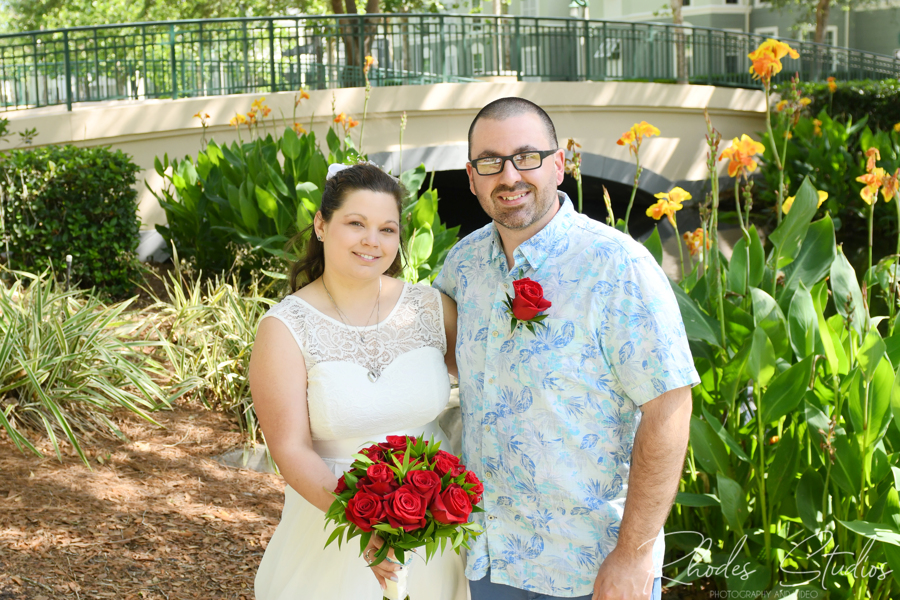 Amanda and Randall
Amanda and Randall traveled from Maine with the intention of coming down for a family vacation in Orlando, and then contacted Intimate Weddings of Orlando about having an elopement while there. Connie, with Intimate Weddings of Orlando worked with Amanda and Randall to make their elopement package one to remember, pulling together a great team of vendors to make their dreams come true.
Flowersby Lesley created a stunning bouquet and boutonniere of red roses, filled with abundant greenery to make it feel luxurious. The colors popped against Amanda and Randall's attire, making it all the more special.
Edmund Rhodes with RhodesStudios Photography and Videography met Amanda and Randall at the ceremony site in Celebration, the village Disney built. From getting pictures of them receiving their florals through the ceremony and then formal pictures in the park and along the water, Edmund made sure to capture every moment of their wedding day.
For their ceremony, Amanda and Randall had Rev. Glynn Ferguson, an Orlando officiant and owner of Sensational Ceremonies. Rev. Ferguson worked with the two of them to create a beautiful custom ceremony that was rich in their love story, and filled with both laughter and tears. He also gave them a homework assignment to write and tell him why they love each other.
Here's what Amanda wrote:
I love Randy because he has stuck by me through some of the lowest points in my life, like when I lost my parents. He has shown me love and compassion on my lowest days. He is sweet and loving, and shows me with action not just words. I love the way he loves his daughters and lives for them. Randy is rational and logical, and helps me focus when I'm struggling on a decision. We work together well when managing life problems. He is my strength when I need his stability, and I keep him balanced on his emotions through it all. We are a team and can face any obstacle together. I am lucky to have found my partner in life who walks with me through every challenge life throws at us.
Here's what Randall wrote:
I love her because she is a smart, strong, and hard-working independent woman. She has accepted my 2 daughters as her own and has been a wonderful role model and step mother to them. I love her because she has accepted my flaws and has supported me throughout the ups and downs for 8 years. I love her positive attitude and outlook on life, it has been an inspiration to me. I'm very much looking forward to spending our lives together married.
It was such a wonderful pleasure to work with Amanda and Randall for their beautiful elopement. We wish them happiness for a lifetime!
Sensational Ceremonies
Average rating:
0 reviews