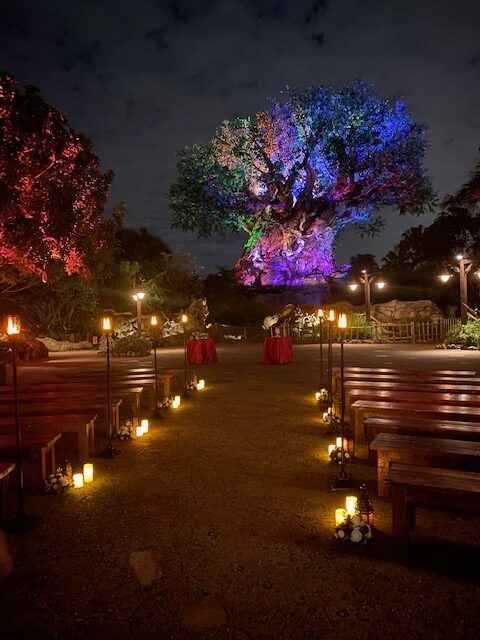 Wedding in Animal Kingdom
How about a wedding in Animal Kingdom? Rev. Ferguson got the call late one night from Rachel and John's Disney Fairytale Wedding planner, Alyssa. The couple had contacted a few wedding officiants from the list the Disney provided, but none of them responded in a timely manner and the bride was stressing out. He asked what time and got the reply, "10pm."
Being a busy couple with military life, two girls, and two careers, they really were scrambling to put together their wedding with just a few weeks notice. Alyssa, from Disney Fairytale Weddings, really took the reins and helped Rachel and John to put together a memorable wedding in Animal Kingdom. There are numerous places in this unique park for couples to get married, but Rachel and John wanted the most grand backdrop; that of the Tree of Life With reliefs of over 300 animals carved into the tree and lighted with jewel toned lights of purple, red, green, and yellow, the tree looked amazing as the backdrop for John and Rachel's wedding ceremony.
Christina and her team with Disney Fine Art Photography worked with the couple to capture every moment of their epic wedding ceremony in front of the Tree of Life. With darkened sky and vibrantly lit tree as the backdrop, Christina did an excellent job of making sure the photos turned out amazing for their wedding in Animal Kingdom.
The Walt Disney World Florist also really stepped up their game for this wedding. As with most military traditions, grooms should not have a boutonniere on their dress uniform, but John didn't need any with all his medals on display. Rachel's gorgeous bouquet was lovely. With white and burgundy roses, seeded eucalyptus, and poppies it truly was perfect for a wedding in Animal Kingdom.
The couple chose Rev. Glynn Ferguson, an official Walt Disney World wedding officiant and owner of Sensational Ceremonies, to work with them to put together an incredible ceremony that would fit the two of them, be absolutely beautiful, and super personal, for their wedding in Animal Kingdom. After going through the Sensational Ceremonies ceremony planning kit and picking out the aspects of their ceremony they wanted, Rev. Ferguson also asked Rachel and John to write him and tell him why they love each other.
Rachel wrote: Truthfully, I always thought I had an idea of who the man of my dreams would be. However, any thoughts I could have of this "perfect" person went out the window when John accepted my sticky note in the ER that night.John exceeds all of my expectations, even with his flaws, he is perfect for me. I will never forget the nights after the sticky note, I dreamed of what my life would be like with him and even spent countless hours trying to talk myself out of sounding like a crazy person, but I just knew in my heart he would be the man I would marry.
John, in his own way, is the most caring and loving person. He shows me the support that I don't think anyone else would be able to. He rises up to help me fight off the beasts that haunt me. He spends hours with me daily to help me maintain and achieve my goals.
John is so intelligent. I learn from him daily. We would take care of patients together and he would teach me skills and pathophysiology that I will be able to use all throughout my personal and professional career. He never made me feel inadequate, instead, he decided to empower me.
Furthermore, John has taught me so much about family. I have learned how to operate as a family unit. Teaching me what is really important out of life. The joy I can bring to my family far outweighs some of life's biggest stressors.
The biggest thing is the sacrifice he continually makes for our family. He works so unbelievably hard to let us have what we need and anything we could ever want. Not only does he work his Navy job and his medical job but he also always makes time for projects around the house and the kids' events. He tries without a shadow of a doubt to make me and the girls feel like a princess.
John wrote:I feel truly blessed to have been brought out of my small home town and been shown love like this. I am the luckiest girl in the entire world.
Rachel is super loving and devoted, I love how well she takes care of me and our girls. She thinks ahead to plan every detail for anything we might want.  She is brilliant in her own right, but supports me every step of the way and pushes me to make good decisions and stay on track.  And she loves timelines, too!What an amazing wedding at an amazing venue, for an amazing couple!