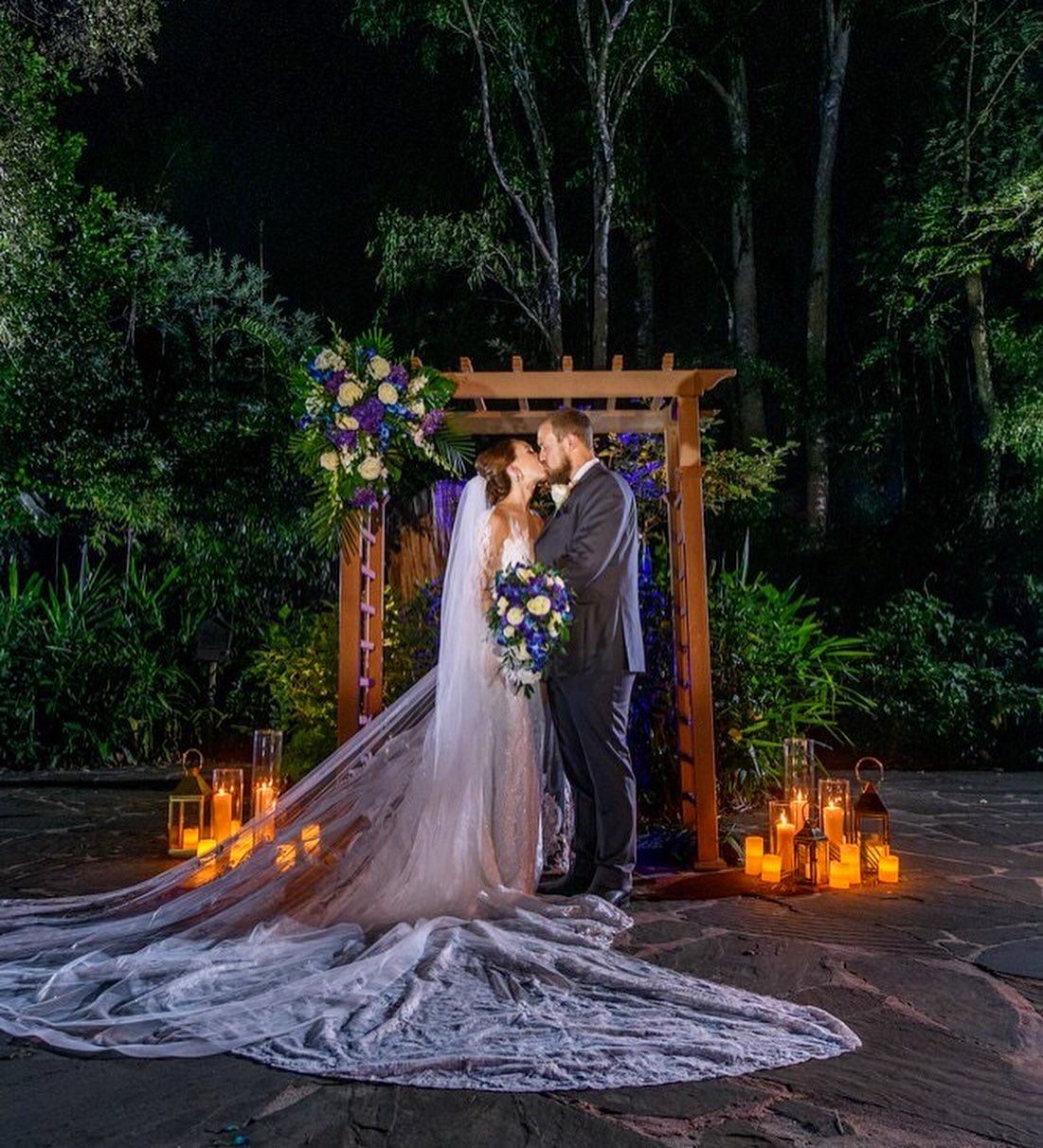 Wedding at Animal Kingdom
Their Story
Benjamin and Paris lived in Nashville, Tennessee, but because of their love for Walt Disney World and animals, they decided to have their wedding at Animal Kingdom.  With black chiavari chairs, a wooden arch, and beautiful floral decorations the setting in the Belvedere Ruins was absolutely stunning.  Two motorcoaches brought the guests and wedding party through the cast member exclusive areas to allow them access to the ceremony location without having to go through the main gates of the park.
Their Team
Paris and Ben's wedding planner with Disney Fairytale Weddings took care of all the details fir their wedding at Animal Kingdom.  From decor for the ceremony site, coordination with the transportation company, logistics with the vendors, and setting up the reception at the Lion King, she took care of it all.
The couple's beautiful photographs were provided by Disney Fine Art Photography.  Even with difficultly lighting the ceremony space, the photographs were amazingly beautiful. '
The beautiful floral decorations for the ceremony arch, the flowers for the bridal party and the decor for the reception were provided by the Walt Disney World Floral Department.
Paris and Ben worked with Rev. Glynn Ferguson, an Orlando officiant and owner of Sensational Ceremonies to create a beautiful custom ceremony for their wedding at Animal Kingdom, that fit the two of them.  One of the things that really appealed to them was the promise to make the ceremony very personal.  Rev. Glynn asked them to each write and tell him why they love each other.Paris wrote:It's hard to think of a few reasons why I love Ben because so many come to mind. I love Ben because he pushes me outside of my comfort zone and always keeps me on my toes while simultaneously making me feel completely safe. I love him because he always is Goofy and can make me smile or laugh regardless of if I am upset or sad about something. He knows the exact faces to make, and jokes to say to get me out of my head and bring me back into our wonderful fun life we have together. I love him because from the day I met him, it has been easy to see how loving, caring, and compassionate he is towards others. He would give everything to help those he loves (human or Fozzie). I fell in love with his gentle spirit the moment I saw him with his fur baby. And I'm so excited and humbled that I get to watch him one day be a father to our human babies. I know he is going to be an amazing dad. I love him because he is a leader. He leads in our relationship and I know will lead our family well. I love him because he is a child at heart just like I am and that we can spend hours watching Disney movies or playing video games together. However, I also love him for his maturity. I also love that we have workout dates together because we are constantly aiming to help each other grow. And our workout dates aren't just focused on lifting weights or cardio, they're focused on mental growth as well. Working out has been like therapy for both of us and now when we do it together we really get to know one another on deeper levels. It's our safe place. We love pushing each other to our limits. But we also love to take care of one another and know when to tell the other that we also need rest or relax. There has never been a doubt in my mind from the day that we met that he was going to be the man I wanted to marry. I immediately felt at home with him and it has only grown stronger. He IS my home. Looking back on our journey it's amazing to see how much we have each grown individually and together as a couple. I love Ben more than words can ever say. Our wedding day will be the happiest day of my life because I am committing myself to Ben in front of family and friends and more importantly in front of God. I still can not believe that I get to be his wife. And I am so humbled that he chose me. I can't wait for the many many more adventures we have to come.Ben wrote:The things I love Paris for most are her love of the outdoors and her cheerful kind heartedness. She will go out of her way to make someones day better and always has a way of brightening mine even if hers has not gone all that well. She has the always been the brightest part of my life since we started dating. Paris is the only one crazy enough to volunteer to join me in any outdoor expedition and hunting adventure I come up with. We have traveled the world and I cannot wait to have another crazy adventure with her as my wife.Truthfully I could write 6 pages about why I love her but as she can tell you I have never been very good with words
We loved their unique wedding at Animal Kingdom and wish them happiness for a lifetime!