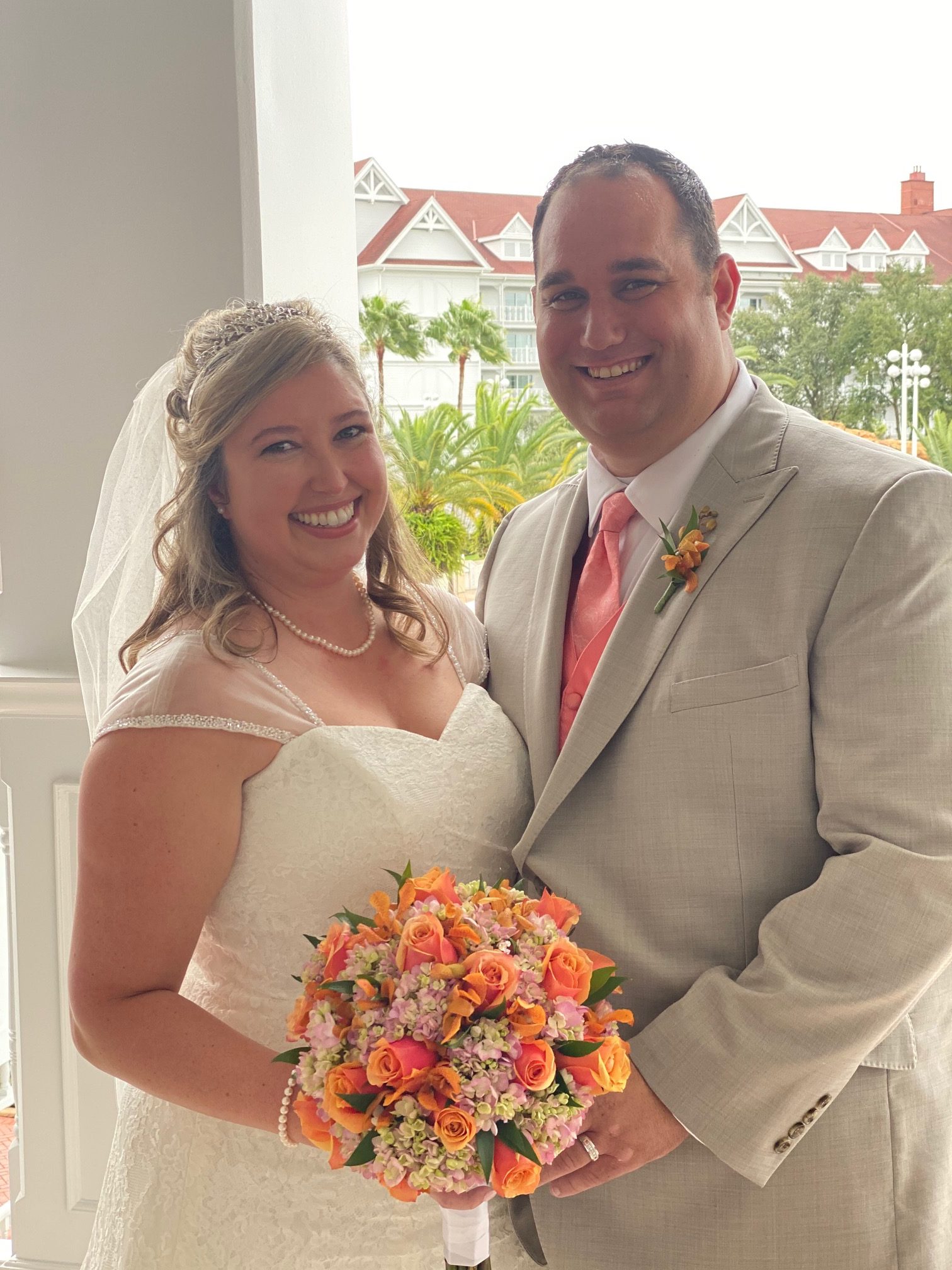 Balcony Ceremony
Their Story
Living in Florida one usually knows that it is going to rain a little, so that we have all these lush green gardens and lawns, but when Amy and Aaron planned their wedding on the beach at Walt Disney World they were counting on dry weather. Alas, the rains came and with the quick thinking of their vendor team they were moved to a amazing location for a beautiful balcony ceremony at Disney's Grand Floridian Resort.
The Team
Javier with Disney Fairytale Wedding sprung into action with the weather would not cooperate with Aaron and Amy's plans. Instead of waiting to see if the weather would clear, he came up with a fantastic back-up location for a balcony ceremony that was absolutely stunning and kept them on schedule for their wedding day.Amy with Disney Entertainment Group set the mood with beautiful Disney themed violin music and helped everyone focus on the moment as Amy and Aaron became husband and wife.
Jeff with Disney Fine Art Photography made sure to capture all those shots that the couple wanted. Now that they were at the Grand Floridian, who could pass up the opportunity for photos on the Grand Staircase.
The Walt Disney World Florist crafted a beautiful bouquet for Amy, that consisted of coral colored roses, nestled in blush bush hydrangeas. The colors fit perfectly with the tan and coral of Aarons jacket and vest, and just popped against Amy's gorgeous wedding dress.
Rev.Glynn Ferguson, an official Walt Disney World Wedding officiant and owner of Sensational Ceremonies, worked with the couple to create a custom ceremony. The rich wording of the ceremony was filled with laughter and tears as the couple exchanged vows, wedding rings and were pronounced husband and wife. The location for the balcony ceremony made for perfect acoustics and allow everyone to hear every word.Rev.Ferguson also gave the couple a homework assignment to write and tell him why they love each other.Amy wrote: I'm so proud that today I become your wife. I want to start by telling you how much I love you. Yes, I love how handsome you are, but that's just the icing on the cake. The absolute best part about you is your kind heart. You are the most giving, selfless person I know, and I thank God every day that you have given all of your love to me, without any hesitation.You are a million dreams that came true. You are kind. You are silly. You are intelligent. Your laugh is contagious, and you can put away an entire pack of raw cookie dough in one sitting like nobody else can. You acknowledge my strengths and accept my faults. You make me want to be a better person every day. I love you because you always manage to laugh at my jokes, even when they may not seem funny, but let's face it, you know they really are… I love you because you have such a special ability to see the good in everyone and in every situation. I love the way you give up your comfort for mine, even though we know who REALLY takes up the most space (and covers!) in the bed. The way you care about me is just amazing.Today seems like it's the start of a new journey, but we already belong to each other. Falling for you wasn't falling at all—it was walking into a house and knowing you're home. I love you.Aaron wrote: I love you because you are my God sent gift from up above!
You love me for who I am.
You pick me up when I fall down.
You gave me a chance when no one else would.
You believe in me when others do not.
You love spending time with me.
You love to go shopping with me.
I love how you make me smile every time I see you.
I love how you stand by my side no matter the situation.
I love the way you love me.
I love how when I am down you pick me up and let me know that everything is going to be okay.
I love how you and I can talk for hours and you do not get tired of me.
I love how you listen to me and give me advice when needed.
I love that you still make me have butterflies every time you hold me.
I love how you and I enjoy going on adventures.
I love the fact that today is the day that I get to call you my love, my life, and now Hun my wife. I thank God every day for you.I love the fact that I finally get the chance to call you my love, my life and honey now my wife for the rest of timeCongratulations Amy and Arron. We wish you Happily Ever After !