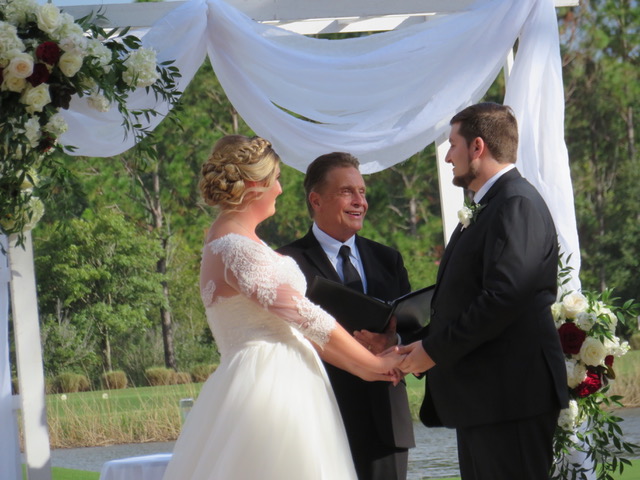 Ceremony Elegance
Their Story
Occasionally, a wedding happens that just screams ceremony elegance. This is one of them! There was the venue! Rosen Shingle Creek! Shingle Creek is an amazing resort nestled in the heart of Central Florida just south of Orlando. It screams elegance. The rose garden at the resort was a perfect spot of Nadeem and Melissa to be married. They had a larger group of friends and relatives looking on as their officiant Lon Tosi of Celebration, Florida and the Orlando team of officiants from Sensational Ceremonies conducted their custom ceremony. Elegance!
Their Ceremony
The floral arrangements as provided by Lee Forest Design were stupendous! Ceremony Elegance at its best! Soundwave Entertainment and their amazing DJ Justin provided the fantastic ceremony sound. It was just perfect!
There was that reading entitled The One. It ends with the gorgeous words, "When the one whom you put your faith and trust in, puts their faith and trust in you, you've found the one and only love, You'll share your whole love through". So beautiful! They wrote love notes to one another that Lon read for them during their ring vows. Melissa wrote "you make me feel safe when I am in your arms". Nadeem wrote "I love how supportive you are of any of my wild ideas and ambitions". They had a hand blessing as part of the ceremony that spoke of the importance of their hands throughout the great journey they are now undertaking. The couple chose to do a unity glass ceremony where the end result will be a fantastic glass work piece of art for their home. How elegant is that?
Overall, it was an amazing elegant event with the ended with the following wish that Lon left with them: May you find happiness, and you find it making one another happy. May you have love and may you find it loving one another". It just does not get any better!
Nicole Square Events made certain that everything went off without a hitch. The wedding stated right on time!
And it all happened on a sunny warm evening in the heart of Central Florida!