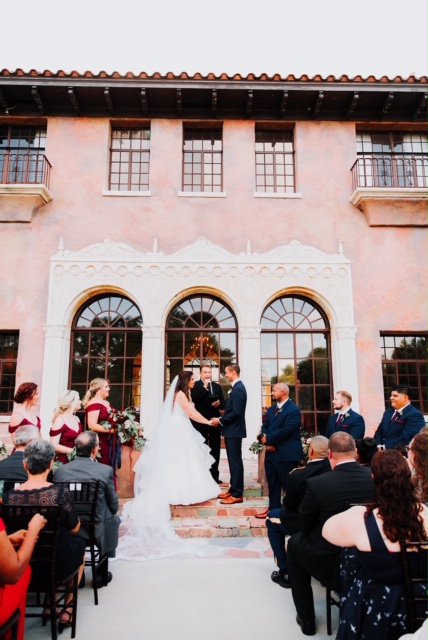 Wedding at the Mansion
Their Venue
The Howey Mansion located in Howey In The Hills, Florida is a rustic, and historic home that has been restored to it's original luster! It provides ample sites for both intimate ceremonies and larger weddings. The home itself is nestled in the rolling hills of Central Florida just a short drive from Walt Disney World Resort. It was into this gorgeous setting that Jose and Jessica brought their families and friends to celebrate their wedding at the mansion They had an intimate group of people watching on as Lon Tosi from Sensational Ceremonies conducted their custom wedding ceremony.
Their Story
Jessica and Lon Tosi of Celebration, Florida, and the Sensational Ceremonies team of Orlando Wedding officiants have a very close working relationship. Jessica is a prominent event planner in Orlando. The two have worked together for many years on wedding ceremonies. So, it was a wonderful thing that Jessica had much trust in Lon to deliver a wonderful custom ceremony.
High-end emotion was prominent in the wedding at the mansion which featured special words that the couple wrote highlighting their love for one another. Jose wrote in part, "I vow to honor and cherish you. I vow to always do right by you". Jessica wrote in part, "since the moment you came into my life you have been a source of love and joy. You truly see me for who I am and love me at my best and at my worst". Such beautiful words from a wonderful couple.
Jose and Jessica have a tradition that they displayed in the ceremony. It is a Pinky Promise! At one point in the ceremony they clasped their little fingers together and promised to be "best friends now and forever". They are off to an amazing start with their heads on tight and the future in sight!
Their Vendors
Talking about vendors! There was literally a plethora of high-end vendors accumulated for this fantastic wedding at the mansion h elegance as is their style! Monica Grace Photography captured the most gorgeous photos! Rhodes Studios Photography & Video captured it all on video! Blue Brass Chic provided the floral décor. It is amazing that the flowers in the ceremony photos perfectly matched the stone work around them. Who does that? Perfect! The unmatched White Rose Entertainment provided the ceremony sound to perfection, and the reception music as well! As usual, they did an outstanding job! Le Petit Sweet delivered with their so-beautiful cake! Thanks to Kristy Alonzo and her Kristy's Artistry Design team for their hair and make-up magic!
Lon Tosi is a successful wedding officiant serving the Central Florida and Orlando area. He has conducted thousands of ceremonies over a decade of service. Lon works with each couple to create a custom wedding document that actually speaks of their story. He always requests that they write special words to one another, that he will read for them. The ceremonies are peppered with readings that they select. As a Florida Notary, he conducts weddings of both a religious and non-religious nature. He also serves as Vice President of Business for Sensational Ceremonies the largest officiating company in North America. Lon is an award-winning officiant. There are numerous videos of his work on the internet for your viewing pleasure.
We wish Jessica and Jose a wonderful and successful marriage! They are off to a great start!
And it all happened on a sunny warm evening in the hills of Central Florida!