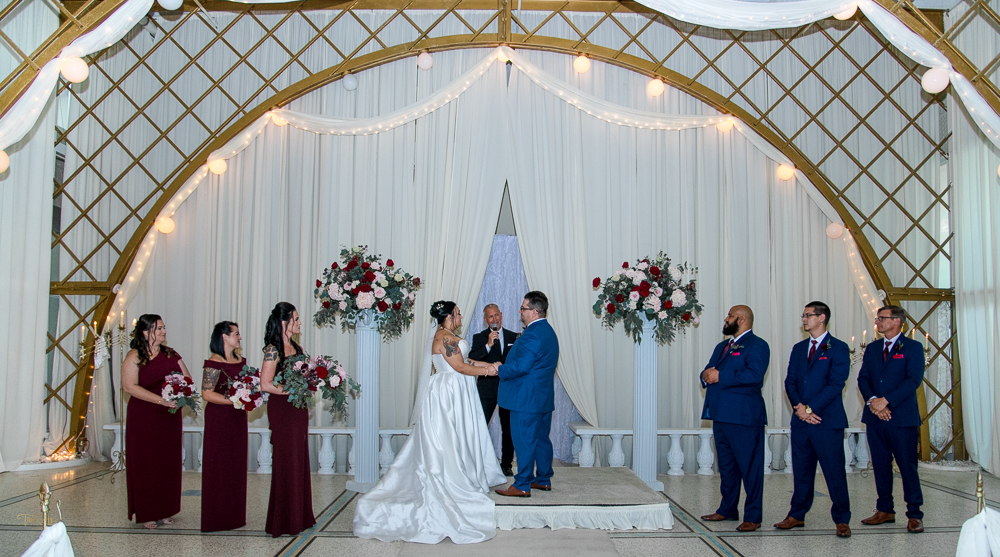 Unique Wedding Venue
Christina and Donald chose the unique wedding venue of the beautiful Kapok Special Events Center in Clearwater, FL as the venue for their wedding ceremony in late September.  The Kapok's story began in the 1870s when a nurseryman named Robert Hoyt raised two seedling kapok trees brought from India. He planted one across from his house, unknowingly determining the future location of the Kapok Tree Inn.  In the 1950's the Kapok became a restaurant, and over the years grew into an inn and international tourist destination.  In 1988 the Kapok was voted the #15 restaurant in the United States.  Unfortunately, the Clearwater Kapok Tree Inn unexpectedly closed its doors in May of 1991.  Today, it is the site of the Kapok Special Events and Garden, where guests can still enjoy the hundreds of imported, or locally manufactured, columns, statues, paintings and chandeliers both inside and outside the property.
Their Story
Christina looked amazing as she was escorted down the aisle by her mother, to join Donald at the head of the aisle.  The couples' custom ceremony included words about love, trust dedication and faith.  As their family and friends looked on, the couple shared their heart-felt vows, exchanged rings and were pronounced husband and wife by Rev Rick Lackore , a Tampa wedding officiant with Sensational Ceremonies.  
DJ Chris Craze provided a custom designed playlist for the couple during their ceremony. Every song he played was specifically chosen by the couple to make their ceremony personal and unique.
Flawless venue and event coordination was provided by Mae, Pat and the rest of the staff at the Kapok.  This unique wedding venue is beautiful and their attention to detail made the entire evening go smoothly and exceeded the expectations of everyone present.
Special thanks to photographers Tammy and Cali, with True Love Photography, for providing this beautiful picture during their ceremony. 
Congratulations to the new Mr. and Mrs. Donald Forni!