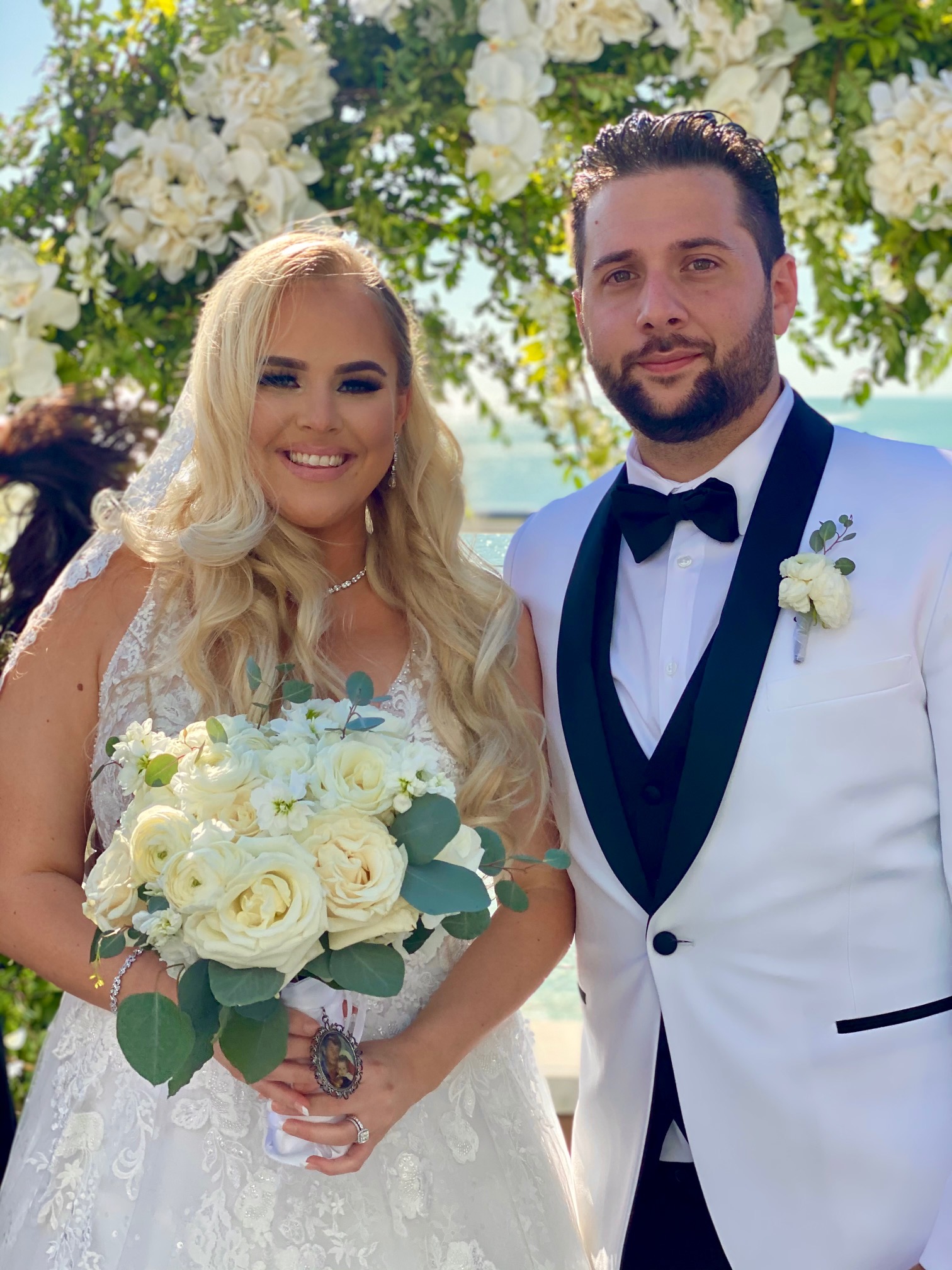 Fairytale Beach
When your wedding plans change and change again, it can be tough, but Arielle and Joseph didn't just roll with the punches; they thrived! Their fairytale wedding at Walt Disney World was postponed and new restrictions were put into place, but the couple decided to have a fairytale beach wedding instead.
With incredible vendors that were flexible enough to move a wedding from Orlando to Tampa and still make their fairytale beach wedding possible, it was impressive.

Barb with Artistry Design Group spearhead the move to the beautiful Opal Sands Resort on Clearwater Beach. The attention to detail she gave to Arielle and Joe's fairytale beach wedding was perfect.

Beth Joy Photography really stepped up to the plate with the beautiful photos she took of the fairytale beach wedding. She was with the couple every minute of their day. From the getting ready shots, formal portraits, through the ceremony and into the evening reception, she captured it all.
Music for the couple's big day were taken care of by Sunset Strings during the ceremony and mics and reception music was taken care of by the Polkbro Entertainment.

For their fairytale beach wedding Arielle and Joe asked Rev. Glynn Ferguson, an official Walt Disney World wedding officiant and owner of Sensational Ceremonies to come and help them create a custom ceremony that was filled with their love story.

Rev. Glynn asked them to each write to and tell him why they love each other.
Arielle wrote: Joe is the truly the most amazing human. Anyone who knows Joe, loves Joe. He's just THAT GUY. So friendly, selfless, funny, kind, loving. He has literally taken his own shoes off his feet at work to give to a kid he saw who's shoes were all ripped up and just mentioned he liked Joe's. The moment I met Joe I knew he was the one. We share so many of the same values, he loves life, family is everything to him, he also has a big family like me, he's so amazing with kids and is going to the best father one day, he is so hard working and driven. He owns a baseball facility that teaches kids how to play baseball and he works so hard. Beyond teaching kids and young adults all things baseball, he makes sure he teaches them about life and mentors a lot of them and makes such a difference in so many of their lives. His heart is way too big for his own good. He has such a positive outlook on life no matter what, and he always puts us first. He always makes me feel so safe, loved, like I never have to question or be scared of anything. He treats my friends and family as his own. He is so funny without trying. He's always the goof of the group. Joe is my safe space, my "home". He still to this day opens my door, tells me he loves me at least 10 times every single day, if I'm crying he's laying on the floor right next to me, if I'm down he makes sure he does whatever it takes to change that, if i second guess myself he always reminds me how brave i am or how beautiful i look. I suffer from extreme anxiety and a lot of health issues and he never makes me feel "crazy" or anything but perfect. He is so patient and just listens to understand and does anything he can to always help even if its simply always being there. He's not just my soulmate, he's genuinely my best friend. We've been together for 4 years and we still talk all day long about everything, and we don't do anything without each other. Even when we have to do something a part, we still call each other to say I miss you this sucks. We love our dog Luna, our family basically revolves around her. We do everything with her. We love to eat we are huge foodies, Joe especially loves pizza he'd eat it every day every meal if i let him .. and we always watch our shows together. We love Chicago PD the most, 90 day fiancee, big brother. Im obsessed with Disney and anything animation so we have a great balance of him being ok with watching all my disney and animation movies and then us watching sports center and all the football and basketball games all night after. He's a huge sports lover. Loves the LA chargers and Brooklyn nets. We always bet on sports together through Draft Kings mostly on football and basketball. We created something called Sweet Sweet Sunday a couple years ago that was "our day". Joe works all week and life gets hectic so Sunday is always our day to just be together and relax and the day we watch football all day, bet on the games, order a good restaurant or go to the sunset. A day for just us so it was only fitting we got married on a Sunday. The sunset & beach is our favorite place. Since we met that was always our thing to do. We go to the beach to watch the sunset with our dog at least 3 times a month. Thats our place to be at peace and soak in life and our reset button. We have been through the highest highs of life together and truly the lowest lows but we are such a strong team and our love is our light. I am truly the happiest and luckiest girl in the world to have Joe to go through life with, I love him with everything I am.

Joe wrote: Never in my life i thought i would find my soulmate and i did in Arielle. I remember the first time i wrote her i was so scared and nervous that i wasn't even to get a response back and when i did i was in complete shock. We started to talk and everything was just so natural. We talked every day and night non stop and it was the best feeling you can ever ask for. Right from the beginning i knew we were soulmates. We have so many of the same beliefs but at the same time Arielle is the ying to my yang. Whenever i am stressed out with work, just having a bad day or even having a good day she always finds a way to cheer me up or even make me feel better. We have helped each other through some very hard times in our lives with losses of my father and her grandfather and have always and will always be each other's rock. She is so loving and caring and will literally do anything for me and i would do the same for her. have been together for around 4 years now but we feel like we were together our entire life because we are so connected. This is the type of love and the type of woman i dreamed about as a kid and couldn't have asked for a better wife and soul mate. I knew i was going to marry her right from the beginning of talking and can't wait for the big day soon and so happy you can be a part of it.

Congratulations on your fairytale beach wedding! It was Beautiful!