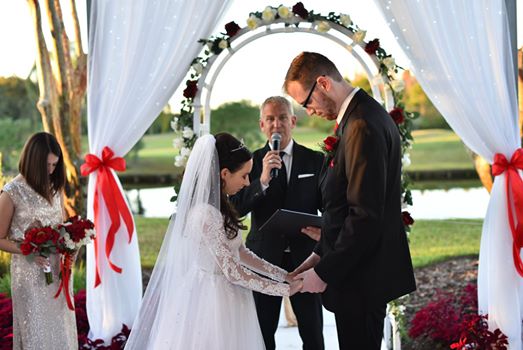 Beautiful Country Club
Alex and Michael just loved the idea of a wedding at a beautiful country club and so they chose  Heritage Harbor Golf and Country Club in Lutz, FL as the venue for their wedding ceremony in early in the evening.
The Harbor Towne Clubhouse has the feel of a Gulf Coast Plantation Home and offers intimacy and charm to create a wedding day to remember.  The beautiful country club allows guests to enjoy the scenic views from the clubhouse of the waterways and wetlands.  Inside, country-contemporary style furnishings and decorative touches make guests feel right at home.    

Alex looked amazing her wedding gown as she was escorted down the aisle by her father, to join Michael in front of their wedding arch. The couples' custom designed wedding ceremony included a Wedding Prayer and Wine Ceremony. Then, as their family and friends looked on, the couple shared their vows, exchanged rings and were pronounced husband and wife by Rev Rick Lackore of Sensational Ceremonies.
DJ Anthony with Party Starters Tampa provided the ceremony music and sound, florals and décor provided by A & E Events, and venue coordination by Nic, and the rest of the staff at Heritage Harbor. Special thanks to Love to Love Photography for providing the beautiful photo during the couples' ceremony.
Congratulations to the new Mr. and Mrs. Michael Peterson!