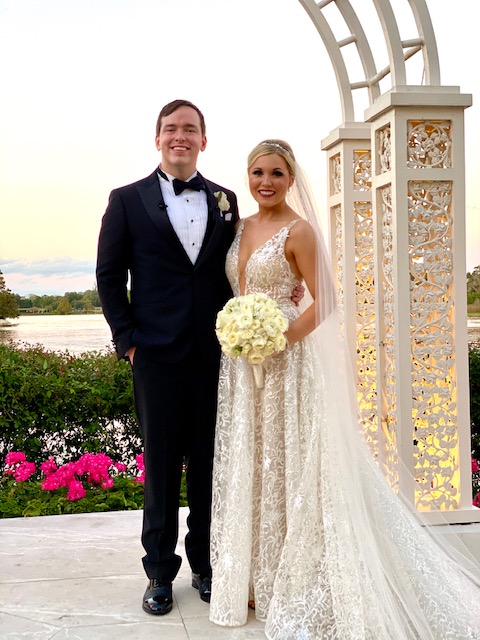 Magical Day
What a magical day for Terri and Skyler. The couple traveled from Houston, Texas to get married on the shores of the Seven Seas Lagoon in the Walt Disney World Wedding Pavilion. Sklyer looked dapper in his black tuxedo and Torri looked stunning in a classic beaded wedding dress.
With Pam from Disney Fairytale Wedding helping plan the wedding and how could the day be less than a magical day. Here attention to detail and communication with each of the team members really made the day go smoothly and seem almost effortlessly. The mantra for Disney Fairytale Weddings is "We want you to be a guest at your own wedding." Pam did everything to make sure it was a magical day for them.
Christ Weirdo from Disney Fine Art Photography did a fantastic job of capturing every shot of the wedding day. From getting ready pictures of the couple and their family, to the first look, the walk down the aisle of their ceremony, and on to the reception; Chris captured every bit of their magical day.
The Walt Disney World Florist worked their magic to make sure all the bouquets and boutonnieres were just the way the couple wanted them. Torri's beautiful cream bouquet was filled to overflowing with garden roses and just the perfect touch of sparkle from a few hidden Mickeys.
For their ceremony Torri and Skyler worked with Rev. Glynn Ferguson, an officiant Walt Disney World Wedding Officiant and owner of Sensational Ceremonies, to create a traditional, but unique custom wedding ceremony for them. The couple took parts of ceremony options that Rev. Ferguson sent them and added their own flare to those scripts. Rev. Ferguson also asked them to write and tell him why they love each other to make their magical day super personal.
Torri wrote:I love Skyler for so many reasons. He is my best friend, my soulmate, my teacher, and my protector. My favorite thing about him is his ability to make me laugh no matter the situation. Above all, I fell in love with his heart. He is incredibly kind and shows respect to all people. He craves adventure, and challenges me to live out my dreams no matter how crazy they seem. He is completely himself in all situations, and he does not let his environment or other people change who he is. Skyler is the man I have dreamed of and prayed for my whole life, and I feel so honored to call him my "husband."
Skyler wrote:Torri is the most driven, hardworking, compassionate, loving, beautiful person I have ever met. I love her for so many reasons, and I am so thankful to have her in my life. Torri continuously helps me grow in many ways while always having a great attitude. Torri has taught me to go into every situation with a positive attitude and an open mind. I truly believe she is my other half and we balance each other out. Torri is such an amazing person and I am very lucky I get to spend the rest of my life with her.
What a beautiful day and a magical day for such a practically perfect couple.