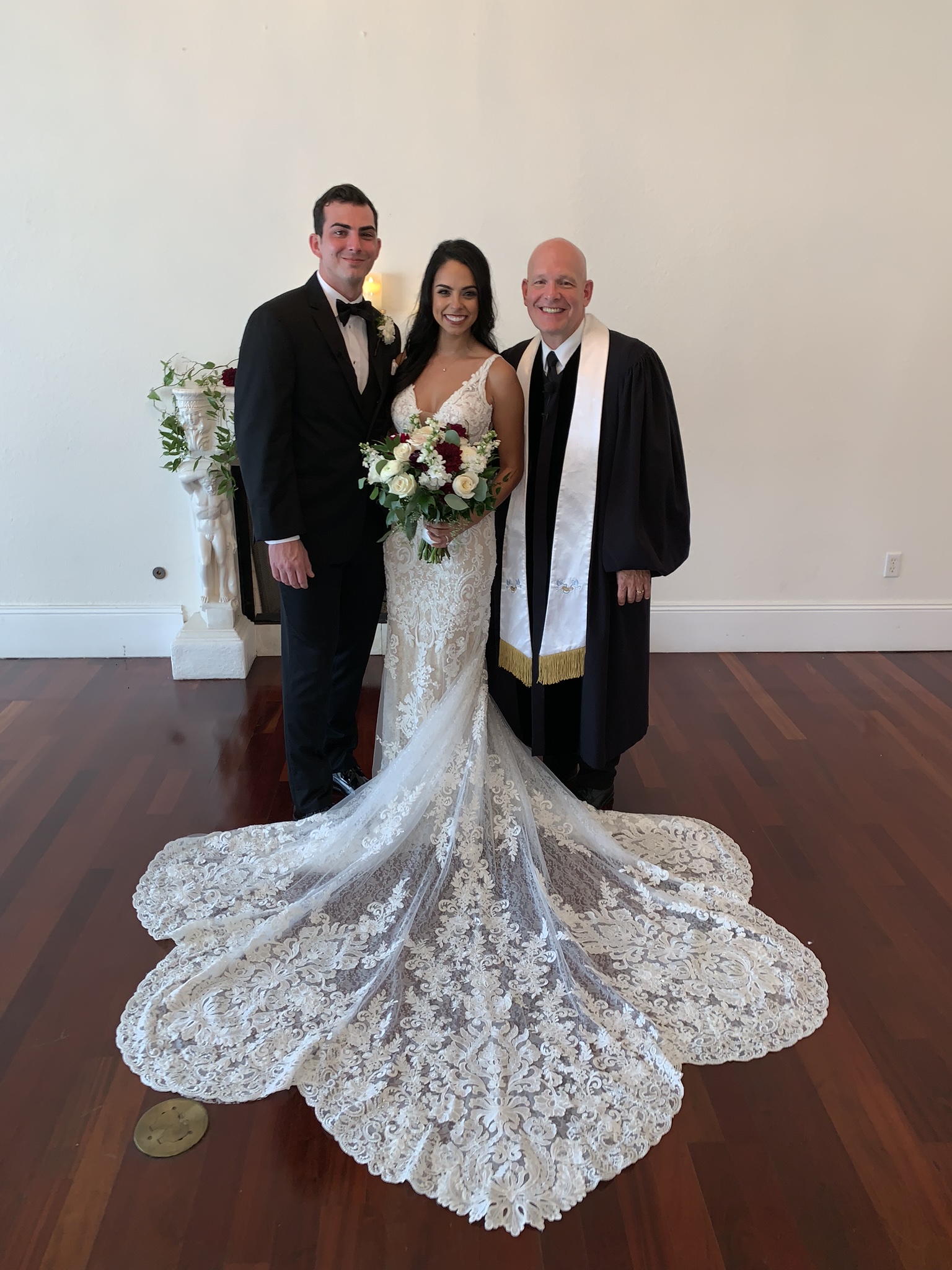 Beautiful Custom Ceremony
Their Story
The Luxmore Grande Estate, located just steps away from the quaint downtown area of Winter Springs, Florida, was the sight of the Fall wedding of Dillon McColgan and Kristina Suarez.  The couple, from Southwest Florida, met at the University of Central Florida seven years ago.  Those initial conversations on the campus of UCF culminated in a beautiful custom ceremony on a late Saturday afternoon with 80 of their family and friends in attendance.
Their Ceremony
The beautiful custom ceremony, officiated by Jeff Thompson of Sensational Ceremonies, was packed with laughs, tears, and hand-written vows by the couple.  As a part of building a custom wedding ceremony, Jeff asked the couple to share with him prior to the wedding the greatest strengths, characteristics, and the things that made each person fall in love with the other.
Dillon wrote about Kristina:
I love Kristina because she is so incredibly caring and supportive. I have never met someone with a bigger heart. Her beautiful smile caught my attention, but her passion for life and unwavering determination to achieve her goals made me fall in love with her. She is genuine and unabashedly herself (and not afraid to let people know it!). She is so funny and undoubtedly my better half. All of these things together make her so easy to love and I can't wait to share every new experience in life with her.
Kristina had the following thoughts about Dillon:
There are so many things I love about Dillon that it's hard to pick just a few. Dillon is strong, determined, and driven. He balances me out and brings out the best in me. When I am weak, he is my strength. He is my unwavering rock when I need it the most. Most of all, I love the way that Dillon loves me. Through everything, his love for me is unrelenting. I am reminded of everything I look forward to in life when I look into his eyes. My happiness, my peace, my future. When I think about what made me fall in love with Dillon, it's simple – he is my soulmate – in every sense of the word.
Many wonderful vendors participated in making the day so special for Dillon and Kristina. Drake Photography and Ricker Films were on hand to document the activities of the day. You can even catch a quick glimpse of the day by clicking here.
Big City Catering provided delicious appetizers and meals for the reception. Justin Kornaker, of Orlando DJ Group, did a great job of working with the officiant and couple to deliver flawless sound for the ceremony.
Everything Cake provided a beautiful cake for the couple and Le Petit Sweet had additional goodies for those with a sweet tooth.
It was a wonderful Saturday afternoon sharing the first steps in the marriage journey with Dillon and Kristina.