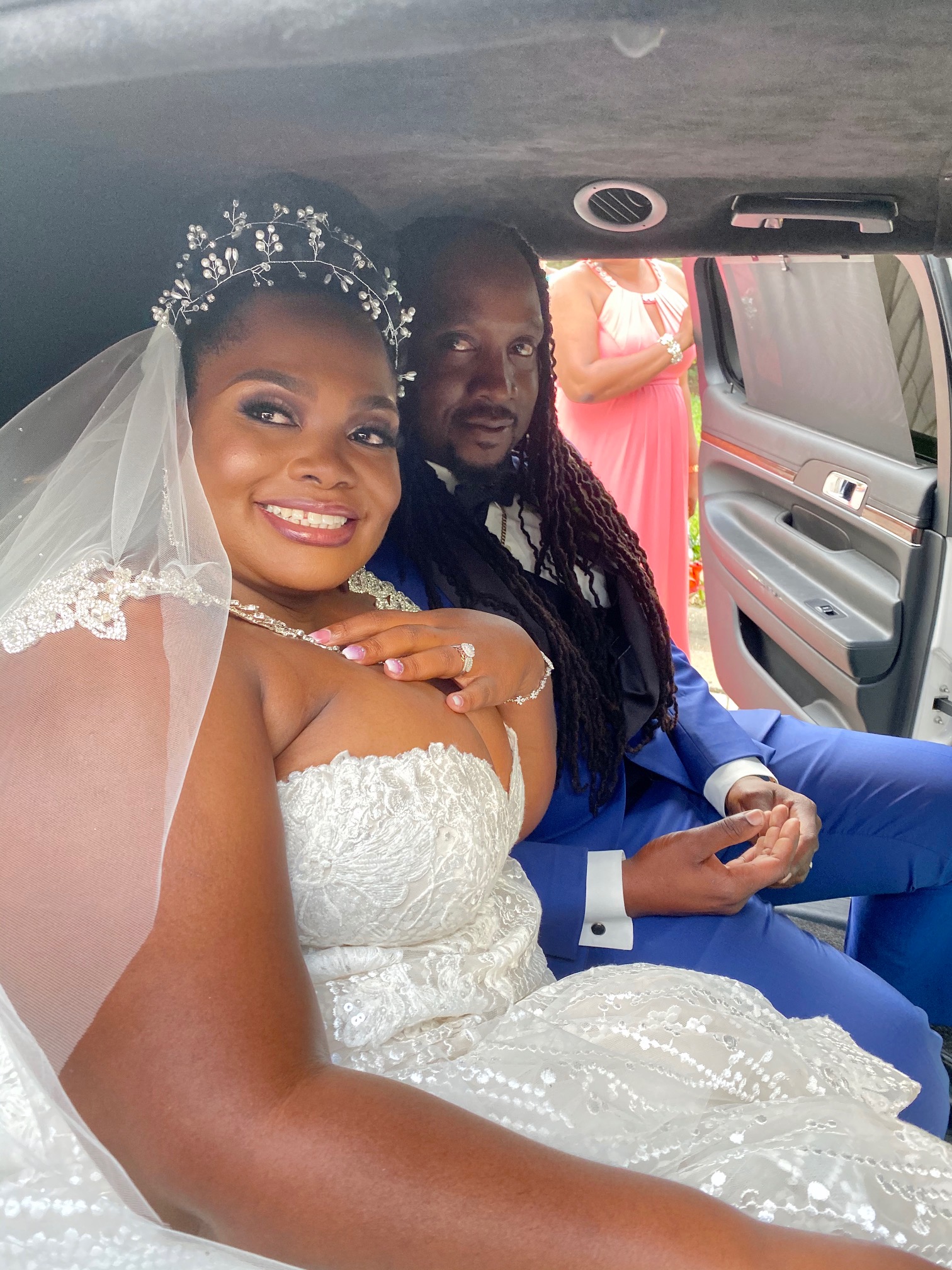 Fun Destination Ceremony
Their Story
Destination weddings are so much fun. Nettie and Donald live in the Bahamas, but wanted to come to Orlando to get married at the Hyatt Regency Grand Cypress. When the unusual Fall thunderstorm threatened their wedding plans, the couple decided they didn't want the additional stress of moving their fun destination ceremony inside at the last moment and chose to use the beautiful lakeside La Hacienda on the Hyatt campus.
Their Team of Vendors
Jennie and her team at Pixies and Petals were fantastic to work with. Not only did they provide all the beautiful flowers for the ceremony, cocktail hour and reception, Jennie was the day of coordinator for Nettie and Donald. With her help everything went smoothly and without hiccups. They made sure this fun destination ceremony was just that. Al Dee Productions was fantastic to work with. Their team of professional DJs did a great job of making sure the ceremony music was cued perfectly and really set the tone for this beautiful ceremony.Stephanie was the photographer for the couple's big day. She seamlessly moved around the ceremony to capture every moment without becoming the center of attention. Rev. Glynn Ferguson an officiant and minister with Sensational Ceremonies worked with the couple to craft a beautiful Christian ceremony, rich in love and devotion. Their ceremony was made all the more personal with the fact that Rev. Ferguson gave the couple a homework assignment to write and tell him why they love each other. Donald wrote:Being with God's angel is a blessing for me. Loving her is very easy because she is as pure as can be. Our smiles and her beauty brightens my day. But her heart is the most genuine the most humble and she's surely my blessing. She makes loving her so easy, do you feel so sweet, every moment with her is euphorically unique. With God being the captain of our boat, we're going to sell the ocean for many many years to come deep in loveNettie wrote: Donald and I met at the most inopportune time in my life. I was at a point where I wasn't looking for love and definitely not looking or interested anything serious. He completely took me by surprise and threw me right off my game. That might sound so cliche, but it's honestly just how it happened. He is without a doubt the most caring, sweet, loving and romantic person I have ever met. Which is so funny, because I am the exact opposite of loving and romantic. He has such a big heart and he loves with every inch of it.

With him, everything is easy, there's no trying or pretending, it's just us being us always. I can tell him the worst things and he never judges me in any way. The fact that he is a strong believer in GOD just makes our connection that much stronger. Every morning he sends me a message saying "Good morning Sunshine, we can do all things through Christ that strengthens us, no weapon formed against us" How can I not love that? He always always puts me first, always concerned about my feelings and wellbeing, always team DnN
For my first birthday together, he didn't buy me jewelry, perfume, or other expensive gifts, instead he gave me an envelope that held a receipt. He bought builders blocks and said I want you to start your house and get something to call your own. That meant so much. He believes in me, in my dreams, supports me and is not afraid to tell me when I am wrong. He is what every man should aim to be, he is fun, sweet, God fearing, smart, incredibly sexy, honest and loyal, just naturally a good person. I am truly blessed to be marrying my very own prince charming.