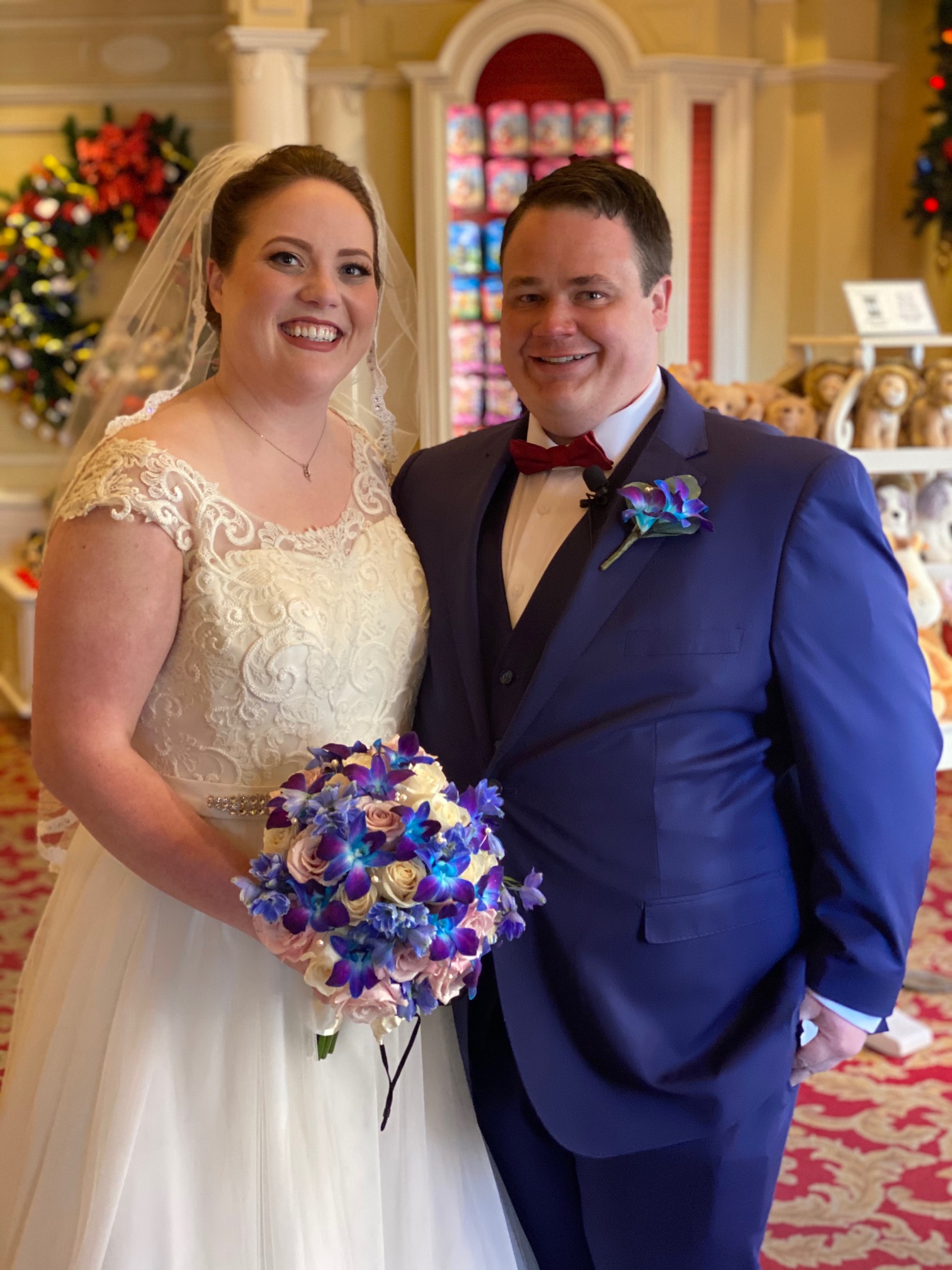 Beautiful Morning
Katie and Michael traveled from Kansas City, Missouri to get married in Orlando at the Germany Pavilion at Disney's Epcot Resort. Such a beautiful morning wedding could not have happened anywhere else. With German themed painted backdrops, the glockenspiel clock ticking away the minutes before the bride would walk down the aisle, and the bounty of beautiful flowers; it was Amazing!

Disney Fairytale Weddings really stepped up to the plate to make this beautiful morning wedding come to life. From arranging the transportation, coordinating all the vendors, and making sure everything was set and ready to go, they really earned their keep this morning.

Disney Fine Art Photography always does an exceptional job, but for this beautiful morning wedding, Dean hit it out of the ballpark. He has not only spent considerable time with the couple before the 9am ceremony, but he also noticed the layout for the ceremony was a little awkward and he put those photographer eyes to work and made it something beautiful.

The Walt Disney World Florist also did an exceptional job on the couple's floral decor, bride's bouquet, and groom's boutonniere. With White hydrangeas, midnight blue orchids, and lavender roses the flowers really were impressive for this beautiful morning wedding.

Michael and Katie looked through the list of preferred officiants for their beautiful morning wedding and found Rev.Glynn Ferguson. Rev. Ferguson is an official Walt Disney World Wedding Officiant and owner of Sensational Ceremonies. His team of officiants create custom ceremonies that are rich in love and laughter, just the way you want them. To make their beautiful morning ceremony super personal, he asked them to write and tell him why they love each other.

Katie wrote: If you had asked me three and a half years ago who I imagined marrying one day, I could not have pictured Michael. He far surpasses anyone I had ever thought I deserved or could even exist in this world.
There are so many qualities that I love about him. His kindness is immeasurable. I knew he was kind from our very first date. He would gladly help a friend or family member without batting an eye. It is just what he does without being asked. Michael is patient. His thoughtfulness is beyond measure as he patiently waits for my emotions to reign themselves in and to focus on what matters. Even when I frustrate him to the maximum, he still loves me for me just as I love him for him. Michael's sense of humor is unparallel. His quick wit, charisma, and ability to make an awkward moment even more awkward (or funny) are qualities that I admire about him. Yes, he does take things a bit too far sometimes. However, it is never at the expense of someone else. Michael always knows how to make me laugh especially when I really do not want to. I know that life will never be dull together.
With his mood changing eyes, Michael is one of the most observant people I have ever known. His ability to read people and rooms amazes me. He has become particularly skilled at knowing my emotions and reactions, sometimes even before I have realized what is happening. I love that Michael knows me so well. Michael is the first person I want to tell everything to, the first person I want to see every morning, and the person I want to fall asleep next to each night. He is my person just as I am his. I cannot imagine life without Michael by my side and as my partner in crime.

Michael wrote: I could write a novel about what I love about Katie for she is the most accepting, caring, supportive, compassionate, patient, and funniest partner I could ever ask for.
I love Katie how Katie can make the best out of any situation, for our first date I took her to a seedy taco joint and yet somehow we still managed to end up on a second date.
I love how with Katie nothing seems out of reach and how together we've reached goals that I thought were unobtainable.
I love how Katie is the best partner in life I could ask for and how we tackle everything side by side.
I love that I can spend every waking second with Katie and never get tired of her when most people exhaust me after a few hours.
I love how Katie completes me and can instantly make any room feel like home.
I love how Katie has accepted and embraced my family as her own.
I love how Katie is unexpectedly funny in a way that I do not fully understand and yet can never say how much I appreciate the humor she has brought into my life.
I love how Katie is the sweetest person in the world and yet has a mischievous side with a smirk to match.
I love how after a hard day all I want in the world is a hug from Katie.
I love how Katie is the rock of our relationship and how she has never given in or stopped fighting for us.
I love how Katie embraces my nerdy tendencies and yet mocks me just enough to keep me from going off the deep end.
Most of all I love the life we've built together and the excitement of what's to come.
Congratulations!!!