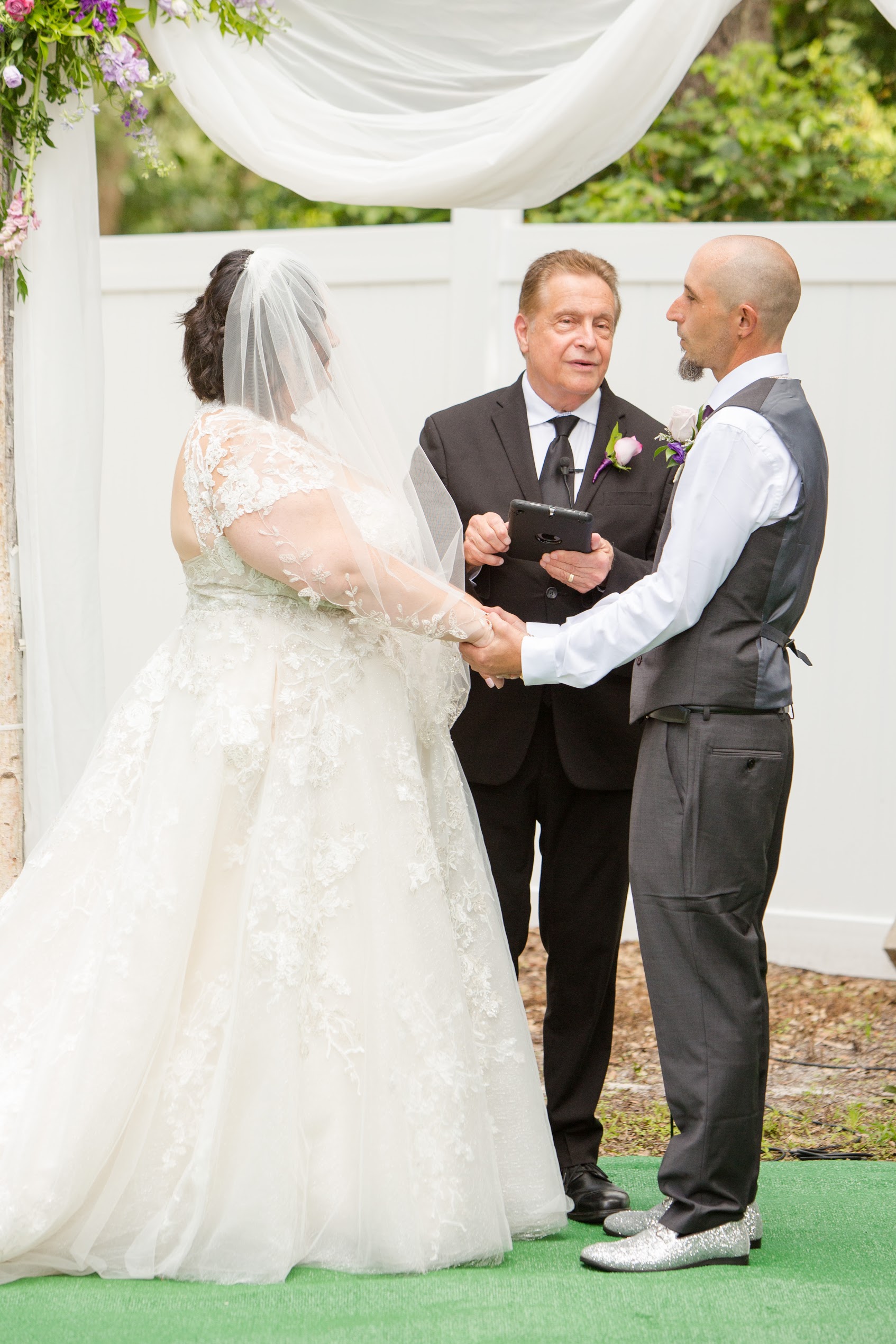 Rolling Hills
The Location
Apopka, Florida is a picturesque little town just north of Orlando. With it's rolling hills , tall oak and Spanish Moss clad cypress trees in a country setting. Many in the Central Florida seek to escape the hustle and crowds of Orlando and the entertainment destinations of SeaWorld Orlando, Walt Disney World Resort and Universal Orlando, by visiting or even moving to the hills featured in this beautiful country setting. Cassie and Carlton were among that latter group, settling in a beautiful home and a quiet street. They have a large backyard, and spent much attention in creating a setting that would be appropriate for their much-anticipated wedding celebration. They had artificial turf in place to create a wonderful entertainment space. They lined the fencing around the yard with white sheeting which added to a special look. The arch was decorated by the amazing floral company Atmospheres Floral and Décor. The scene was set for a magical and happy wedding celebration.
The Ceremony and Vendors
Nicole from Nicole Squared Events in Orlando referred Lon Tosi of the Orlando team of officiants from Sensational Ceremonies, to serve as the officiant. She thought that Lon would be a perfect match for the couple with his happy approach to conducting ceremonies. Lon lives and works out of Celebration, Florida which is perfectly situated to provide officiant services to Central Florida. Lon worked with the couple to create perfect ceremony for them. Their ceremony, in this picturesque little town, featured gorgeous readings and vows as most ceremonies do. However, theirs was special because of Abigail. She is the young daughter of Carlton. Cassie presented a special gift to Abigail during the ceremony and had wonderful words of love for her new daughter! There were tears of joy all around as the two hugged and kissed. Perfect!
Thanks to David Manuel Reg of Soundwave Entertainment for providing the outstanding sound for the ceremony and the entertainment that followed. Because of his services, all in the audience heard every word of the ceremony and especially those loving vows exchanged by the couple. Debra – owner of Atmospheres Floral and Décor created a magical, gorgeous setting for the wedding. Her work added to the overall beauty of this picturesque little town. Debra their owner is at the top of her game for certain. In all, it was a great event full of happiness and love. Nelson Photography did an amazing job of capturing all the key moments from this wedding in this picturesque little town.
And it all happened in the rolling hills of Apopka, Florida on a sunny and warm summer day.