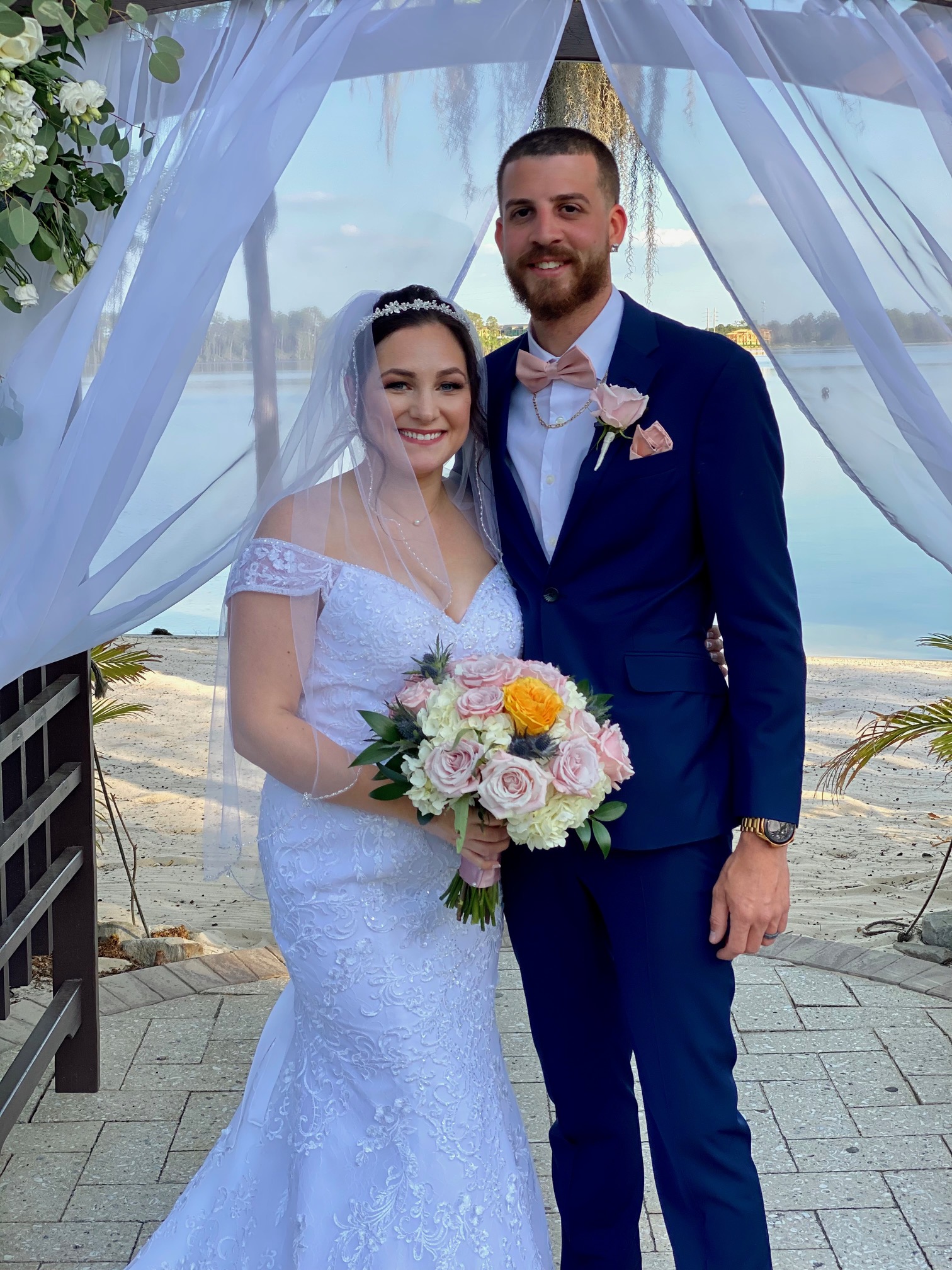 Beach and Bow Ties
With a theme of beach and bow ties the wedding can be a lot of fun. Hailey and Jordan decided to take the plunge and get married at Paradise Cove in Orlando, Florida. With the beautiful Lake Bryan behind them, a soft sandy beach under foot, and an event lawn before them, they picked the perfect spot. Kayli with Paradise Cove coordinated every aspect of the couple's wedding day smoothly and perfectly.

For a beach and bow ties theme the couple had Atmospheres Floral and Decor take care of all their flower needs. From the bride's bouquet, arch decoration, and the groom's matching boutonniere, she really did a beautiful job.

Dianne with Married by Mail took great care in getting the Florida Marriage License for this beach and bow tie event. Without the marriage license, it's only a party!

Rev. Glynn Ferguson, the owner of Sensational Ceremonies and an Orlando wedding officiant/ minister, worked with Jordan and Hailey to create a beautiful ceremony that fit in with the beach and bow tie theme of the event.
Rev. Ferguson gave the two of them an assignment to write and tell him why they love each other. He then took those paragraphs and placed them in the ceremony, for the perfect fit.

Hailey wrote: From the first time I saw you I knew there was something that I couldn't let go of. I mean we met on a cruise ship! Who would have thought we'd be here today? We've been through so many ups and downs and through it all we still choose each other. I'm blessed to have been able to grow with you and see the man and father you are today. I am so proud of you and all of your accomplishments. I couldn't have picked a better person to live the rest of my life with. Even though I want to punch you sometimes, I wouldn't have it any other way. I love you forever and always.

Jordan wrote: I love her simply because in fact, she is the one, which may sound corny at first but in reality looking through my scope she definitely is the one. As much as we've been through in our journey of almost 9 years, everyday I'm reminded of why she is actually the one. I truly believe in every action she takes, from the little things that don't matter so much to making life changing decisions, i believe in her. Aside from believing her, I grow more and more attracted to her each and every day when I watch how she unfolds throughout the day handling everyday tasks the way she handles them and takes care of our beautiful child. I love her because she lets me be me, my hobbies, my work, my personality and everything else, she lets me be me even though a few things I do may urk her nerves. I love her because she appreciates me and gives me all the credit I deserve for every single thing I do. I love her because she has grown to be my closest companion in life and I couldn't imagine partaking in life events with anyone else. I love her because she is Hailey Marie, everything I've ever wanted and needed.

Congratulations to the two of you.