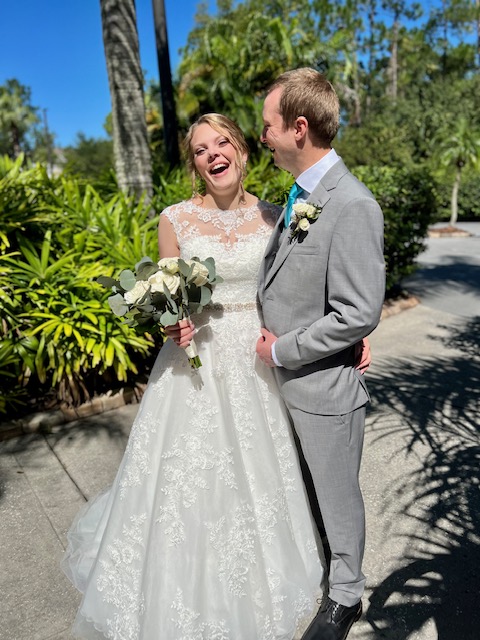 Benjamin and Rhiannon
Benjamin and Rhiannon traveled from Calne, in the United Kingdom to get married at the beautiful Paradise Cove in Orlando. Due to a hurricane the couple were afraid that they would have to cancel their wedding in Florida, but a turn in the storm and the quick work of the Paradise Cove staff made their dreams come true.
Benjamin and Rhiannon assembled an amazing team of vendors to make their destination wedding a huge success. Amy, with Blossoms Orlando crafted a beautiful bouquet of white roses and silver dollar eucalyptus that not only looked beautiful, but smelled fabulous also.
For their photographer the couple chose Randy Champman with Chapman Photography to capture every moment of their wedding day. From the ceremony and cake cutting at Paradise Cove to the formal pictures at Disney's Boardwalk Resort, he got it all.
Rev. Glynn Ferguson, an official Walt Disney World wedding officiant and the owner of Sensational Ceremonies, worked with Benjamin and Rhiannon to make sure their wedding ceremony fit the two of them like a glove. His personal touch of giving them a homework assignment to write and tell him why they love each other, hit it out of the ballpark.
Rhiannon wrote: From the beginning we have always been able to make each other laugh, I hope that never ends because I love having a laugh with him. I can be my completely goofy self and he will laugh along with me. Ben is my comfort on a bad day, all I have to do is give him a hug and I feel better (plus he pours the best gin and tonic). I love the little things that he does, they don't go unnoticed. He makes me a cup of tea in the mornings and if I'm sleeping he will make one and leave it for me on my bedside table, ready for when I wake up. He knows that I appreciate a lie-in so he will get up with Rhett (be it that I only get an hour or so, but every minute counts). He has been so supportive throughout my journey into motherhood and I love watching Ben be a father to Rhett; interacting with him, making him laugh, and cuddling him. It makes me love him more every day. He is so attentive to both Rhett and I, making sure we don't want for anything. I love how caring he is, making sure I get places safely, even if it's the 822 steps around the corner to my mums. Of course no relationship is without bumps in the road but I love how we manage to get past anything that is thrown at us and continue together."
Benjamin wrote: I find it very difficult to put feelings & emotions to words, but for me Rhiannon is my best friend, we started out as friends and this has grown over time. She has always been there for me, to talk to, to confide in and to help me through hard times.
This was very evident to me when I lost my mother, and she was my rock at this time and supported me through this difficult time.
We have been through so much together, and have built a life together over the years, and we now have a son together. A beautiful baby boy called Rhett.
Both Rhiannon and Rhett are my everything.
Congratulations Benjamin and Rhiannon. We wish you a lifetime of happiness!
Sensational Ceremonies
Average rating:
0 reviews