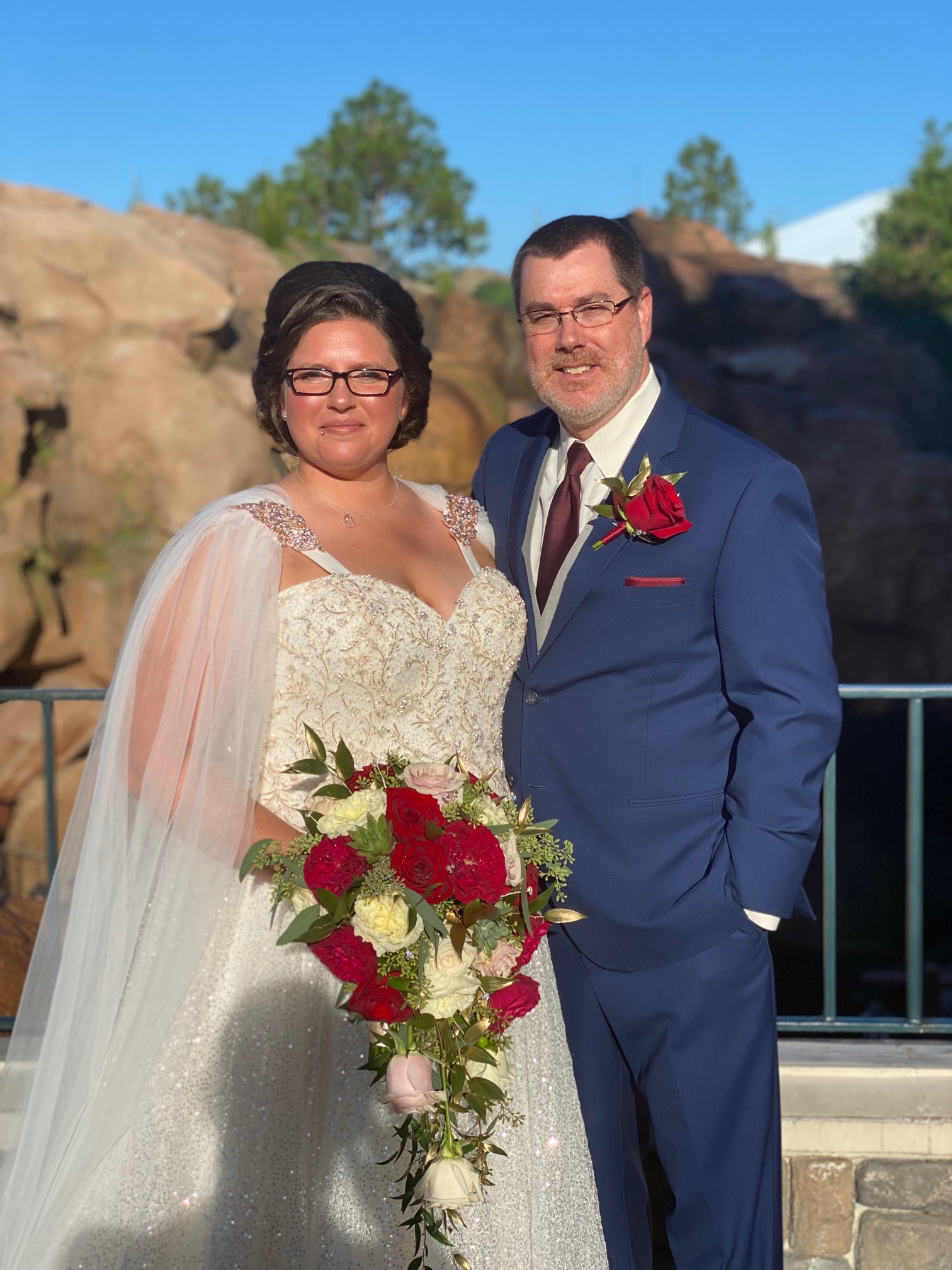 Canada Pavilion
Ashley and Keith traveled from Michigan to get married in the most magical place on Earth. The couple chose The Canada Pavilion at Disney's Epcot Resort. With the sun rising over the lake and peeking through the building it really felt like they were getting married in Canada.
Disney Fairytale Weddings worked with Ashley and Keith to help make their vision for a Disney Wedding come to life. From lining up most of the vendors that would work on their wedding to coordinating transportation to and from the Canada Pavilion, timelines, and decor, the team at Disney Fairytale Weddings did an excellent job.
Mike from Disney Fine Art Photography was with the couple from early morning portraits in the Magic Kingdom through their ceremony in the Canada Pavilion and on to their reception, he really did a great job of capturing it all. After the ceremony Mike spent time making sure to get family portraits with Ashley and Keith and their respective families.
Rob, with the Disney Entertainment Group, brought the beautiful music to the couple's ceremony. With personal choices that the couple made, he really brought the professionalism to their wedding.
Rev. Glynn Ferguson, the owner of Sensational Ceremonies and an Official Disney Wedding Officiant, worked with Keith and Ashley to create a custom ceremony that fit the two of them like a glove. He made sure their ceremony at the Canada Pavilion was unique and personal; filled with both laughter and a few tears.
Rev. Ferguson gave the two of them a homework assignment to write and tell him why they love each other. He then incorporated it into their ceremony at the Canada Pavilion to make it fit them perfectly.
Ashley wrote: •he puts my needs above his own
•he is always there for me
•he lets me be myself
•never judges me
•cares about my dreams and goals and helps me to achieve them •hes my best friend •he knows when to help and when to let me do something myself • I know he'll be the only boy who wants me the way that I am.• There's no one in this universe as magical and wondrous as him •Theres nothing any better and nothing that I just wouldn't do
Keith wrote: There are so many reasons why I love Ashley, there is not enough Time during the day and/or paper on this earth i could write on.
Below are just a few reasons why:
I love her eyes
I love her smile
I love the way she looks at me.
I love that she respects me.
I love that she accepts me and loves me for who I am. She makes me feel like I'm the only person in the world. With her I can be myself.
She makes my heart smile.
She knows me better than I know myself
She is always willing to help me accomplish my goals. She makes me smile when nobody else can.
I love how even when she's not right next to me, I still feel she is with me.
She is the best and is amazing
She makes me laugh all the timeShe keep my spirits so high
Congratulations on your beautiful wedding at the Canada Pavilion.