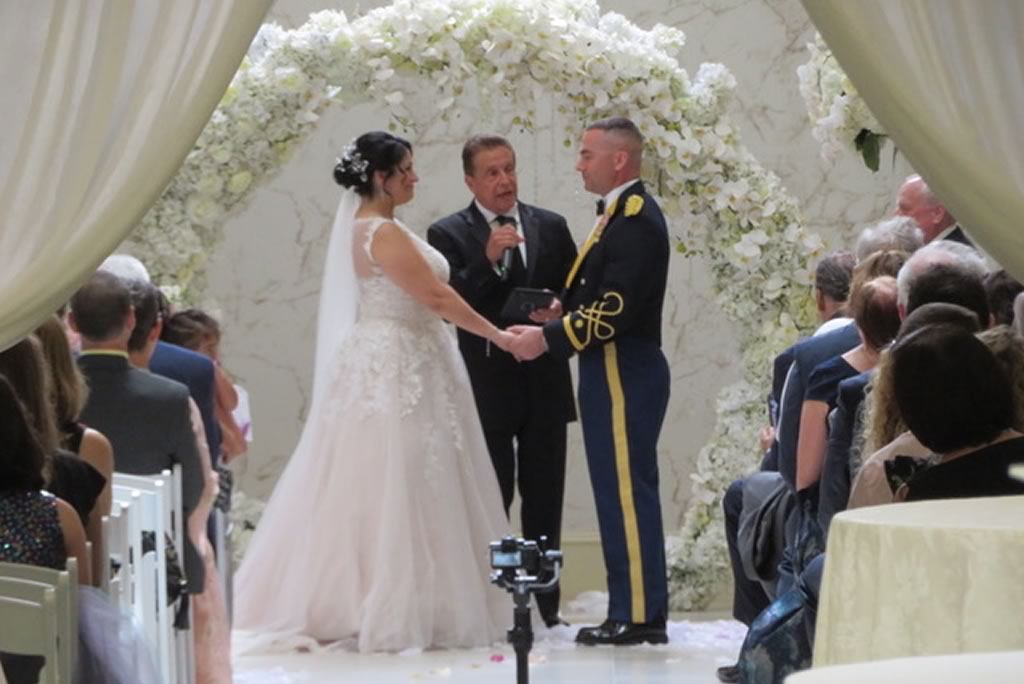 Caribe Royal Wedding
The Caribe Royal Hotel is located just southwest of Orlando, Florida. It is perfectly situated to serve discerning customers who want a taste of elegance and service. There are huge ballrooms perfect for all sorts of events. And, then there are amazing spaces for special events like weddings. One of them is located in the convention center. It features a three-story ceramic wall of white with a gorgeous round window featuring a simple cross at the very top of the wall. It is gorgeous beyond description. That wall is just outstanding and provides a perfect spot to hold a wedding ceremony. And, the sound from that spot can be heard throughout the convention center. Just perfect!
Into this setting came Matt and Lisa to celebrate their coming together as husband and wife. Along with them came 150 of their friends, and family members. This couple secured the services of some of the finest vendors in Central Florida to make certain that their celebration was flawless. Jay Gordon of Goodley Entertainment provided the Emcee and DJ services. RJ Glamour & Innovation, Inc. created a gorgeous, stunning scene with their floral arrangements. Hair and Makeup by Rose Torres did a fantastic job. The bride and bridesmaids were beautiful! We are certain that the photos and video will be amazing due to the work of Christian owner of Sea Shack Photo + Films. Everything worked perfectly due to the work of Angela Bachelor owner of All About The Details.
Lon Tosi of Sensational Ceremonies delivered a wonderful ceremony that had all the tear jerking ingredients necessary to make their ceremony memorable and just plain gorgeous! Lon worked with Matt and Lisa over many months to perfect their words of commitment. Those words included special vows that each read to the other. Those words went to the heart of their love for one another.
After the ceremony celebration all guests convened at the beautiful Landing Dock near the convention center. That is surely going to be an amazing shot with the dock and the lake as a backdrop. We wish Matt and Lisa much luck and happiness with their marriage. They are off to a great start!
And it all happened on a sunny day in Orlando!