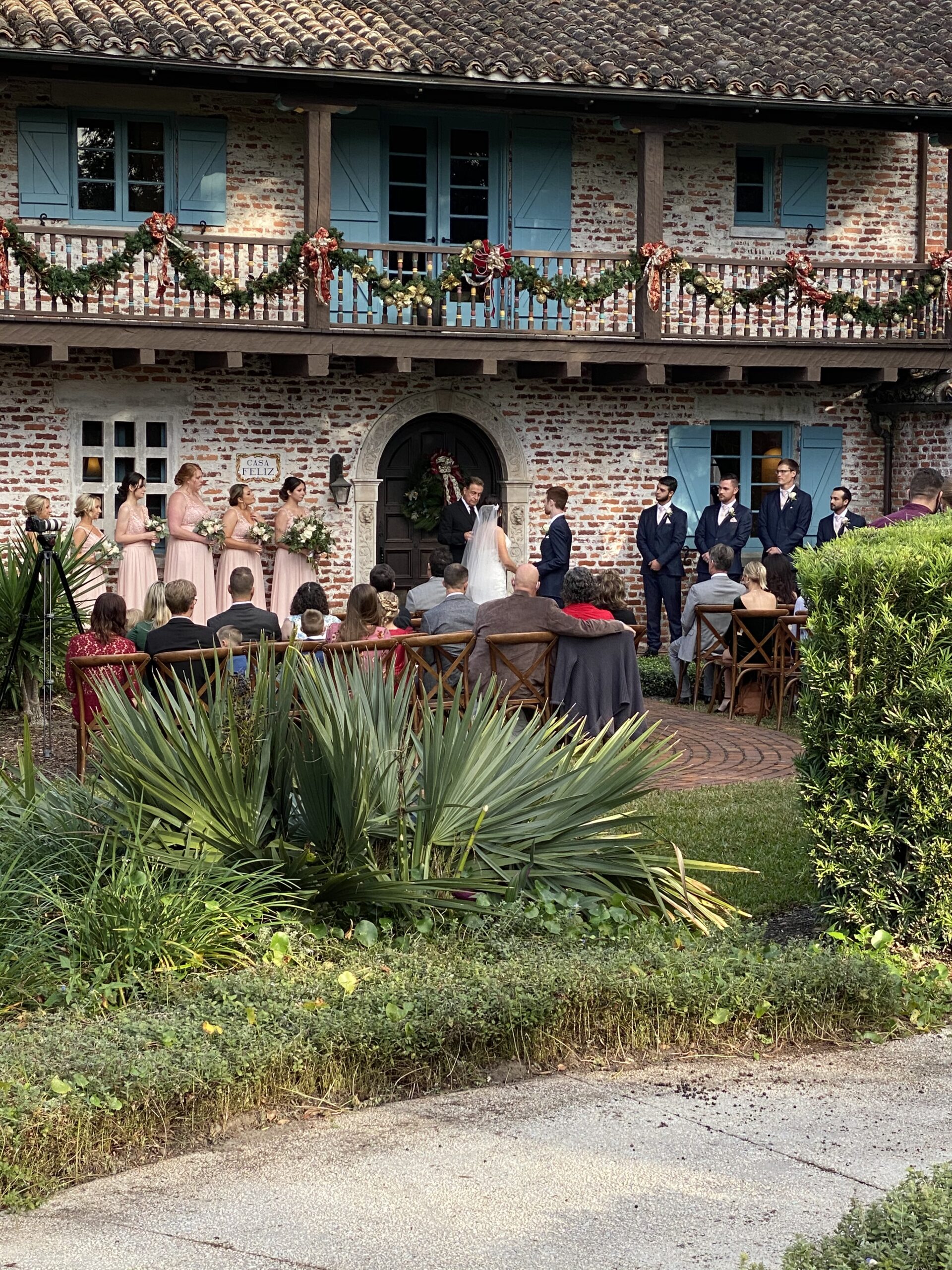 Casa Feliz Wedding
The Venue: The Robert Bruce Barbour House, also known as Casa Feliz, is a restored Spanish farmhouse designed by architect James Gamble Rogers II, overlooking the golf course in the heart of Winter Park, Florida. This is one of Rogers' best-known residences. It is constructed in gorgeous brick that is rich in color. The landscaping is lush with floral color. The overall impact is an appearance of richness and warmth. It is into this rich and exciting environment that Jill and Jacob brought their small group of friends and family members to celebrate their coming together as husband and wife. 
The Ceremony: The rich and exciting environment demanded the same characteristics of their wedding ceremony. And it was indeed just that. Lon Tosi of the Orlando team of weddings officiants of Sensational Ceremonies worked with Jill and Jacob to construct a custom ceremony to remember. They wanted a simple and short ceremony, but with Lon's input, it was beautiful as well. There are key ingredients in every marriage that are critical to its success. Words in their ceremony spoke to those ingredients of love, friendship, loyalty and more. Most important is trust, and Lon implored them to protect their marriage by guarding that special item by being faithful and true – always. And there was this special statement that punctuated their love for each other. "All I want is to grow old with you…to watch our life unfold, our dreams, one by one, come true. All I want is to love you forever." So beautiful, and so to the point!
The Vendors: Jill and Jacob's Vendor team was A-List all the way. Each is accomplished and recognized in Orlando for being the very best at what they do. Each contributed to the warm and rich flavor of the overall wedding experience. Venue: Casa Feliz | Planner Kristy Rapp Events | DJ: Asher of A List DJ Entertainment Photography: Amalie Orrange Photography | Videography: Alllie and Joey | Officiant: Lon Tosi at Sensational Ceremonies | Tent and Rentals: Orlando Wedding and Party Rentals Hair and Makeup : Makeover Station | Floral Design: Atmospheres floral and Decor
And it all happened on a sunny and warm day in Orlando, Florida!